The Classic BBQ Beef Jerky contains both a sweet and a spicy element. You can always increase the amount of spice in a dish by adding extra cayenne or your preferred type of chili powder. Before adding the spice mixture, you might even be sprinkling hot sauce over the meat.
A few things make our Classic BBQ Beef Jerky recipe unique. First, we use smoked paprika, cayenne pepper, ground thyme, and garlic to give the beef a deep red color and mildly spicy flavor. We use a special process to tenderize the beef, which makes it extra juicy and flavorful.
Making beef jerky includes five easy steps: slicing the beef, marinating, laying, and drying.
Step 1: Slicing the Beef
Slicing is the first step in beef jerky making. Eye of Round, Flank Steak, Top Round, London Broil, Top Sirloin, Round Roast, Bottom Round, and Rump Roast are typical types of beef used to make beef jerky. Almost any cut can work, but it's important to pick a lean one.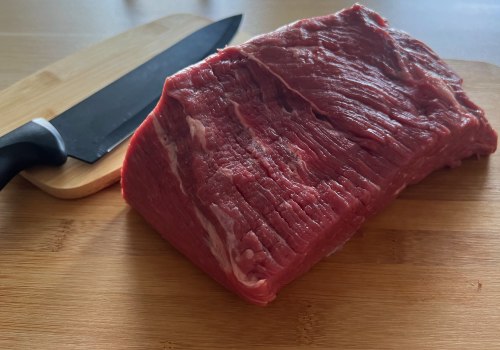 There is an article about the best cuts of beef for jerky. I prefer to use fresh beef sourced in the United States. Also, I do not recommend using frozen beef. For this recipe, I picked a Bottom Round beef.
Connect with Real Jerky Makers
We'll introduce you to some of the most delicious, off the beaten path jerky makers around!
Because the Best Jerky Doesn't Come from a Store
Before slicing, you need to trim all visible fat from the meat.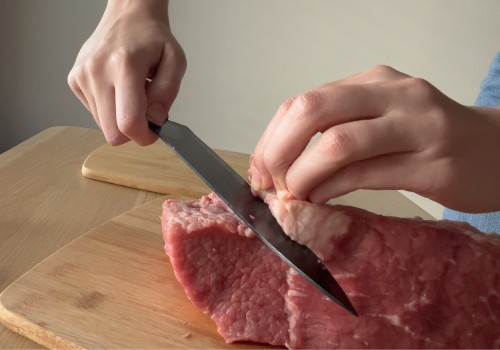 Try to slice the meat against the grain. It helps break down the meat's natural fibers and creates the optimal chew. My advice is to freeze the meat partially before cutting it. This makes it simpler to produce thin and even cuts.
Getting even thickness during the slicing process is important to achieve even cooking. Otherwise, some portions can be overcooked while others can be undercooked.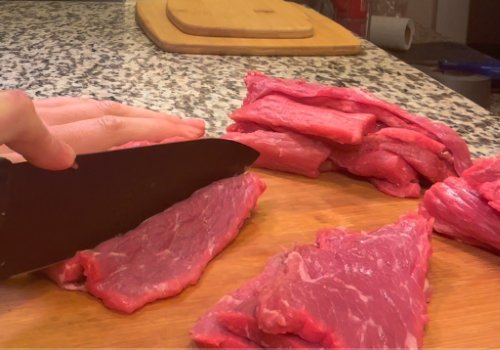 Step 2: Marinating the Beef
The sliced beef is combined with a mixture of liquid ingredients and dry seasonings. Brown sugar, ground thyme, cayenne pepper, onion, garlic powder, salt, ground cloves, mustard, smoked paprika, and liquid smoke are typical components of the marinade for Classic BBQ beef jerky recipe.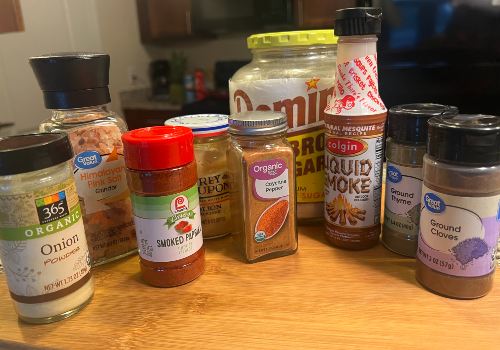 It would be best if you gave enough time for the marinating process to ensure that the marinade enters the meat's fibers. As a general rule, the deeper level of flavor, the longer the time for marinating. When it comes to time, there is a point at which the benefits start to decrease, but I advise a minimum of 6 hours and a maximum of 24 hours.
Step 3:Dehydrating the Beef Jerky
Drying the beef is the last step in beef jerky making. The key to deliciously tender beef jerky is cooking it low and slow.
The process is identical whether you make jerky in an oven, an electric smoker, or in a dehydrator. Food safety is crucial while processing beef products, and the process steps of cooking and drying are the most important.
Before cooking, place the beef on paper towels for a few minutes to get rid of any extra liquid.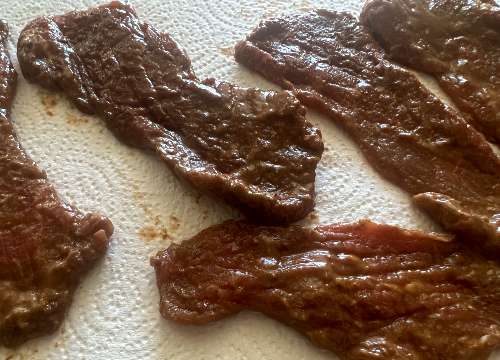 Each piece of marinated jerky should be evenly distributed on a single layer and placed onto the trays in order to dehydrate beef jerky evenly.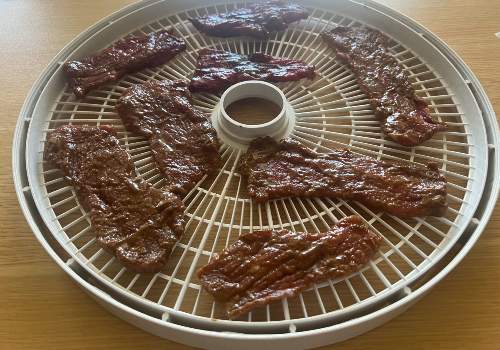 Temperatures while dehydrating vary from 165 to 185 degrees Fahrenheit for 5 – 8 hours. This temperature range ensures that the beef jerky is fully cooked.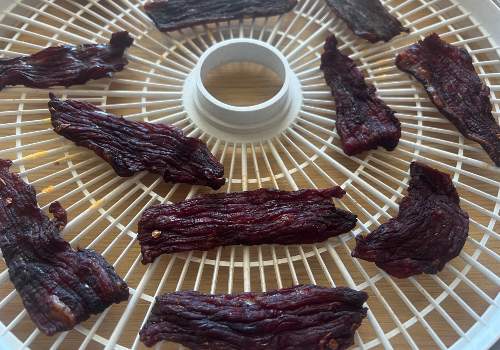 Weighed beef jerky after cooking: 190 grams/6.7 oz.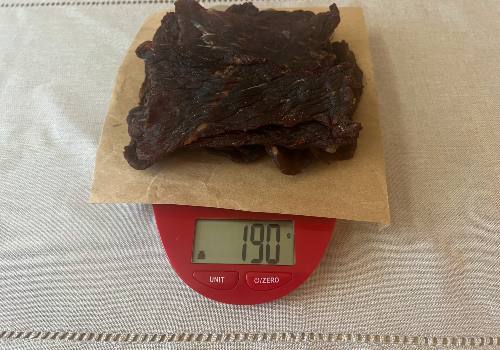 The drying process ensures the jerky is dried and ready for storage. When the beef jerky's water activity falls below a safe level, it becomes shelf stable and doesn't need to be refrigerated.
Recipe
This recipe serves 5 people and requires 13 hours and 30 minutes to make:
preparation time: 30 minutes
marinade time: 8 hours
drying time: 5 hours
Ingredients
Cost
1 lb. of beef; I choose a Bottom Round beef, but any cut could work
$7.99 per 1 lb. at Weis
1 teaspoon of ground thyme
$1.94 per 1.4 oz. container at Walmart
(6 tsp per oz. or 0.12 cents per 1 tsp)
1/2 teaspoon cayenne pepper
$3.97 per 1.7 oz. container at Walmart
(6 tsp. per oz. means that 1/2 tsp equates to 0.20 cents)
2 tablespoons of brown sugar
$2.17 for 2lb. a container at Walmart
(2lb equates to 32oz. and 2 tbsp equates to 1 oz. or 0.07 cents)
1 teaspoon onion powder
Between $4 and $5 for a 1.73 oz. container
(6 tsp. per oz. means that 1 teaspoon equates to 0.38 cents)
1 teaspoon of garlic powder
Between $4 and $5 for a 2.33 oz. container
(6 tsp. per oz. means that 1 teaspoon equates to 0.28 cents)
1 tablespoon of salt

1 cent for 1 tablespoon of salt
4 tablespoons of mustard
$3 – 4 dollar range for an 8 oz. container
(4 tbsp. per two oz. means that 4 tablespoons equates to 0.75 cents)
1/2 teaspoon ground cloves
$1.94 per 2 oz. container at Walmart
(6 tsp. per oz. means that 1/2 teaspoon equates to 0.08 cents)
1 teaspoon of smoked paprika
$1.68 for a 2 oz. container at Walmart
(6 tsp per oz. or 0.14 cents per 1 tbsp )
1/2 cup of water (if needed)
free
Total Cost:
$9.27/6.7 oz. (full cost: meat + ingredients)
Shot Instruction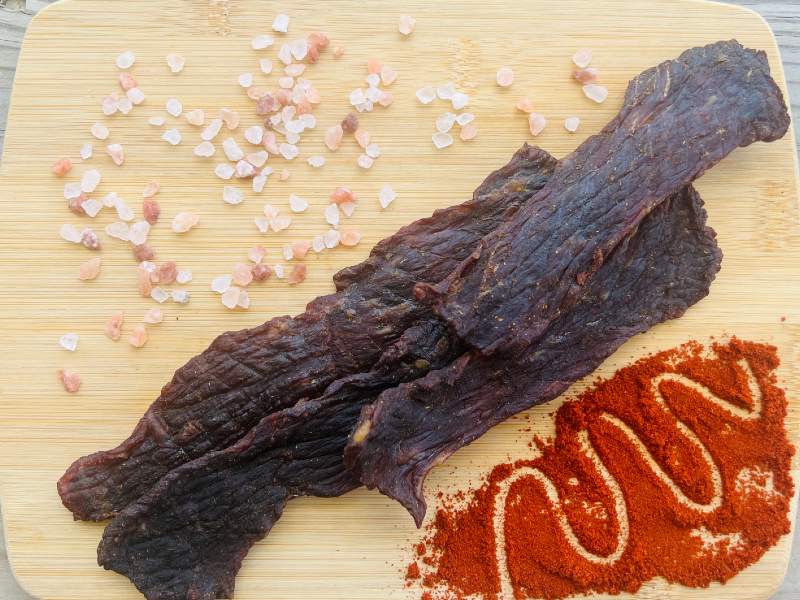 ---
---
Instructions
Trim all visible fat from the meat

Try to slice the meat against the grain, getting an even thickness

Mix beef and your marinade together. Put the mixture in a refrigerator for a minimum of 6 hours and up to 24 hours

Before cooking, place the meat on paper towels for a few minutes to get rid of any extra liquid

Dry beef jerky at 165 Fahrenheit for 5 – 8 hours
---
Nutrition
Serving:
38
g
|
Calories:
231
kcal
|
Carbohydrates:
8.1
g
|
Protein:
30
g
|
Fat:
8.4
g
|
Saturated Fat:
2.3
g
|
Cholesterol:
81
mg
|
Sodium:
1458
mg
|
Potassium:
460
mg
|
Fiber:
1.8
g
|
Sugar:
4.5
g
|
Calcium:
60
mg
|
Iron:
18
mg
QUOTE:
"You might be a redneck if you think that beef jerky and moon pies are two of the major food groups."
-- Jeff Foxworthy