Beef jerky is a satisfying and healthy low-carb snack, providing a hefty dose of protein per single-ounce serving. For these reasons, it's gained quite the following amongst hard-core athletes and distance runners, who are always on the lookout for an easily transportable refueling option that provides them with all the nutrients they need for muscle-building, sodium replenishment, and more.
However, unless you've ever attempted to make your own beef jerky, you may have never considered which parts of the cow present the best cuts of beef for turning out this popular snack-pantry staple. That's where this article comes in. We're here to tell you everything you need to know about the different beef cuts, in which sections of the cow they can be found, and why some make better choices for beef jerky than others.
Common Elements of Standout Beef Jerky
When you bite into a strip of high-quality beef jerky, you can tell right away. The texture is appealingly chewy without being too tough, there are only trace amounts of fat (if any at all), and the flavor hits your taste buds in all the right spots. Conversely, you're likely to notice if the beef is of poor quality—for example if the meat isn't tender or flavorful enough to entice you into taking a second bite.
Properly seasoned beef jerky must contain plenty of salt or sodium-laden products such as soy sauce. Salt is a hygroscopic substance, meaning that it has the innate ability to draw excess moisture out of the meat, thereby speeding up the drying process. It goes without saying that this also makes the strips of beef more flavorful, and helps distance runners to replenish their depleted sodium levels.
Since fat is incapable of drying out as thoroughly as flesh, it's advisable to use the leanest cuts of beef possible when making beef jerky. Too much fat can contribute an unappealingly stringy texture to your finished product. Since it doesn't fully dehydrate, it's also more prone to spoilage, meaning the jerky won't last as long at room temperature.
Sale
Bestseller
Magic Mill Food Dehydrator Machine | 5 Stackable Stainless Steel Trays Jerky Dryer with Digital Adjustable Timer and Temperature Control - Electric Food Preserver Machine with Powerful Drying Capacity for Fruits, Veggies, Meats & Dog Treats (5 Stainless Steel Trays)
POWERFUL FOOD DRYING PROCESS - Magic Mill Compact Food Dehydrator Machine streamlines 240W drying capacity that offers an efficient food drying process. It removes excess water from foods without compromising their natural juices, taste, and nutrients – boasting a 97% retention rate of vitamins and minerals.
MULTI-LAYER AND ADJUSTABLE TRAYS - This Fruit and Herb Dehydrator features five (5) food-grade adjustable trays that allow you to dry different foods, fruits, and veggies at once. The standard height between the trays is 0.6 inches, but you can raise each to 1.1 inches – perfect for thick-cut ingredients.
TOP-NOTCH DESIGN AND CONSTRUCTION - Our Meat Dehydrator comes with premium stainless steel trays that passed the quality check and industry standards for food safety. The body is made from BPA-free plastic that is both durable and corrosion-resistant. The base is made from stylish stainless steel as well.
USER-FRIENDLY, VERY EASY TO OPERATE - This Electric Food Dehydrator is equipped with a control panel that allows you to set a timer and adjust the temperature with a simple touch of a button. You can set it between 95-158°F for up to 24:00 hours in half hour increments – depending on your food dehydration requirements.
EASY TO CLEAN, DETACHABLE TRAYS - To clean, simply remove the trays from the machine and wash them using soapy water or through a dishwasher. Thus, you can ensure preserved product quality that will provide you with healthy dried fruits, meats, vegetables, pet food, beef jerky, and more in the long run.
Breaking Down the Cow
In order to understand what makes certain cuts of meat more suited for the task of jerky-making than others, it's best to first take a look at the parts of the steer that are generally used for roasts, steaks, and ground meat products. At the top of each section, we'll rank the section on a scale of 1 (if the portion is unsuitable for beef jerky) to 5 (for the cuts that are likely to make the best jerky). Note that these names are used primarily in the United States and Canada—other areas of the world may use other names, or even butcher the meat differently.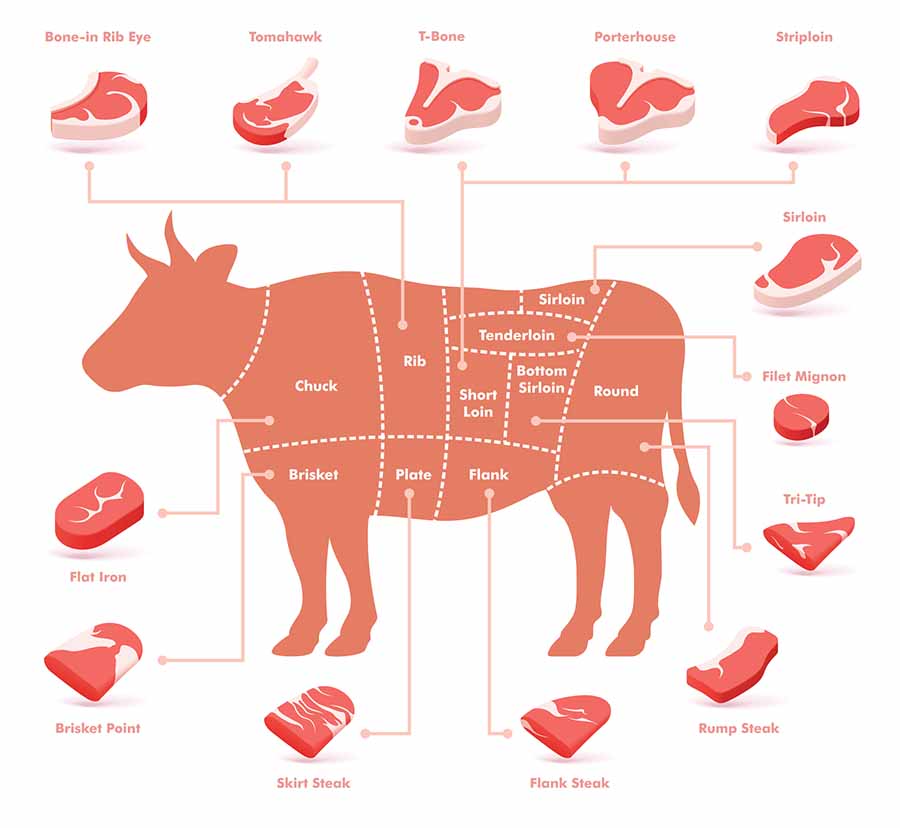 #1 – Chuck
Jerky Suitability Factor: 3
The chuck portion is located around the top shoulder of the animal, and the meat is used primarily for either bone-in or boneless steaks and roasts. One cut, the shoulder petite steak or "teres major," is so popular on restaurant menus that it's earned the nickname "bistro steak." Sometimes the trimmings (the small pieces that are cut away) are often ground into meat for a hamburger, at which time it's labeled as "ground chuck."
While chuck steaks and roasts are suitable for making jerky, it can be time-consuming to trim all of the excess fat from the meat beforehand. Additionally, the high-fat content means that the jerky won't stay fresh for as long. That's why we've given it a mediocre ranking on the suitability scale.
#2 – Brisket
Jerky Suitability Factor: 3
Beef brisket is a well-marbled cut that's often used for barbecue, pastrami, and corned beef. Its coarse grain makes it ideal for long cooking at low temperatures, both of which can be used to describe the jerky-making process. Before butchering, the brisket is located just under the chuck, below the animal's shoulder section.
Connect with Real Jerky Makers
We'll introduce you to some of the most delicious, off the beaten path jerky makers around!
Because the Best Jerky Doesn't Come from a Store
Like the chuck section, the brisket contains excess fat and is therefore more prone to spoilage than some of the higher-ranked cuts. The jerky will taste fine, but it requires a high level of prep time for a product that's ultimately more perishable.
#3 – Rib
Jerky Suitability Factor: 1
The rib section contains two of the most prized cuts of meat for steak lovers—the prime rib and the rib eye. Beef short ribs, which are both meaty and flavorful when prepared correctly, are also sometimes taken from this section (located just behind the chuck, toward the rear of the cow).
Because the meat from the rib is both fine-grained and fatty, it's really not a suitable choice for beef jerky. While the marbling lends a ton of flavor to the rib eye steak and other cuts, it doesn't translate as well when you're trying to prepare thin strips for the dehydrator. The fine texture doesn't hold up well to the drying process, either, which can make for a crumbly product.
#4 – Plate
Jerky Suitability Factor: 2
This portion—found on the underbelly of the cow—is also used for beef short ribs, as well as pot roasts. Skirt steaks, the cut of choice for fajitas, can be found here as well. The trimmings are typically ground into hamburgers.
While the chewy texture of skirt steak can make for an appealing jerky, meat from the plate section is generally too tough and fatty for the dehydrator. It can be used in a pinch, but if you have other options, you should consider one of those instead.
#5 – Short Loin
Jerky Suitability Factor: 4
In another center section, this one located just behind the rib, the short loin is used for porterhouse and T-bone steaks (it's intersected by the tenderloin; see description below). The meat is very tender, and while there's some marbling (streaks of fat in the meat), it's typically easy to work around. This makes it a fine choice for beef jerky if you can afford a slightly higher price tag.
#6 – Flank
Jerky Suitability Factor: 5
This steak is quite popular for grilling, as the coarse texture gives way to a tender bite when the steak is thinly sliced against the grain. The flank is located toward the animal's rear legs, beneath the loin sections.
Flank steak has a bold, meaty flavor all its own, but holds up exceptionally well to marinades, which makes it a great choice for jerky. As with cuts from the short loin, the only drawback is the cost, which can be prohibitive if you're making a large batch.
#7 – Sirloin, Top Sirloin, and Bottom Sirloin
Jerky Suitability Factor: 4
These sirloin and top sirloin portions—intersected by the tenderloin—can be found along the top rear area of the cow. The bottom sirloin rests beneath the top sirloin, just above the flank. Steaks from this segment are both popular and easy to find, and roasts made from this section are both tender and flavorful—a winning combination.
While there is an outer layer of fat on sirloin steaks, it can be trimmed away easily, and the rest of the meat contains very little marbling. It loses a point on the suitability ranking only because it's pricier than cuts from the round. Otherwise, it's a great choice.
#8 – Tenderloin
Jerky Suitability Factor: 3
As the name suggests, tenderloin provides the most tender cuts of all, including filet mignon, chateaubriand, and tournedos. It's a long, narrow segment that segments the sirloin and top sirloin sections, with its thicker section pointing toward the rear of the cow.
This cut is very lean and will result in some of the most tender jerky you'll ever sample—excessively tender, in our opinion. The meat doesn't take marinades well, and even when it's dried, its texture is too soft to turn out a satisfying product. Another strike against it is the cost, which is far too high to recommend the tenderloin for jerky production.
#9 – Round
Jerky Suitability Factor: 5
The round is located in the rear of the cow, also known as the "rump" section. The meat is lean, with an easily detectable grain that can be sliced accordingly—with the grain for a chewier texture if you prefer a more tender bite.
Eye of the round is an excellent choice for beef jerky. Not only is it well-suited to marinades, it's also very reasonably priced, which is one of the most important considerations since the meat loses a good deal of its weight during the dehydration process. Accordingly, eye of the round is the cut from which most commercially prepared jerky is made.
#10 – Shank
Jerky Suitability Factor: 1
Shanks are the upper portions of the leg, found just below the brisket and round sections. Meat from the shank is traditionally used for stews and other braises, as it's too tough to be prepared any other way. For this reason, it's best to steer clear of this section if you're hoping to make jerky that takes less than a day to chew through.
Sale
Bestseller
WILDDIGIT Large Capacity Professional Beef Jerky Gun Kits, Stainless Steel Jerky Maker, Jerky Cannon, Meat Gun with 5 Stainless Nozzles and 5 Brushes
【GODEN COMBINATION】The professional stainless steel jerky gun kits are equipped with food grade stainless steel cannon, 5 stainless steel nozzles, 5 cleaning brushes, for making various jerky and sausages. Our jerky maker has good quality, perfectly for beef jerky fans. Even newbies can easily make delicious beef jerky with this product.
【HEALTHY MATERIAL】Our jerky making gun is made of high quality 304 stainless steel. Not only has good corrosion resistance, but also protects your health. But that's not the case with aluminum, which is why stainless steel kitchen utensils are becoming more and more popular, Besides, our jerky gun have passed the safety test,so you can use it with more confidence.
【EASY TO CLEAN】We've integrated an upgrade to its handle to better protect the internal metal from air exposure and rust, and it's easy to clean. The jerky cannon and nozzoles surfaces have been polished, it easy to clean in seconds. It's equipped with different type of brushes, which make you easily clean the beef jerky gun kits, even the gap of the flat nozzles.
【EASY TO USE】This beef jerky gun has the feature of squeezing out the meat easily. You can install the nozzle as needed, press the handle, and squeeze the meat out easily. It features a sleek pump handle, making it easy for your family and friends to join in. Our jerky gun is great for your family meals, BBQ and other indoor or outdoor activities.
【Quality Warranty】Our philosophy: Customer's reputation is the source of enterprise development. If your jerky gun is broken or has a defective, reach out to us and we will do all we can in 24 hours, to ensure your complete satisfaction.
Conclusion
I hope you've enjoyed the article, but if you're more of a visual person, the below video will be helpful.
Best Cut of Meat for Jerky (Video)
QUOTE:
"You might be a redneck if you think that beef jerky and moon pies are two of the major food groups."
-- Jeff Foxworthy