You've heard of beef jerky, bison jerky, and turkey jerky. These meaty snacks are perfect for when you need a quick and tasty protein boost.
But what about tuna jerky?
Tuna jerky is packed with protein and essential fatty acids and is generally preservative-free.
It sounds unconventional, sure, but don't knock it 'til you try it! Tuna jerky isn't quite the same as other jerky, but it's got plenty of its own benefits — it's loaded with nutrients, and its unique flavors are ultra-crave-able.
Want to learn more about tuna jerky? Here's everything you need to know!
Is Tuna Jerky Nutritious?
You bet it is! In fact, in some ways, tuna jerky is more nutritious than beef jerky.
For starters, high protein content is a major selling point for any jerky. There's a reason beef jerky is the snack of choice for athletes and bodybuilders, but tuna jerky may just have it beat.
A single one-ounce serving of tuna jerky contains approximately 9 grams of protein. That's 18% of the recommended daily value for the average adult… and all from just one snack!
On average, tuna jerky contains 50% more protein than beef jerky.
That's not to mention other nutrients, like omega-3 fatty acids. These healthy fats are found in oily fish like tuna and can reduce inflammation, improve heart functioning and regulate blood pressure.
Tuna jerky contains up to 100 times more omega-3 fatty acids than beef jerky. And it provides them without boosting saturated fat levels — in fact, tuna jerky contains no saturated fat at all!
If you're worried about preservatives in your food, you'll love tuna jerky. It's generally preservative-free, unlike many other jerkies, making for a more natural snack.
Plus, tuna jerky can be consumed by those who can't eat red meat due to health conditions or dietary sensitivities. It's a fantastic alternative for health-conscious snackers.
Is Tuna Jerky Environmentally Friendly?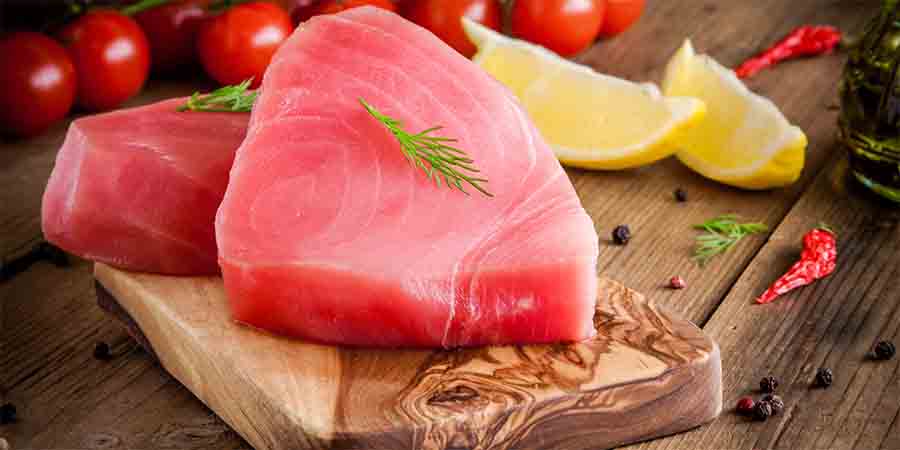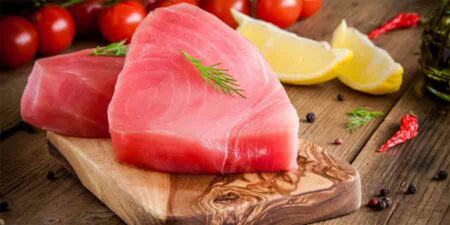 Beef jerky may be tasty, but that deliciousness comes at a cost.
Globally, the production of beef is responsible for 6% of all greenhouse gas emissions. And that's not counting the destruction of forests and other natural habitats to make way for grazing areas and farming facilities.
The production of tuna for human consumption has a much smaller carbon footprint, but it does have its own environmental impact. Overfishing of tuna has disastrous effects on dolphins, predatory fish and the overall balance of the ecosystem.
But most tuna jerky is made from sustainably-caught tuna. Sustainable fishing practices limit the size of tuna harvests and ensure that plenty of tuna remain to keep the ocean operating the way nature intended.
Additionally, most tuna jerky comes from locally-caught tuna. Kaimana Jerky, one of the most popular tuna jerky brands, makes its jerky from tuna caught no more than 50 miles away from its facilities.
The closer the fishing site, the less pollution is created by fishing boats. And the closer the fishing boats stay to home, the lesser the impact each catch makes on the broader ecosystem.
To be sure that you're purchasing sustainable and environmentally-friendly tuna jerky, look for phrases like "dolphin friendly" and "sustainably-caught" on the packaging.
Does Tuna Jerky Taste Good?
Everyone's tastes are different, but for most people, the switch from beef to tuna jerky is less drastic than they expect!
Tuna jerky tastes fishier than beef jerky; there's no way around that. But tuna is among the least fishy-tasting fish, and the combination of seasoning and dehydrating removes even more fishy flavor.
If you're on the fence about the flavor of tuna jerky, look for varieties like lemon salt or teriyaki tuna jerky. With the extra seasonings, you may even forget you're eating fish at all!
And if you already enjoy the taste of fish, you'll love the new twist that the smoky, salty jerky flavors add to tuna.
You may even enjoy tuna jerky even if you're not big on beef jerky, to begin with! Tuna jerky is much leaner than beef jerky, so it doesn't contain any of the unpleasant bits of fat you sometimes have to reckon with when eating beef jerky.
Tuna Jerky
Last update on 2022-09-22
Connect with Real Jerky Makers
Because the Best Jerky Doesn't Come from a Store
QUOTE:
"You might be a redneck if you think that beef jerky and moon pies are two of the major food groups."
-- Jeff Foxworthy