Homemade beef jerky is great to have around, but it's not something you can quickly whip up every time you get a craving for it. Most jerky requires a lengthy marinade to maximize the flavors.
But our steak dry rub beef jerky doesn't!
No more messy marinades and endless waiting — just prep your beef, mix that dry rub in and dehydrate it. You could even take a page out of our book and prepare a batch in the morning so you can have it for lunch!
It couldn't be easier (or tastier) to make your own steak dry rub beef jerky. Here's the full guide!
Steak Dry Rub Beef Jerky Ingredients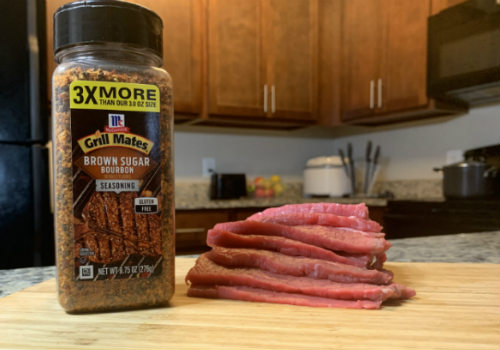 You only need two ingredients to make this recipe:
your favorite cut of beef
Seriously, that's it!
Grill Mates Brown Sugar Bourbon dry rub is a fantastic blend of sweet brown sugar, rich bourbon, spicy red pepper, and savory garlic and onion. It's all pre-mixed, so you don't have to do anything to get the flavors flowing.
You can use any cut of beef you want, but you'll get the best results from lean cuts. That's because fat spoils a lot faster than beef does, so fatty jerky won't keep in storage for very long.
To make our steak dry rub beef jerky, we used our favorite cut: eye of round. If you want to switch it up, try tender sirloin tip or hearty top or bottom round.
Getting the Beef Ready
Trimming the Fat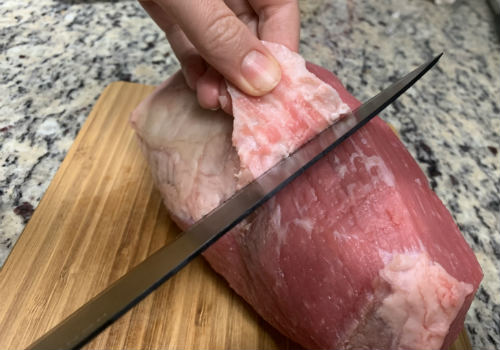 Get a sharp knife and start cutting away at any fat on your beef.
It can be tempting to skip the tiny or tricky bits of fat, but it's important to take the time to get everything you can. The more thorough you are, the longer your jerky will last.
Freezing and Slicing the Beef
Once you've trimmed all the fat, put your beef in the freezer for an hour or two. This makes it much easier to slice.
When you're ready to slice, cut the beef into thin strips, going against or across the grain. Try to keep your slices under ¼ inch thick; any thicker, and they'll take too long to dry.
Adding the Dry Rub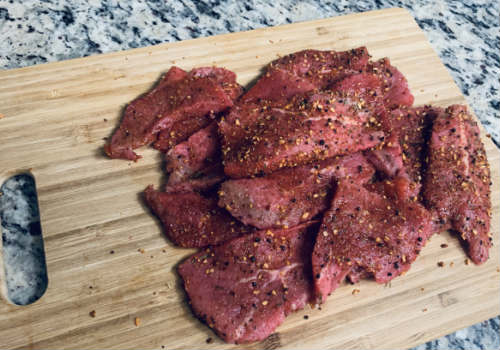 Now we're ready to add that killer brown sugar bourbon flavor to our beef! Just sprinkle your preferred amount of the dry rub onto the beef and mix it in until the beef is evenly coated.
McCormick recommends using 1 tablespoon of Grill Mates Brown Sugar Bourbon per 1 pound of beef, but you're free to adjust the ratio to your liking. Keep in mind that your beef will shrink considerably while drying, so a little dry rub goes a long way!
Dehydrating the Beef
We use a food dehydrator to make our beef jerky because it's affordable, easy to clean and super-simple to use. You can get one on Amazon or at most big box stores.
If you'd rather not use a dehydrator, you can dry your beef in a regular oven or electric smoker. Just be aware that oven-dried beef jerky tends to taste more "cooked" than regular beef jerky, and that drying it in a smoker will add an extra 2 hours or so to your drying time.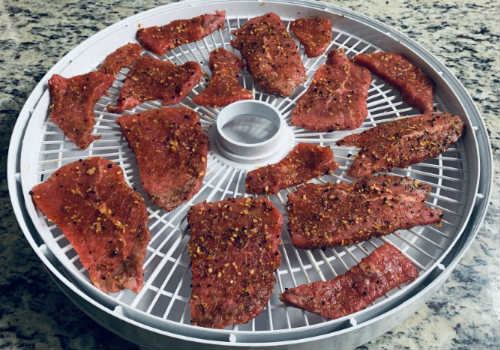 To make our steak dry rub beef jerky, we arranged our beef on the dehydrator trays and dried it at 160 degrees F for 6 hours. This resulted in tender jerky with a slight crisp to it — just the way we like it!
Your jerky may take anywhere from 4 to 10 hours to fully dehydrate, depending on the thickness of the beef and your personal preferences. Thinner beef dries quicker than thicker beef.
Once the jerky's dried for 4 hours, check it for doneness every 30 minutes or so. You'll know it's done when you can bend a piece without breaking it.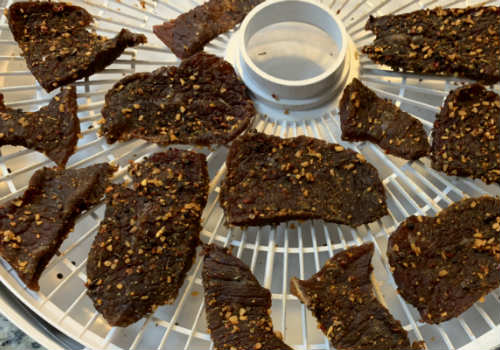 Step-by-Step Instructions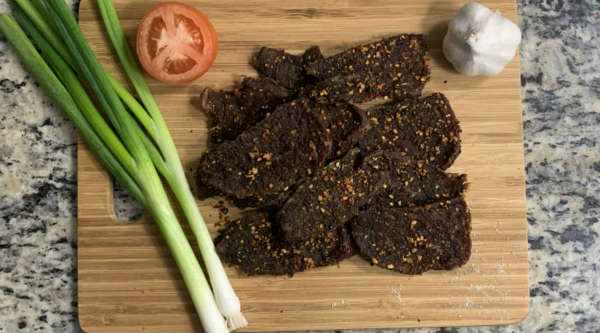 Makes 5 servings
Prep time: 30 minutes
Cook time: 4-10 hours
Ingredients
Cost
1 lb. of beef; I chose eye of round but you can use your favorite cut (any could work)
$5 per 1 lb. at Walmart; keep in mind that you'll upwards of 60% of your beef during the dehydration process
1/4 cup of Grill Mates Brown Sugar Bourbon
~$4 for a 9.75 oz. container
Total Cost:
$9/~7 oz. (full cost: meat + ingredients), or
$6/~7 oz. (partial cost as you'll still have 3/4 of your seasoning)
Enjoy your steak dry rub beef jerky, and don't forget to store it safely.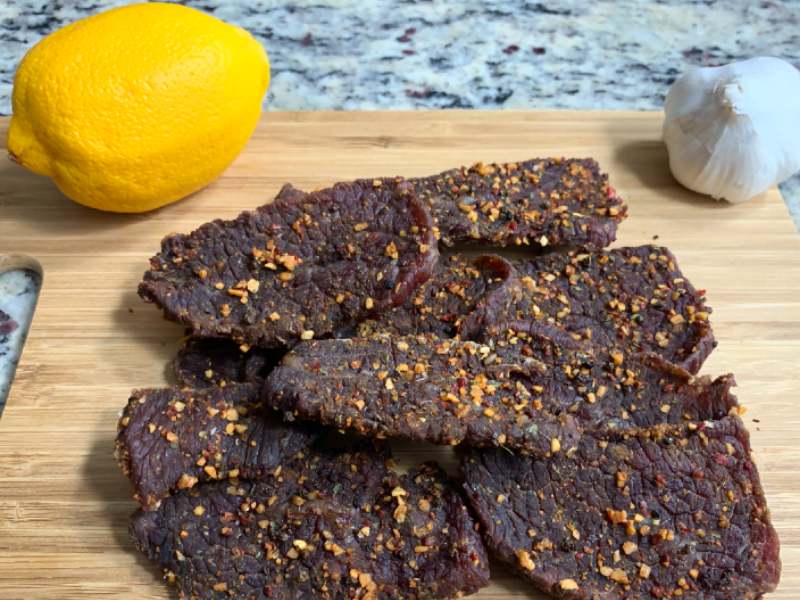 ---
Ingredients
1

lb

beef;

I chose eye of round but you can use your favorite cut (any could work)
---
Instructions
Trim the fat from the beef as thoroughly as you can.

Chill the beef in the freezer for 1-2 hours.

Cut beef against the grain in slices no thicker than ¼ inch.

Add the Grill Mates Brown Sugar Bourbon dry rub and coat the beef thoroughly.

Dry the beef in a food dehydrator at 160 degrees F for 4-10 hours, checking every 30 minutes. The jerky is done when it bends without breaking.
---
Nutrition
Serving:
39.6
g
|
Calories:
181
kcal
|
Carbohydrates:
2.7
g
|
Protein:
27.5
g
|
Fat:
5.7
g
|
Saturated Fat:
2.1
g
|
Cholesterol:
81
mg
|
Sodium:
183
mg
|
Potassium:
365
mg
|
Sugar:
2.1
g
|
Calcium:
1
mg
|
Iron:
17
mg
Last update on 2022-09-22
Connect with Real Jerky Makers
Because the Best Jerky Doesn't Come from a Store
QUOTE:
"You might be a redneck if you think that beef jerky and moon pies are two of the major food groups."
-- Jeff Foxworthy