Are you looking for a delicious and spicy way to snack? Check out this recipe for South Texas jalapeno jerky! This jerky is full of flavor and heat, perfect for any occasion. Enjoyed by both beginners and experts, this recipe is sure to be a hit. So, what are you waiting for? Try it today!
Before you start making South Texas jalapeno beef jerky, make sure that you have the following ingredients:
Ingredients for South Texas Jalapeno Jerky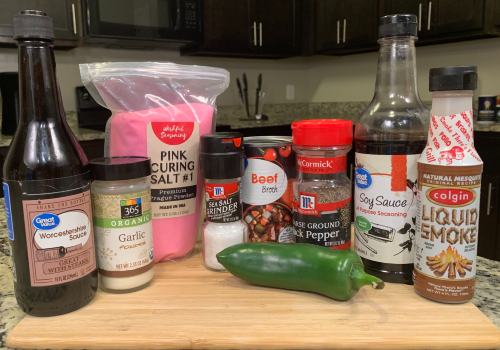 Find the Best Beef
If you want the best jerky, you need to start with the best beef. The right cut is important for making jerky. Stay away from fatty cuts like ribeye and flap steak. Lean cuts like London broil makes the best jerky, and it's easy to trim off any extra fat because there isn't much there in the first place! I use London broil for our South Texas Jalapeno Jerky, but top or bottom round, eye of sirloin tip, or flank steak work just as well!
My pick was London broil beef, which I bought at Walmart for $12.03/per 2.06 lb. ($5.84/per 1 lb.)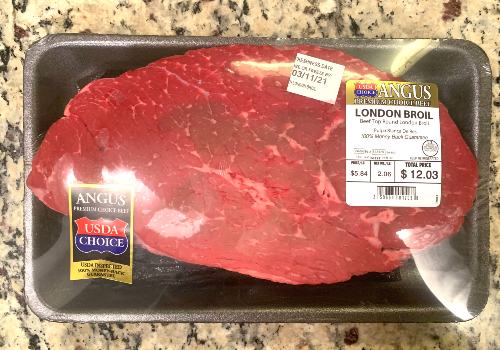 Preparing the Beef
Your beef jerky will taste bad if there is fat left on it. So make sure to trim all the fat off of your beef before you do anything else. If you leave any fat, your jerky might spoil faster.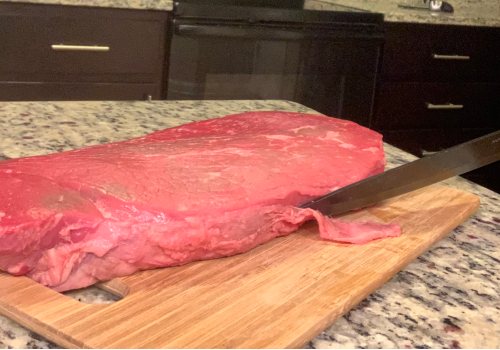 Connect with Real Jerky Makers
We'll introduce you to some of the most delicious, off the beaten path jerky makers around!
Because the Best Jerky Doesn't Come from a Store
I initially weighed the meat. It should weigh about one pound for our recipe.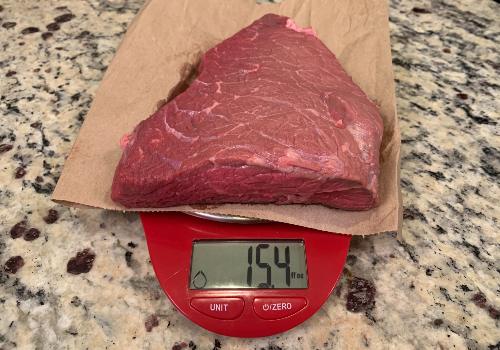 It is optional, but we think it's a good idea. Put the beef in the freezer for 1-2 hours before cutting it.
It will make it easier to cut and make cleaner cuts. The beef should be firmer and still slightly pliable when you take it out of the freezer.
Cut the beef into pieces that are less than ¼ of an inch thick. You will need to cut across the grain (perpendicular to it).
Cutting across the grain will make jerky easier to chew, and some people like it more because it tastes better.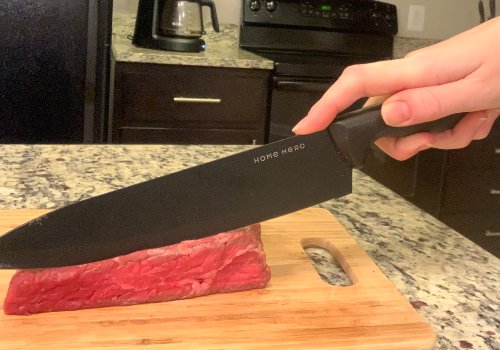 The next step is to gather all the ingredients. You will need to mix them all in the right amounts. That's why I am using a measuring cup.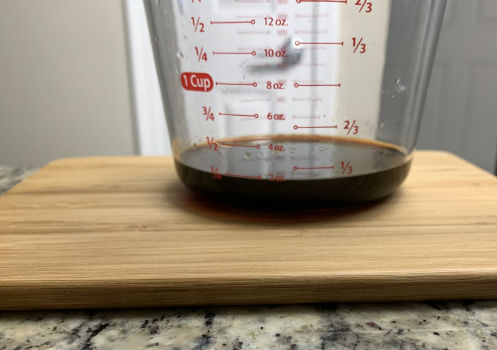 To make the marinade for your beef jerky, add all ingredients to a container and stir until combined. Put your meat in a bag or container with a lid and add the marinade mixture.
Shake it up so that everything gets mixed together. Let it sit in the refrigerator for 6 hours or more, but if you can leave it overnight, that will give you more flavor! You can leave it for 24 hours if you want!
Make sure to shake up the mixture in a while so that things don't settle on the bottom of your container.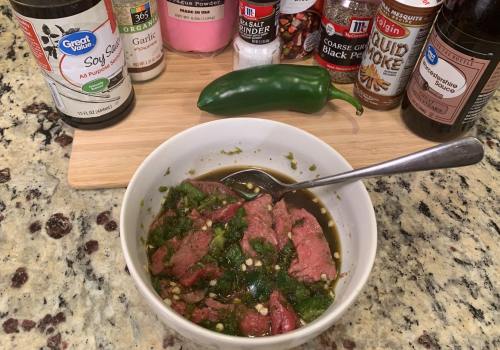 Dehydrate Your Beef Jerky
After marinating the beef, you'll need to drain any excess liquid. You can do this by placing the beef on a paper towel for a few minutes. The paper towel(s) will absorb any excess marinade.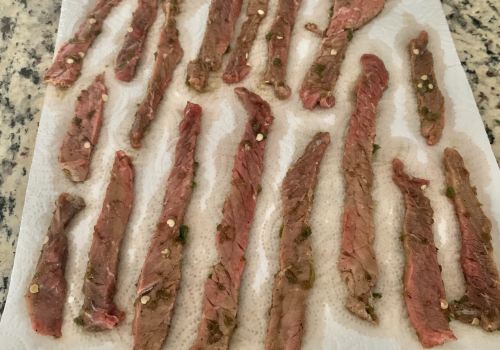 A food dehydrator is the best way to dry beef. You can buy it on Amazon or at Walmart, but you can use an oven or an electric smoker.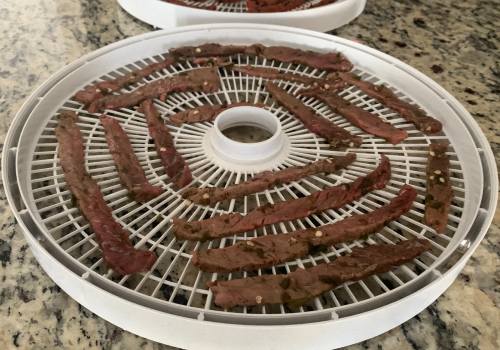 Lay your beef slices on the dehydrator trays and dry them at 160 degrees Fahrenheit for 4-7 hours. If you slice your beef thinly, it should only take 4 hours, but if you cut it thicker, it will take more time (6+ hours).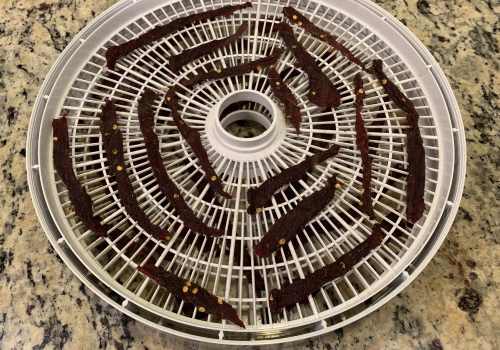 My jerky weighs 6.3 oz or 179 grams. The process removed 8.5 ounces of weight, 58% of the original weight. Now you know why jerky is so expensive!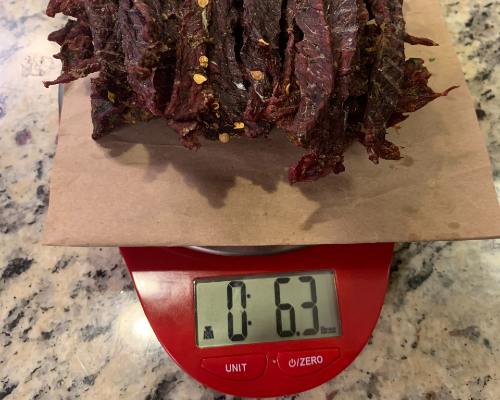 Recipe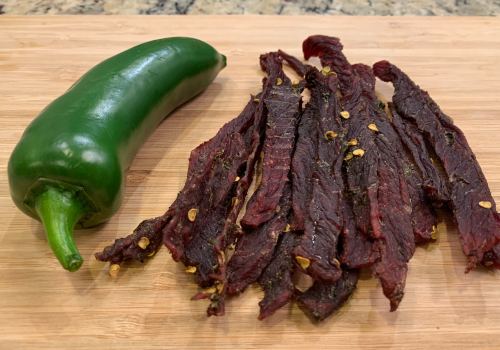 This recipe serves 4 people. The whole process took me 11 hours and 30 minutes:
preparation time: 30 minutes
marinade time: 7 hours
drying time: 4 hours
Ingredients
Cost
1 lb. of beef; I choose top London broil beef, but any could work
$6.01 per 1 lb. at Walmart
1/2 teaspoon of Prague Powder #1 curing salt
Between $12 and $13 for a 2.5 lb. pack
(96 teaspoons per pound means that 1/2 of a teaspoon equates to 0.02 cents)
1/2 cup soy sauce
$1.52 for a 5 oz. container at Walmart
(1/2 cup or 1 oz. = 0.30 cents)
1/2 cup beef broth
$0.67 for a 14.5 oz. container at Walmart
(1/2 cup or 1 oz. = 0.18 cents)
1/2 teaspoon sea salt
$1.96 for 2.12 oz. a container at Walmart
(6 tsp. per oz. means that 1 teaspoon equates to 0.15 cents or 0.08 cents per 1/2 teaspoon)
1/2 cup of Worcestershire souse
$1.00 for a 10 oz. container at Wallmart
(1/2 cup or 1 oz. = 0.10 cents)
1 green bell pepper hickory
$0.44 per 1 at Walmart
1 teaspoon black pepper
$2.98 for a 3 oz. container at Walmart (6 tsp. per oz. means that 1 teaspoon equates to 0.17 cents)
2 teaspoons of liquid smoke hickory
$1.34 for a 4 oz. container at Walmart
(6 tsp. per oz. means that 2 teaspoons equate to 0.28 cents)
1 teaspoon garlic powder/ or onion powder
Between $4 and $5 for a 2.33 oz. container
(6 tsp. per oz. means that 1 teaspoon equates to 0.28 cents)
Total Cost:
$7.87/6.3 oz. (full cost: meat + ingredients)


Shot Instruction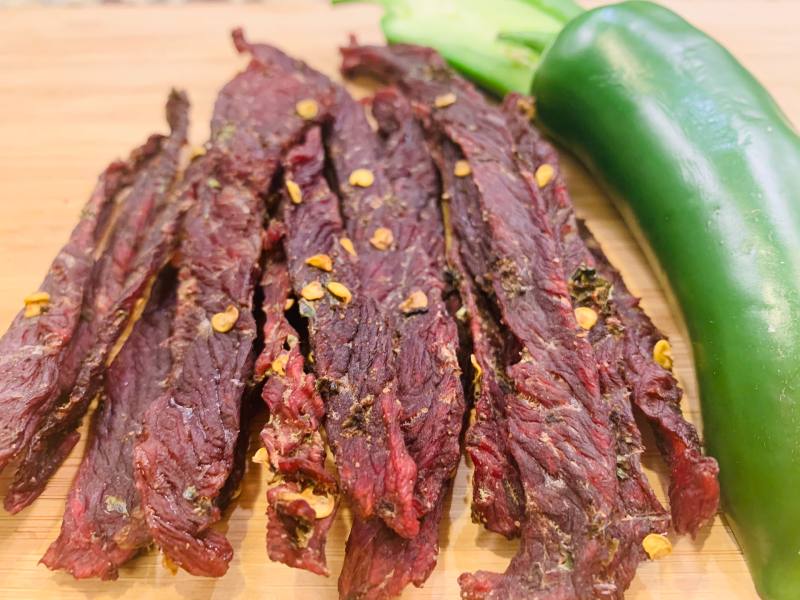 ---
---
Instructions
Trim the fat from your beef.

If you are not using pre-sliced beef, freeze it for 1-2 hours. Slice the beef thinly, no thicker than ¼ inch.

Combine marinade ingredients in a measuring cup, pour over beef into a container; put the container in the fridge for 6-24 hours.

Remove any excess marinade with a paper towel before dehydration.

Dry your beef on a food dehydrator at 160 degrees F for 4-5 hours (thin pieces) or 5-7 hours (thick slices).
---
Nutrition
Serving:
44.75
g
|
Calories:
246
kcal
|
Carbohydrates:
6.3
g
|
Protein:
36.5
g
|
Fat:
7.4
g
|
Saturated Fat:
2.7
g
|
Cholesterol:
101
mg
|
Sodium:
1562
mg
|
Potassium:
588
mg
|
Fiber:
0.7
g
|
Sugar:
3.9
g
|
Calcium:
11
mg
|
Iron:
22
mg
QUOTE:
"You might be a redneck if you think that beef jerky and moon pies are two of the major food groups."
-- Jeff Foxworthy