Jerky is a great snack food that is high in protein and low in fat. It is also a healthy alternative to other snacks, such as chips and crackers high in calories. A Simple Smoked beef jerky recipe is a great way to make your own jerky at home.
You can also save money by making your jerky rather than buying it at the store.
Starting by Preparing the Beef
Flank steak is frequently considered one of the best options for beef jerky, but it is a bit pricy. You may use it or save money by using a less expensive beef cut without compromising flavor or texture. You can use top roast, bottom round, the eye of round, or London broil.
Look for beef that is low in fat. Although fat can benefit your jerky taste, it quickly degrades the beef. If you plan to store beef jerky, you should cut the fat off your pick.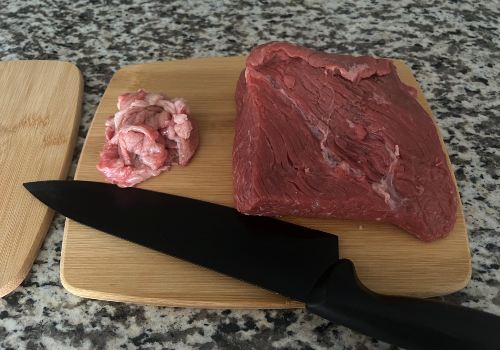 We need around 1 pound of beef for the recipe.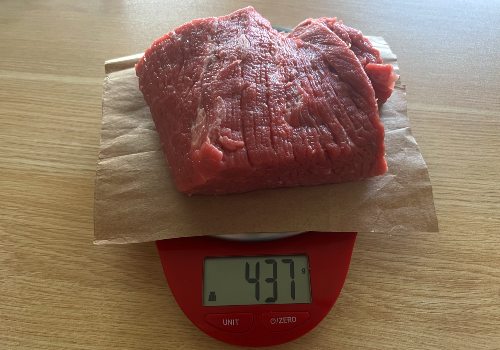 It might be challenging to cut the beef into thin, even strips. The greatest technique I have learned to achieve thin slices is briefly freezing the beef before cutting. The beef can be frozen for up to 60 minutes before it becomes solid enough to cut comfortably.
Connect with Real Jerky Makers
We'll introduce you to some of the most delicious, off the beaten path jerky makers around!
Because the Best Jerky Doesn't Come from a Store
Then, slice the meat into 1/8-inch-thick slices while cutting against the grain. Slicing against the grain will provide the nice tender feel of dried beef jerky.
Cutted strips do not have to be the same thickness. However, the outcomes are better the thinner they are: you will not have to sort the jerky to determine which pieces require more time for dehydration.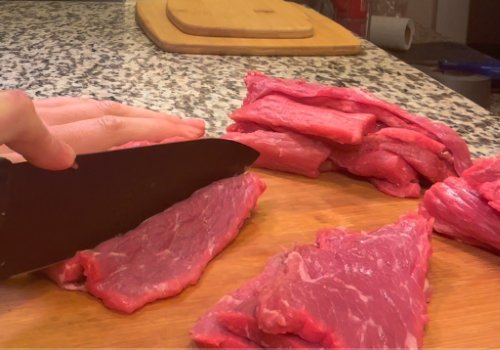 Marinating the Beef
You can add your flavoring spice to the top of the list. Don't be afraid to experiment and try something new.
I started with Worcestershire, soy sauce, liquid smoke, brown sugar, and ground black paper: it is the base for the recipe, and you can stop here. You can use the rest of the listed ingredients for richer flavor or modify this recipe by adding your favorite spices.
For example, onion, garlic powder, thyme, red pepper, and coriander will also work! Make sure to add no more than one teaspoon of your spices. To be safe, I recommend using 1/2 of a teaspoon per each.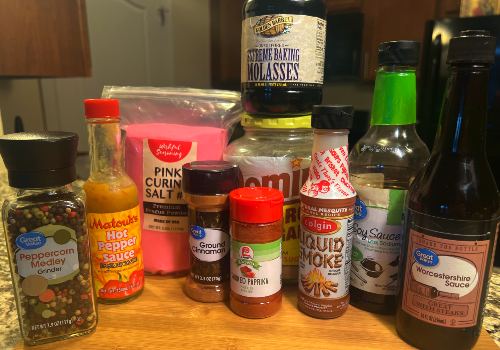 1 lb. of beef
1/2 cup of soy sauce
2 tablespoons of brown sugar
2 tablespoons of Worcestershire sauce
1 teaspoon of liquid smoke
1 tablespoon smoked paprika
1/2 teaspoon of Curing Salt (Prague Powder #1)
1/2 teaspoon of ground black paper
2 tablespoons of Hot pepper sauce
1/2 teaspoon of ground cinnamon
1/2 teaspoon of molasses
Add ingredients to the meat and let the beef sit in the marinade for 6 – 7 hours in the refrigerator. You can leave it for up to 24 hours: the more time it will be marinated, the more flavor the beef jerky will have.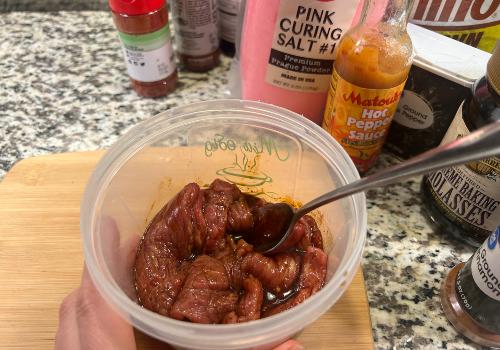 Dehydrating the Beef Low and Slow
Use the paper towels to remove the excess liquid from your marinated beef.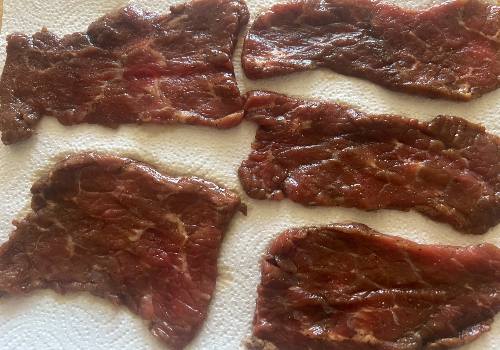 You can dehydrate your beef in a food dehydrator, an oven, or an electric smoker, but I prefer the dehydrator.
NESCO FD-75A Snackmaster Pro Food Dehydrator, For Snacks, Fruit, Beef Jerky, Gray
EVEN HEAT DISTRIBUTION: 600 watts of drying power provides even heat distribution; consistent drying that is four times faster than other food dehydrators
ADJUSTABLE TEMPERATURE CONTROL: The adjustable temperature control (95°F -160°F) gives you the flexibility to achieve the best results when drying different foods that need varying temperature settings
EXPANDABLE TO 12 TRAYS: Comes with five (13 1/2″ diameter) trays and expands up to 12 trays so you can dry large quantities at once with no tray rotation needed; additional trays sold separately
EXPANDABLE TO 12 TRAYS: Comes with five (13 1/2″ diameter) trays and expands up to 12 trays so you can dry large quantities at once with no tray rotation needed; additional trays sold separately
ACCESSORIES INCLUDED: (2) Fruit Roll Sheet, (2) Clean-A-Screens, a sample of Jerky Seasoning & Cure, and (1) Care & Use Guide
Turn the dehydrator to 160 F and dehydrate the beef for up to 7 hours.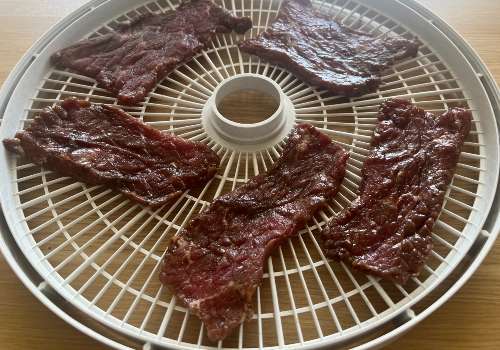 The beef jerky can be stored at room temperature for a week or two because the drier it gets, the more "preserved" it is. However, your beef jerky can be tough if you leave it in the dehydrator for too long.
At the end of the fourth hour, take a strip of jerky from the dehydrator. Await cooling it and then chew it thoroughly. Stop the process if you like how it tastes, or keep dehydrating for longer if it appears too soft.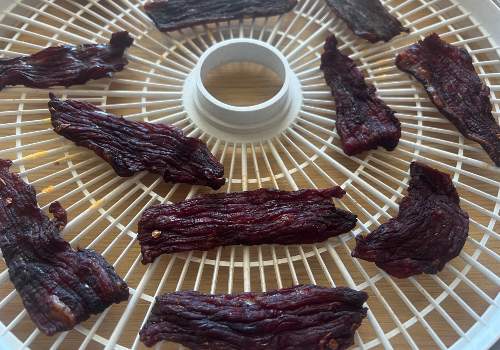 After dehydration, I ended up with 186 grams or 6.6 oz. of beef jerky.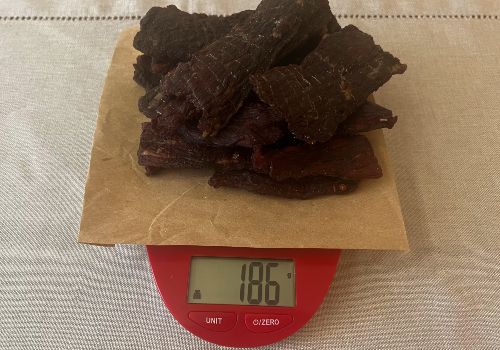 Storing the Beef Jerky
High-quality beef jerky can be stored at room temperature in a container for up to two weeks. You can keep your jerky in the refrigerator as well.
You can use my marinade recipe as a starting point, but feel free to experiment with your spices to make the ideal beef jerky. Increase the sweetness or the spice level. You can season your beef in different ways.
Recipe of Simple Smoked Beef Jerky
Makes 5 servings
Preparation Time: 30 minutes
Marinade Time: 7-24 hours, average 8 hours
Drying Time: 5-8 hours, average 6 hours
Ingredients
Cost
1 lb beef — bottom round beef (any could work)
$7.99 per 1 lb. at Weis
1/2 cup of soy sauce
$1.52 for a 15 oz. container at Walmart
(1/2 cup or 4 oz. = 0.41 cents)
2 tablespoons of brown sugar
$2.17 for 2lb. a container at Walmart
(31 tbsp. per pound means that 2 tbsp. equates to 0.07 cents )
1/2 teaspoon of black pepper ground
$3.98 for a 3.12 oz. container at Walmart
(6 tsp. per oz. means that 1 teaspoon equates to 0.21 cents or 0.11 per 1/2 of teaspoon)
1 tablespoon of smoked paprika
$1.68 for a 2 oz. container at Walmart
(2 tbsp per oz. or 0.42 cents per 1 tbsp )
2 tablespoons of Worcestershire sauce
$1.00 for a 10 oz. container at Wallmart
(2 tbsp per oz. or 0.10 cents)
1 teaspoon of liquid smoke
$1.34 for a 4 oz. container at Walmart
(6 tsp. per one oz. means that 1 tablespoon equates to 0.06 cents)
1/2 teaspoon of ground cinnamon
$1.18 for 2.5 oz. a container at Walmart
(6 tsp. per oz. means that 1/2 teaspoon equates to 0.24 cents)
1/2 teaspoon of Curing Salt (Prague Powder #1)
Between $12 and $13 for a 2.5 lb. pack
(96 teaspoons per pound means that 1/2 teaspoon equates to 0.02 cents)
2 tablespoons of Hot pepper sauce
$9.99 for 5 oz. a container in Walmart
(2 tbsp per oz. means equates to $2)
1/2 teaspoon of molasses
$8-9 dollar range for a 9.75 oz. container
(6 tsp. per oz. means that 1/2 tsp equates to 0.07 cents)
Total Cost:
$11.49/6.6 oz. (full cost: meat + ingredients)
Step-By-Step Instructions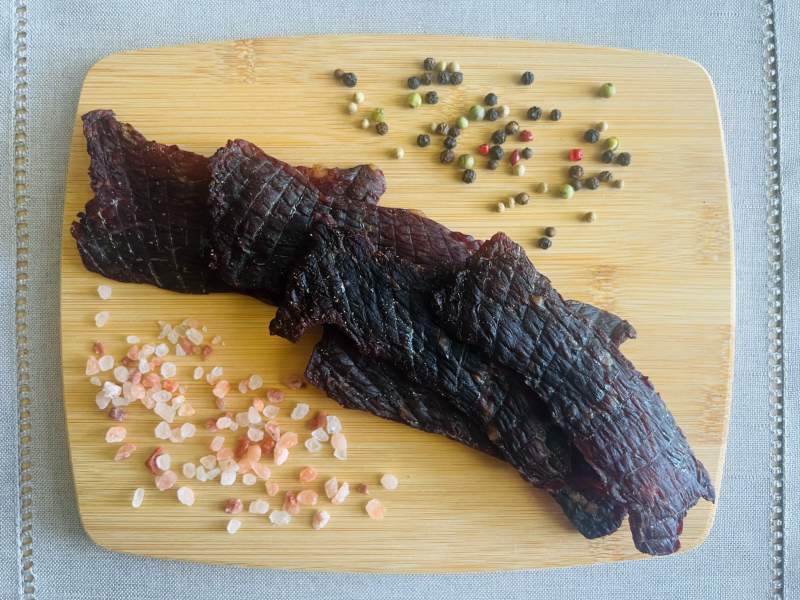 ---
---
Instructions
Freeze the beef for up to 60 minutes to cut it comfortably

Then, slice the meat into 1/8-inch-thick slices while cutting against the grain

Add ingredients to the meat and let the beef sit in the marinade for 6 – 7 hours in the refrigerator

Turn the dehydrator to 160 F and dehydrate the beef for up to 7 hours
---
Nutrition
Serving:
37.2
g
|
Calories:
216
kcal
|
Carbohydrates:
10.1
g
|
Protein:
29.7
g
|
Fat:
5.9
g
|
Saturated Fat:
2.2
g
|
Cholesterol:
81
mg
|
Sodium:
1510
mg
|
Potassium:
506
mg
|
Fiber:
1.6
g
|
Sugar:
5.7
g
|
Calcium:
28
mg
|
Iron:
19
mg
QUOTE:
"You might be a redneck if you think that beef jerky and moon pies are two of the major food groups."
-- Jeff Foxworthy