I'm always looking for new and interesting ways to make jerky, so when I came across a recipe for Korean BBQ Beef Jerky, I knew I had to try it. The end result was fantastic!
The beef was marinated in a sweet and spicy sauce, then dehydrated to perfection. If you're looking for a new twist on traditional beef jerky, give this recipe a try!
Korean BBQ Beef Jerky Ingredients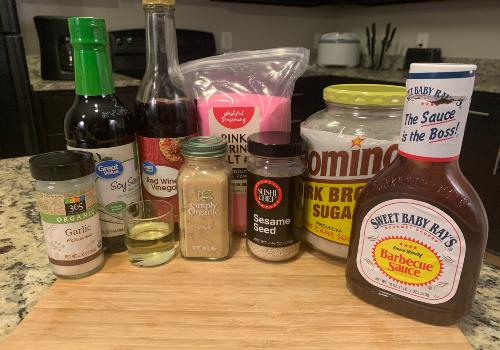 And of course, beef meat.
Picking the Best Beef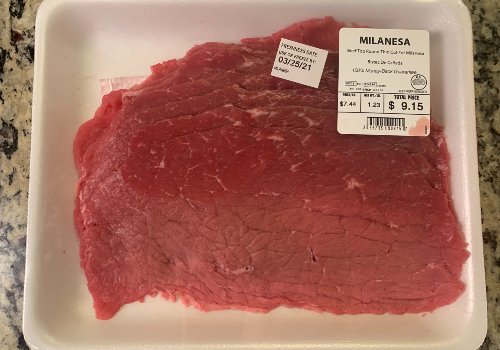 To make beef jerky, you need to choose a lean cut of meat. The more fat there is in the meat, the faster it will spoil. We used pre-sliced Top round thin cut because it contains very little fat and we didn't have to work on cutting it ourselves.
If you want to use a different kind of meat, that's okay too!
Weighing the meat helped me figure out how much jerky we will have after dehydrating beef.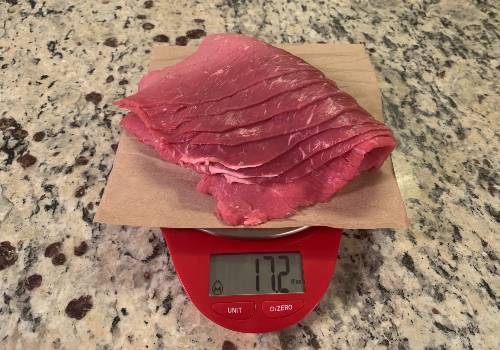 Or about 524 grams.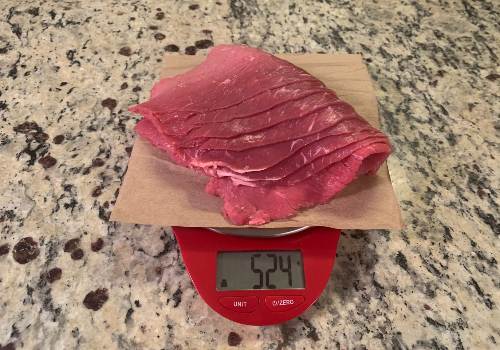 Prepping the Beef
Removing the Fat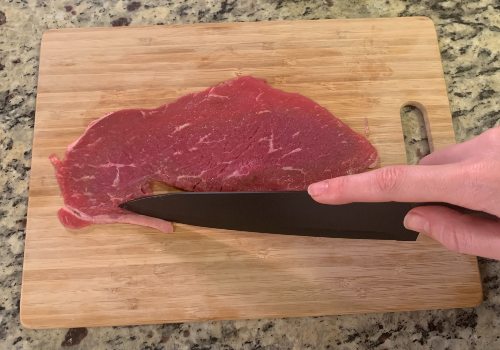 The fat on your beef will spoil much faster than the beef itself.
So if you want it to last, take off as much of the fat as possible before you dry it into jerky.
Slicing the Beef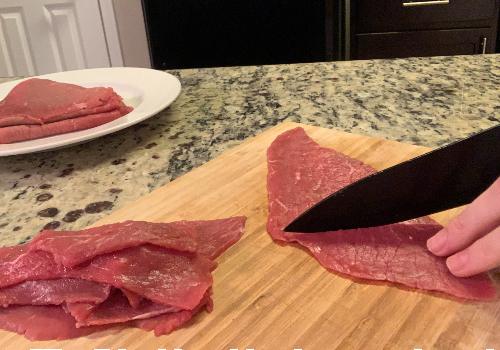 Cut the beef the opposite way that the grain is when you are ready to cut. Cut them really thin so they can dry faster (no greater than ¼ inch thick).
Marinating the Beef
To make the marinade, mix all of the ingredients together in a container. Use a measuring cup to get the proportions right.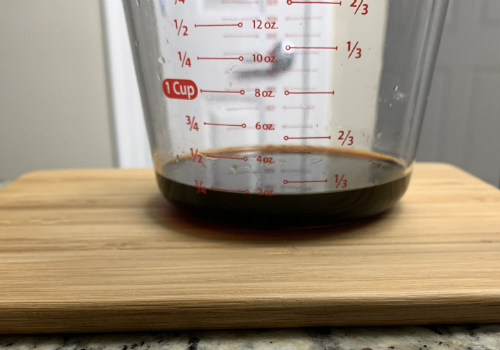 To make a tasty Korean BBQ marinade: put the 9 ingredients in a container and then add the beef, and mix until all the slices are completely covered. Put it in the fridge for 8 to 24 hours. The longer you leave it, the stronger the flavors will be!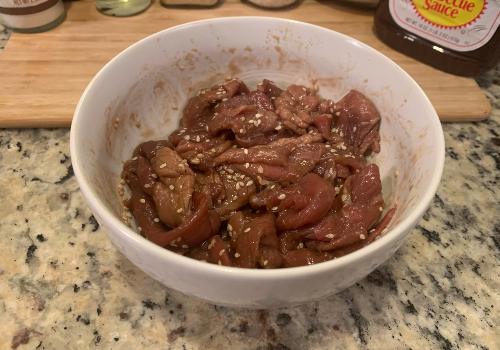 Drying the Beef Jerky
Once the beef has marinated, you will need to drain it of any excess liquid. You can do this by placing it on a paper towel for a few minutes. The paper towel will absorb the liquid. That way, when your beef is ready for drying, there won't be any more extra liquid on it.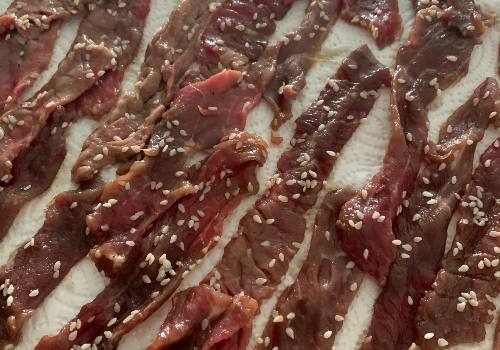 You can use an oven or electric smoker, to dry beef but you'll get better results from a food dehydrator. You can buy one at Walmart or on Amazon. Lay the beef strips on the dehydrator trays and dry them at 160 degrees F for 4-8 hours.
Our slices were so thin that they only needed 4 hours, but if yours are thicker, they'll need more time.
Check your jerky for doneness every 30-45 minutes to prevent overcooking. Jerky is done when you can bend it without breaking it.
Dry your beef jerky in the dehydrator at 160 degrees F for 4-7.5 hours. Our thin slices dried in 4.5 hours; thicker slices will need more time.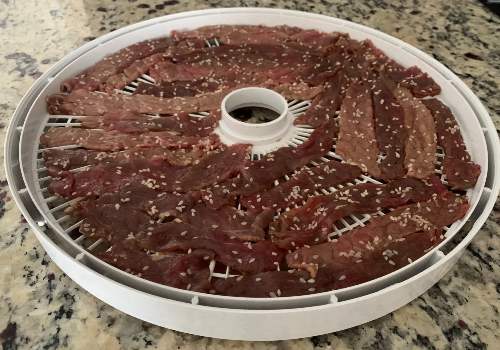 You'll end up with around ⅓ of the beef's original weight in jerky. Our pound of beef turned into 6.5 ounces ( 184 g. ) of Korean BBQ beef jerky.
You can make ⅓ of the original weight in beef jerky. We made 6.5 oz. ( 184 g. ) of Korean BBQ beef jerky out of 17.2 oz. of beef.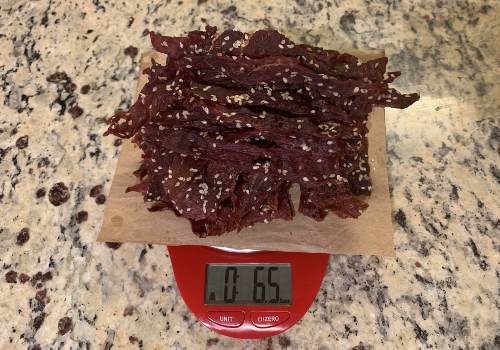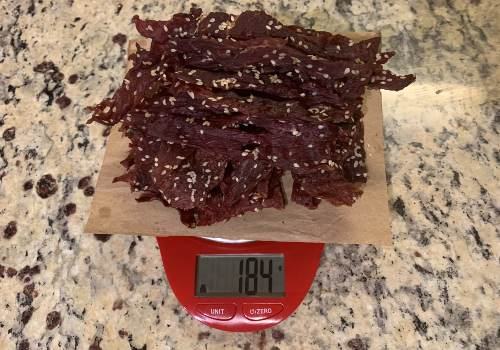 Recipe
Makes 5 servings
Preparation Time: 30 minutes
Marinade Time: 6-24 hours, average 7 hours
Drying Time: 4 – 8 hours, average 7 hours
Ingredients
Cost
1 lb beef — Top Round Thin cut (Milanesa) (any could work)
$9.15 per 1 lb. at Walmart
1/4 teaspoon Prague Powder #1 curing salt
Between $12 and $13 for a 2.5 lb. pack
(96 teaspoons per pound means that 1/4 of a teaspoon equates to 0.01 cents)
2 tablespoon red wine vinegar
$1.57 for a 12.7 oz. container at Wallmart
(2 tbsp per oz. = 0.12 cents)
1 cup of BBQ sauce
$1.97 for an 18 oz. container at Walmart
(1 cup or 8 oz. = $0.55)
2 teaspoons garlic powder
Between $4 and $5 for a 2.33 oz. container
(6 tsp. per oz. means that 1 teaspoon equates to 0.56 cents)
1 tablespoon brown sugar
$2.17 for 2lb. container at Walmart
(31 tbsp. per pound means that 1 tbsp. equates to 0.04 cents)
1/2 teaspoon ginger ground

$4 – 5 dollar range for a 1.64 oz. container
(6 tsp. per oz. means that 1/2 teaspoon equates to 0.20 cents )
2 tablespoon Worcestershire sauce
$1.00 for a 10 oz. container at Walmart
(2 tbsp per oz. = 0.20 cents)
1/2 tsp sesame seeds
$2.96 for a 3.75 oz. container at Walmart
(2 tbsp per oz. – 0.20 cents equates 1/2 tablespoon to 0.15 cents)
1 teaspoon sesame oil
$4 – 5 dollar range for an 8.4 oz. container
(6 tsp. per oz. means that 1 teaspoon equates to 0.08 cents)
Total Cost:
$10.94/6.5oz. (full cost: meat + ingredients)

Step-By-Step Instructions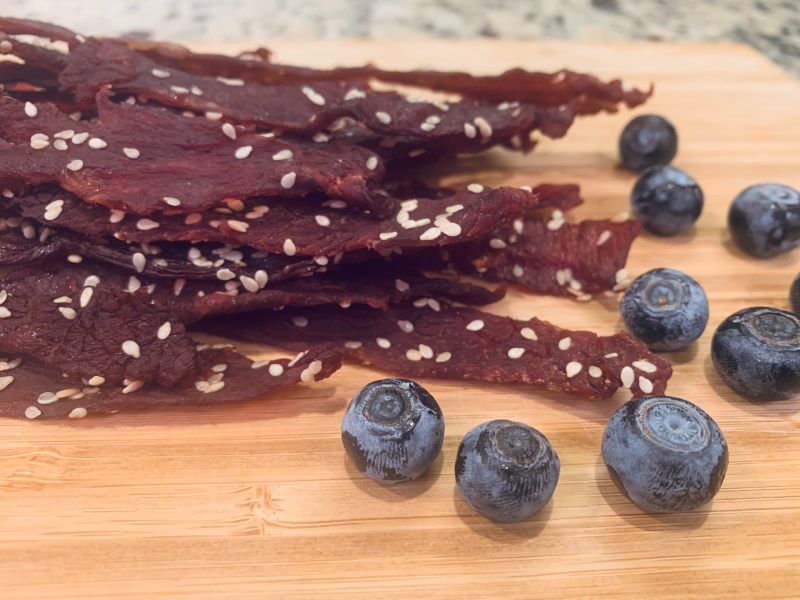 ---
---
Instructions
Cut the fat from your beef.

If you are not using pre-sliced beef, freeze it for 1 – 2 hours and then cut into slices that are no thicker than ¼ inch.

Put all of the ingredients for the marinade in a cup and mix them together. Add this to the meat and marinate it in a container in your fridge for 6 – 24 hours.

Remove any excess marinade with a paper towel before cooking.

Dry your beef on a food dehydrator at 160 degrees F for 4 – 5 hours (thin pieces) or 6 – 8 hours (thik pieces).
---
Nutrition
Serving:
36.8
g
|
Calories:
273
kcal
|
Carbohydrates:
21.9
g
|
Protein:
28.8
g
|
Fat:
6.9
g
|
Saturated Fat:
2.3
g
|
Cholesterol:
81
mg
|
Sodium:
1695
mg
|
Potassium:
523
mg
|
Fiber:
0.6
g
|
Sugar:
15.2
g
|
Calcium:
16
mg
|
Iron:
18
mg
Last update on 2022-09-22
Connect with Real Jerky Makers
Because the Best Jerky Doesn't Come from a Store
QUOTE:
"You might be a redneck if you think that beef jerky and moon pies are two of the major food groups."
-- Jeff Foxworthy