Have you been thinking about going keto but don't know where to start? This keto beef jerky recipe will give you a good idea of the types of foods that are not only keto-friendly but also delicious.
No need to head to the store or specialty shop when it's so easy to make on your own!
Ingredients for Keto Beef Jerky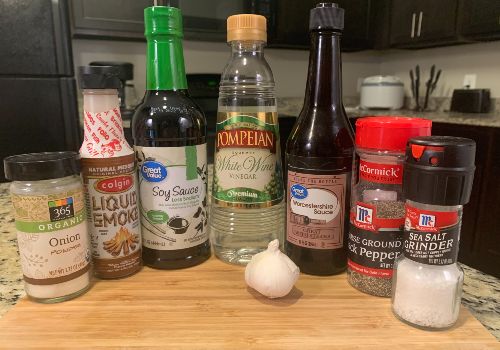 Selecting a Beef for Our Recipe
When you are making beef jerky, the fat in the meat makes a big difference. The fatter you are cutting, the more likely your jerky will spoil.
So we used eye of round because it has less fat and it's affordable, but you can use other cuts like sirloin tip or bottom round too.
For this recipe, I bought Eye of round beef at Walmart for $6.61/per lb.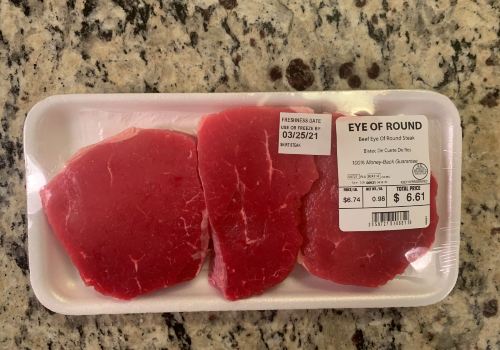 How to Prepeare the Beef
To Trim the Fat
You are trying to make good beef jerky, right? Good jerky does not have any extra fat.
Trim the fat off the meat, so it lasts longer and tastes better.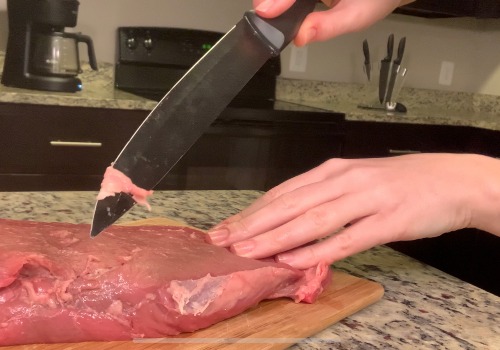 I weighed the meat before I started making jerky.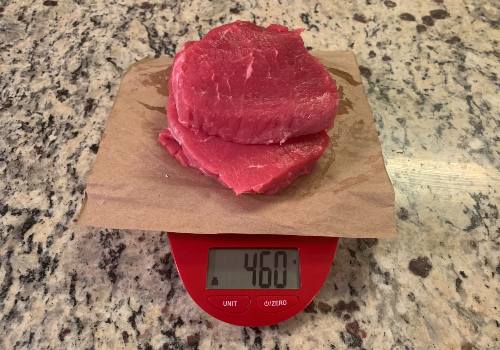 To Cut the Beef
Put the beef in the freezer for an hour or two when you remove the fat. You want it to be firm, so it is easier to cut. Do not forget about it!
Now cut the beef into strips no more than ¼ inch thick. Cut across the grain of the meat so that your jerky is more tender and has a better texture.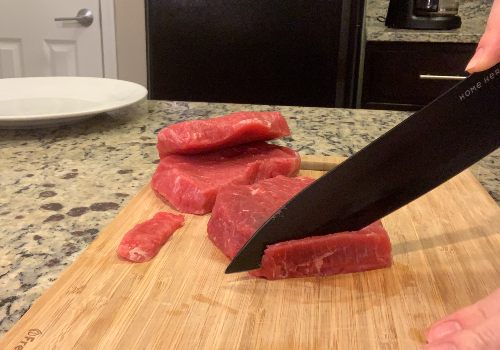 How to Marinade the Beef
The next step is to mix ingredients in the right proportions with a measuring cup.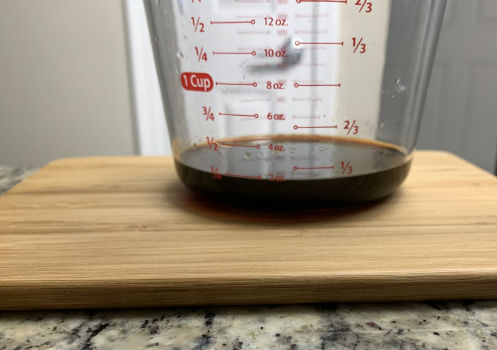 Put meat in a container and add the marinade to the meat. Put the container in the fridge for 7-24 hours.
Shake it once or twice so it doesn't get stuck to one side.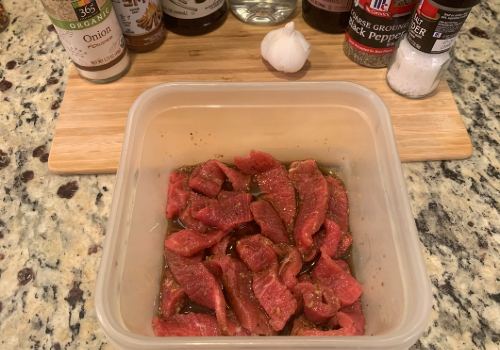 Dehydrating Our Beef
You will need to drain the liquid from your beef. You can do this by placing the beef on a paper towel for a few minutes. The paper towel will absorb any excess marinade, and your beef will be ready to dry. But it's okay to skip this step.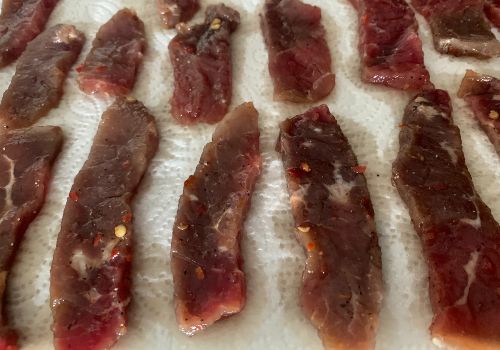 The dehydration process can take between 4 and 8 hours. It depends on the thickness of the meat, the temperature, and how you are dehydrating it. If you use an electric smoker, the cooking time is between 7 and 8 hours. If you use an oven or a dehydrator, it takes 6 hours at 160 F.
I prefer to use the dehydrator (see the pictures).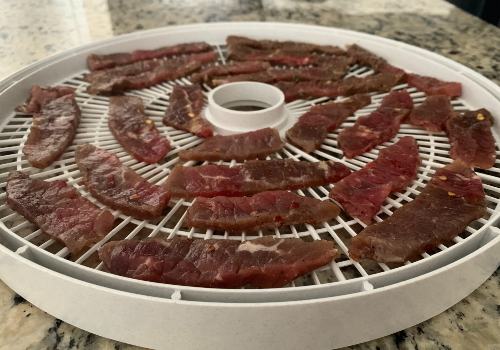 After cooking my jerky, it weighed it. It was 6.63 oz. or 188 grams. The process removed 9.57 oz of weight through the cooking process, equating to a 59% weight loss.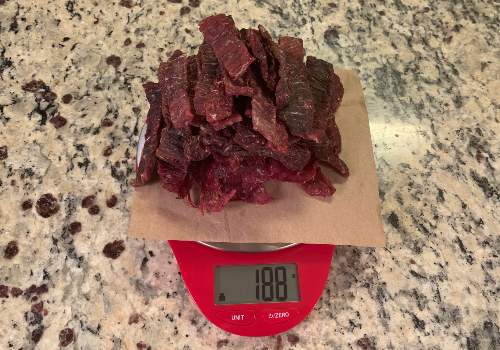 Recipe
Makes 5 servings
Preparation Time: 30 minutes
Marinade Time: 7-24 hours,
Drying Time: 4 – 8 hours
Ingredients
Cost
1 lb. of beef; I choose Eye of round beef, but any could work
$6.61 per 1 lb. at Walmart
1 ½ tsp liquid smoke hickory
$1.34 for a 4 oz. container at Walmart
(2 tbsp per one oz. means that 1.5 tablespoons equate to 0.26 cents)
6 tablespoon soy sauce

$1.52 for a 5 oz. container at Walmart
(2 tbsp per oz. means that 6 tbsp equates to 0.91 cents )
5 garlic cloves
Between $0.4 and $0.5 per whole garlic at Walmart
(5 garlic cloves equates to 0.20 cents)
1 teaspoon sea salt
$1.96 for 2.12 oz. a container at Walmart
(6 tsp. per oz. means that 1 teaspoon equates to 0.15)
3 tablespoon Worcestershire sauce
$1.00 for a 10 oz. container at Wallmart
(2 tbsp per oz. means that 3 tbsp equates to 0.15 cents)
1 teaspoon ground black pepper
$3.98 for 3.12 oz. a container at Walmart
(6 tsp. per oz. means that 1 teaspoon equates to 0.21 cents)
1 teaspoon onion powder
Between $4 and $5 for a 1.73 oz. container
(6 tsp. per oz. means that 1 teaspoon equates to 0.38 cents)
1 teaspoon white wine vinegar
Between $2.27 per 16 oz. container in Walmart
(6 tsp per oz. means that 1 tsp equates to 0.02 cents)
Total Cost:
$8.89/6.63 oz. (full cost: meat + ingredients)


Shot Instruction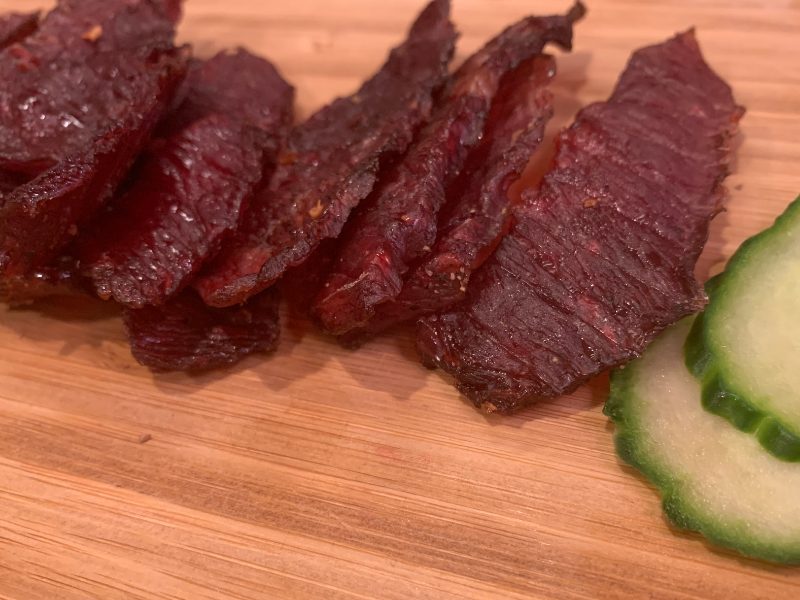 ---
---
Instructions
Cut the fat off your beef, then freeze it for 1 to 2 hours before cutting it into thin slices no thicker than ¼ inch.

Mix the marinade ingredients in a container and add your beef.

Put the mixture in the refrigerator for 7-24 hours in the fridge. Put the mixture in the refrigerator for 7-24 hours in the fridge.

Dry in a food dehydrator at 160 degrees F for 4-5 hours (thin strips) or 5-8 hours (thick strips).
---
Nutrition
Serving:
37.6
g
|
Calories:
195
kcal
|
Carbohydrates:
5
g
|
Protein:
28.8
g
|
Fat:
2.1
g
|
Saturated Fat:
2.1
g
|
Cholesterol:
81
mg
|
Sodium:
1147
mg
|
Potassium:
423
mg
|
Fiber:
0.3
g
|
Sugar:
2.6
g
|
Calcium:
13
mg
|
Iron:
18
mg
Last update on 2022-09-22
Connect with Real Jerky Makers
Because the Best Jerky Doesn't Come from a Store
QUOTE:
"You might be a redneck if you think that beef jerky and moon pies are two of the major food groups."
-- Jeff Foxworthy