When you need a pick-me-up, Dr. Pepper is always there with 23 flavors to satisfy your taste buds. Fruity, spiced, and a little earthy, it's a unique combination that many people find irresistible.
And now, with our Dr. Pepper beef jerky recipe, you can also get it in snackable form!
With a five-ingredient marinade and your favorite cut of beef, it couldn't be easier to make your own Dr. Pepper beef jerky. Here's how!
Dr. Pepper Beef Jerky Ingredients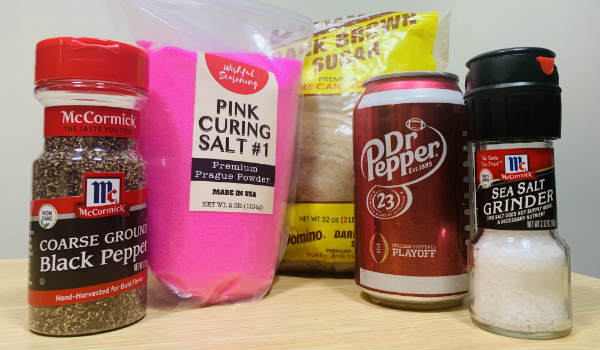 Selecting the Perfect Beef
You might not think that your choice of cut would make a huge difference in your beef jerky, but you'd be surprised! It's all to do with the amount of fat in the cut.
The fattier your beef, the more likely your jerky is to spoil prematurely. Fat goes bad a lot faster than the beef itself!
We used eye of round to make our Dr. Pepper beef jerky. It's our favorite cut for many reasons — it's easy to find, relatively affordable and very low in fat, so you get more bang for your buck.
But you can also use other cuts like sirloin tip, bottom round, and top round. In fact, any cut can work as long as you're able to remove the fat from it.
Preparing the Beef to Make Jerky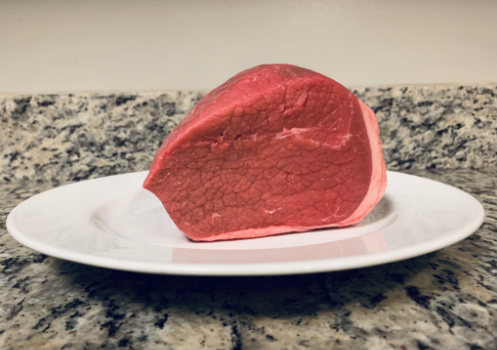 Removing the Fat
Speaking of fat removal, it's time to do just that. Trim as much fat as you can from your beef to maximize the shelf life of your jerky.
The more thorough you are with your trimming, the better your jerky will come out. It's worth it to take a few extra minutes and do a complete job here!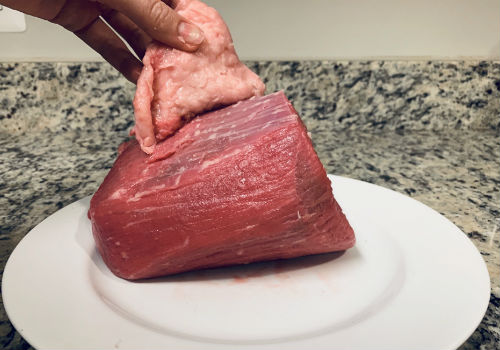 Freezing the Beef
Here's a hot jerky-making tip: freeze your beef for an hour or two before slicing it.
A brief stint in the freezer makes the beef firm up just a little without turning into a chunk of ice. This slightly more solid consistency makes it much easier to cut the beef into thin slices without any knife accidents!
Take the beef out of the freezer when you notice ice crystals just beginning to form on the surface. Any longer and the beef may be too frozen to cut.
Slicing the Beef
When you're ready, slice the beef into strips no thicker than ¼ inch. The thinner the strips, the less time the jerky will need to spend in your food dehydrator.
To get a more pleasant texture, cut the beef against or across the grain. If you cut with the grain instead, you'll get tougher jerky that's harder to chew.
Marinating the Beef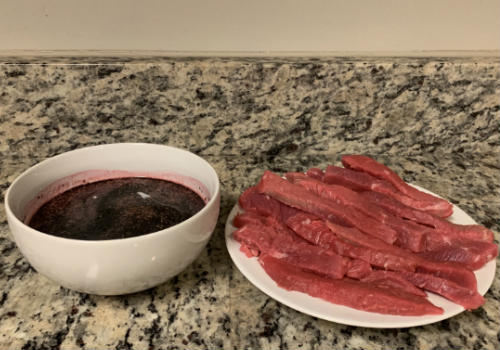 In a container, mix the five marinade ingredients together and combine them thoroughly. Then add the beef slices and toss them in the marinade until they're fully coated.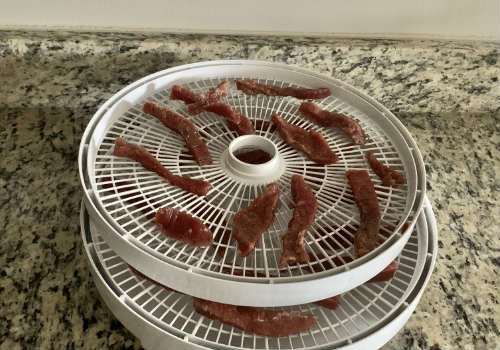 Place the coated beef and marinade in the fridge for at least 6 hours. We left ours in the fridge overnight, but you can leave yours in for up to 24 hours if you want stronger flavors.
Shake the mixture periodically so it doesn't settle at the bottom of the container.
Turning the Beef into Jerky
Lay the beef on a paper towel to absorb the excess marinade.
While you're waiting, get your food dehydrator ready for the beef.
You can use an oven or electric smoker instead, but you'll get much better results from a dehydrator. It's very easy for using and it's not expensive. I bought mine on Amazon.
NESCO FD-75A Snackmaster Pro Food Dehydrator, For Snacks, Fruit, Beef Jerky, Gray
EVEN HEAT DISTRIBUTION: 600 watts of drying power provides even heat distribution; consistent drying that is four times faster than other food dehydrators
ADJUSTABLE TEMPERATURE CONTROL: The adjustable temperature control (95°F -160°F) gives you the flexibility to achieve the best results when drying different foods that need varying temperature settings
EXPANDABLE TO 12 TRAYS: Comes with five (13 1/2″ diameter) trays and expands up to 12 trays so you can dry large quantities at once with no tray rotation needed; additional trays sold separately
EXPANDABLE TO 12 TRAYS: Comes with five (13 1/2″ diameter) trays and expands up to 12 trays so you can dry large quantities at once with no tray rotation needed; additional trays sold separately
ACCESSORIES INCLUDED: (2) Fruit Roll Sheet, (2) Clean-A-Screens, a sample of Jerky Seasoning & Cure, and (1) Care & Use Guide
It's inexpensive, compact, and allows you to dry the beef at lower temperatures for improved texture.
Arrange your beef on the dehydrator trays and dry it for 4-8 hours at 160 degrees F. Our hand-cut slices took 6 hours to get the perfect slightly-crispy texture.
You can dry at lower temperatures, but you'll need to adjust your drying time. At 145 degrees, plan for at least 7 hours and at 125 degrees, you'll need at least 10 hours.
| | |
| --- | --- |
| The drying temperature in the dehydrator | The minimum dehydrating time |
| 125 degrees F | 10 hours |
| 135 degrees F | 6 hours |
| 145 degrees F | 7 hours |
| 160 degrees F | 4 hours |
Check your jerky for doneness regularly as it tries. It's done when you can fold a piece in half and it bends without snapping.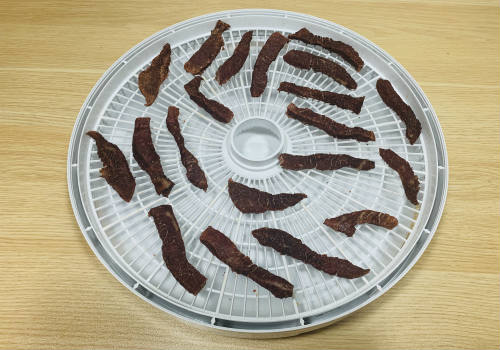 Step-by-Step Instructions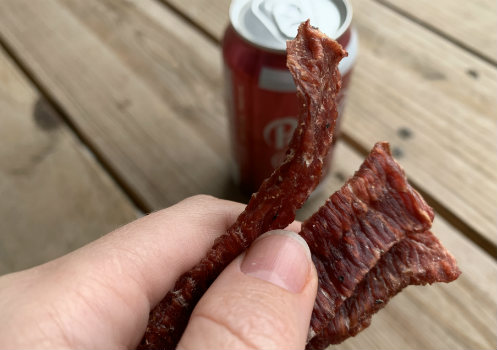 Makes 5 servings
Prep time: 30 minutes
Marinade time: 6-24 hours
Cook time: 4-10 hours
Ingredients
Cost
1 lb Beef Eye of Round
$5 per 1 lb in Walmart
1/4 teaspoon Prague Powder #1 curing salt
Between $12 and $13 for a 2.5 lb. pack
(1/4 of a teaspoon = 0.01 cents)
1 teaspoon ground black pepper
$3.98 for a 3.12 oz. container at Walmart
(1 teaspoon = 0.21 cents)
2 teaspoons of sea salt
$1.96 for 2.12 oz. a container at Walmart
(1 teaspoon = 0.30 cents)
1 can of Dr. Pepper
$3.98 per 12 cans at Walmart
(0.33 cents per can)
4 tablespoon brown sugar
$2.17 for 2lb. container at Walmart
(4 tablespoons = 0.14 cents)
Total cost:
$5.99/~7 oz. (full cost: meat + ingredients)
Enjoy your Dr. Pepper Beef Jerky, and don't forget to store it safely.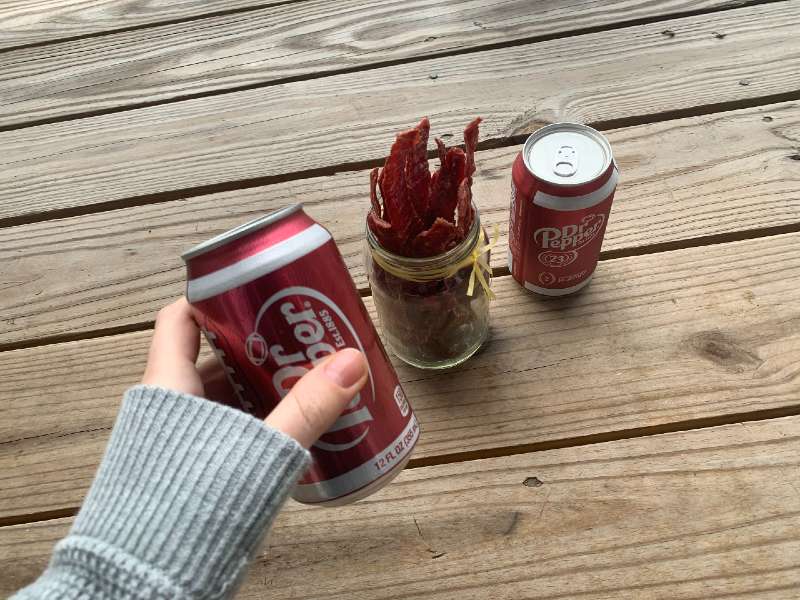 ---
---
Instructions
Thoroughly trim all fat from the beef.

Freeze beef for 1-2 hours or until ice crystals just begin to form.

Cut beef into ¼ inch (or less) strips, slicing against the grain.

Combine all marinade ingredients in a container, then add beef and refrigerate for 6-24 hours.

Absorb excess liquid from beef with a paper towel.

Dehydrate the beef for 4-10 hours at 160 degrees F. Remove the beef when it can be bent without breaking.
---
Nutrition
Serving:
39.7
g
|
Calories:
206
kcal
|
Carbohydrates:
10
g
|
Protein:
27.6
g
|
Fat:
5.7
g
|
Saturated Fat:
2.1
g
|
Cholesterol:
81
mg
|
Sodium:
562
mg
|
Potassium:
373
mg
|
Fiber:
0.1
g
|
Sugar:
9.8
g
|
Calcium:
4
mg
|
Iron:
17
mg
Connect with Real Jerky Makers
We'll introduce you to some of the most delicious, off the beaten path jerky makers around!
Because the Best Jerky Doesn't Come from a Store
QUOTE:
"You might be a redneck if you think that beef jerky and moon pies are two of the major food groups."
-- Jeff Foxworthy