This recipe is perfect for those of you who like the unique taste of Dr. Pepper. When we mix in some beef, we'll naturally get a delicious Dr. Pepper beef jerky.
Ingredients
The most incredible thing about this recipe is that it requires so few ingredients and doesn't require much effort.
You'll need only the following items:
pink curing salt – our favorite is Pink Curing Salt #1 (premium Prague powder)
black pepper
sea salt
a Dr. Pepper
your favorite cut of beef
I chose my favorite cut of beef, eye of round, for this recipe.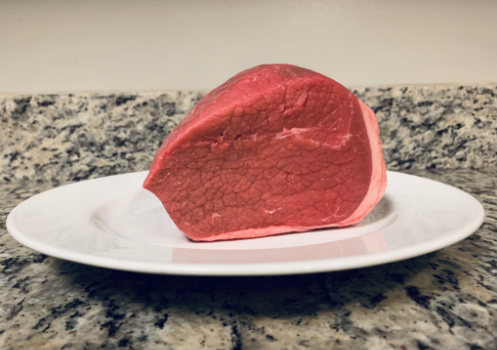 Slicing the Meat and Making the Marinade
Before slicing the meat, make sure to cut off all fat. This is important because fat spoils faster than meat. Cutting the fat away will ensure a longer shelf life for your beef jerky.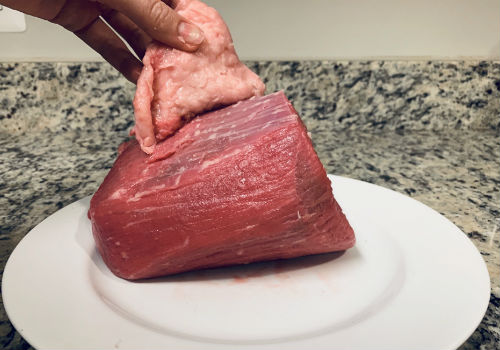 I usually use around one lb. of beef for my jerky recipes. For easier cutting, I place the meat in the freezer for approximately one hour.
While the meat is in the freezer, I'd suggest you take the time to make your marinade.
Marinade:
1/4 teaspoon (tsp) Prague Powder #1 curing salt
1 teaspoon (tsp) ground black pepper
1 teaspoon (tsp) sea salt
1 can of Dr. Pepper
1 tablespoon of brown sugar
Take the meat from the freezer and slice it as slimly as you can. The strips should be the same thickness if you want the meat to cook at the approximate same time for all pieces.
Add your sliced meat to the marinade. Afterward, place the mixture (beef & marinade) in the refrigerator for at least (minimum) 6 hours. I marinade mine all night.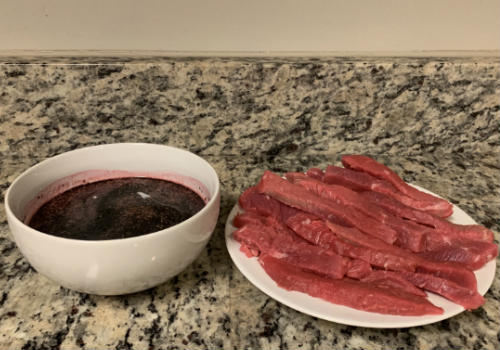 Drying the Jerky
The next step is drying. There are a few ways for drying beef: in an oven, in an electric smoker, and in a dehydrator.
I used an oven in the past but it's a bit tricky. The best temperature for beef jerky is 160 F, but the minimum temperature in my oven is 200 F so my jerky tasted more cooked than dehydrated.
The easiest way of drying jerky is to use a dehydrator. It's very easy for using and it's not expensive. I bought mine on Amazon.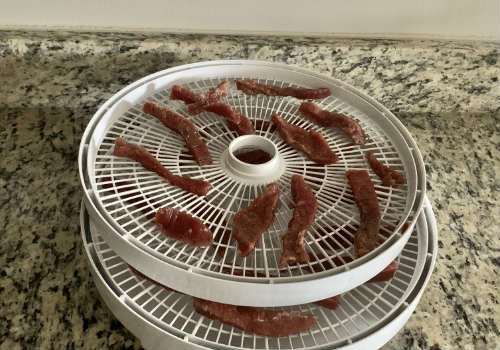 Testing for When the Jerky Is Cooked
The drying time varies from 4 to 10 hours, of course depending on temperature.
| | |
| --- | --- |
| The drying temperature in the dehydrator | The minimum dehydrating time |
| 125 degrees F | 10 hours |
| 135 degrees F | 6 hours |
| 145 degrees F | 7 hours |
| 160 degrees F | 4 hours |
I like my jerky a bit crispy, which is why I dehydrate it for around 6 hours at 160 F. You'll find your best condition after experimenting a few times. For an oven, the cooking time is the same as for a dehydrator and for a smoker, it's usually around 2 hours more.
The beef jerky is fully cooked when you bend a piece and it's maybe starting to break a little, but shouldn't snap and break.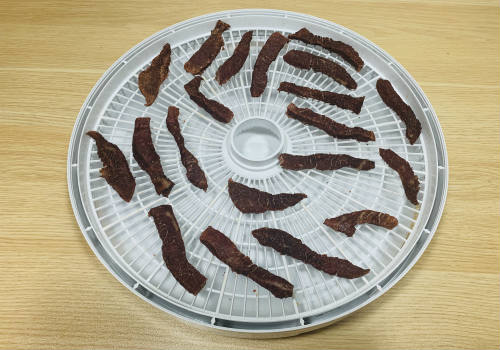 Enjoy your Dr. Pepper Beef Jerky and don't forget to store it safely.
Recipe of Dr. Pepper Beef Jerky
This recipe serves 5 people. The total cooking time is 12 hours and 30 minutes:
the preparation time is 30 minutes
the marinade time is (minimum) 6 hours
the cooking time is 6 hours
Proportions & Cost
Ingredients
Cost
1 lb Beef Eye of Round
$5 per 1 lb in Walmart
1/4 teaspoon Prague Powder #1 curing salt
Between $12 and $13 for a 2.5 lb. pack
(1/4 of a teaspoon = 0.01 cents)
1 teaspoon ground black pepper
$3.98 for a 3.12 oz. container at Walmart
(1 teaspoon = 0.21 cents)
1 teaspoon sea salt
$1.96 for 2.12 oz. a container at Walmart
(1 teaspoon = 0.15 cents)
1 can of Dr. Pepper
$3.98 per 12 cans at Walmart
(0.33 cents per can)
4 tablespoon brown sugar
$2.17 for 2lb. container at Walmart
(4 tablespoons = 0.14 cents)
Total cost:
$5.84/~7 oz. (full cost: meat + ingredients)
Abbreviated Instructions
Make sure to cut off all fat from your beef and leave it in the freezer for one hour.
For your marinade, mix Prague powder #1, ground black pepper, sea salt, a Dr. Pepper, brown sugar in the right proportions (see above).
Slice your beef as slim as you can.
Add your meat to the marinade and place the mixture in the refrigerator for between 6 and 24 hours.
After marinating the beef, dry it for at least 4 hours using your favorite method.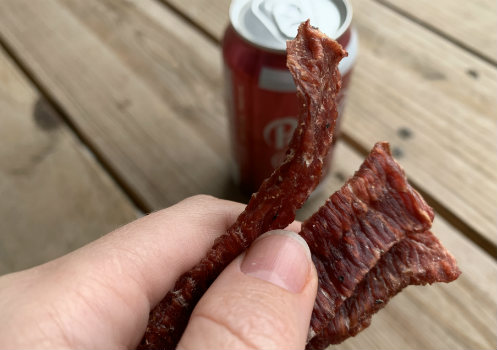 Random Beef Jerky Joke:

"You might be a redneck if you think that beef jerky and moon pies are two of the major food groups."
-- Jeff Foxworthy