If you're looking for a spicy, hot, and delicious snack to keep you going, this super hot beef jerky recipe is for you. It's easy to cook, tastes great, and has long-lasting protein! The super hot beef jerky has become one of our staples over the years.
You might be surprised at how much you like it! It's perfect for snacks on the go or to have around in case you get hungry. So if you're up for trying something new, give super hot beef jerky a shot.
Ingredients for Super Hot Beef Jerky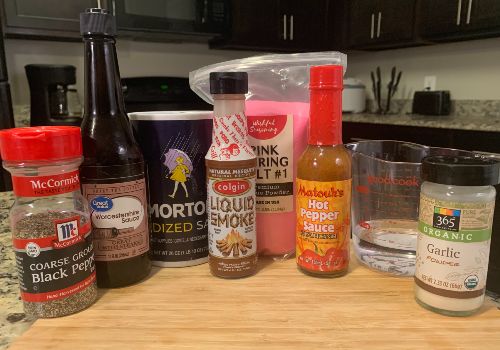 How to Find a Perfect Beef
There are many kinds of beef for jerky. But not all of them are good. The best type is the leaner ones like top round, bottom round, eye of round, and sirloin tip. You can buy beef in bulk to save money too.
We used 1 pound of sirloin tip for our Super Hot Beef Jerky recipe with thinly sliced meat because it is easy to make and saves time!
I bought the top round thin cut beef at Walmart for $9.15/per lb.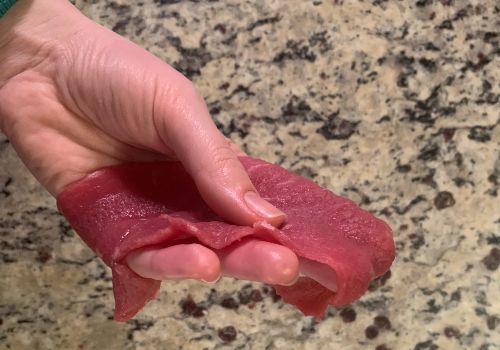 One of the advantages of buying this cut of beef is that it has little or no fat. If there is any, you need to cut it off.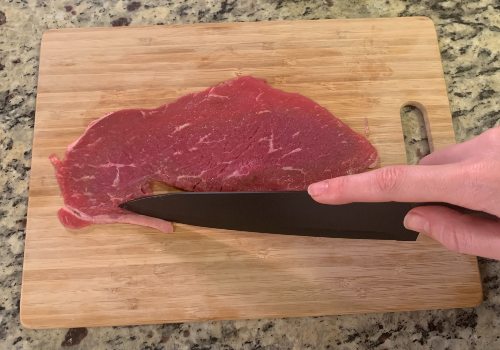 When you dry it, it will lose around ⅔ of its weight, so if you want one pound of jerky, buy 3 pounds instead.
I used a scale to find out how much jerky we would have after drying the beef.
When you are ready to cut, cut the beef against the grain. Try to keep your slices under ¼ inch thick so they will dry quickly.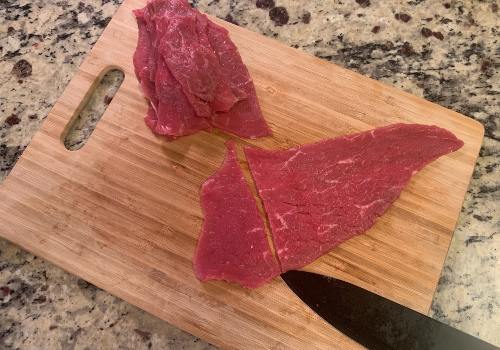 You need to mix the ingredients in the right proportions to make a marinade. I use a measuring cup for doing that.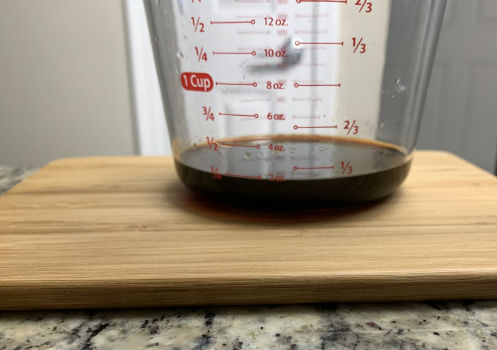 To make a super hot marinade, mix the 8 ingredients in a container. Then put it on the beef and mix until all of the slices are covered. Put it in the fridge for 8 to 24 hours, longer if you want stronger flavors. I left mine overnight.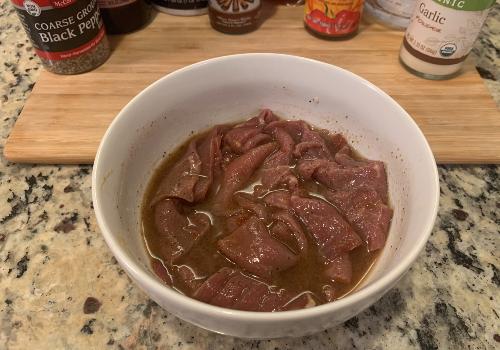 Dry the Beef Jerky
After you marinate the beef, you will need to dry it. Put it on paper towels for a few minutes to absorb any excess liquid. But it's optional; you can skip this step.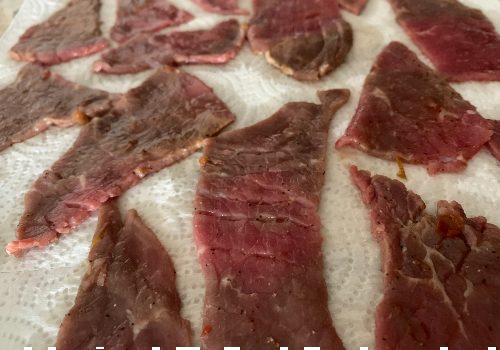 To dry beef, you can use an oven or an electric smoker, but I recommend trying a food dehydrator: it is easy to use, and you can buy it at Walmart or online on Amazon as I did.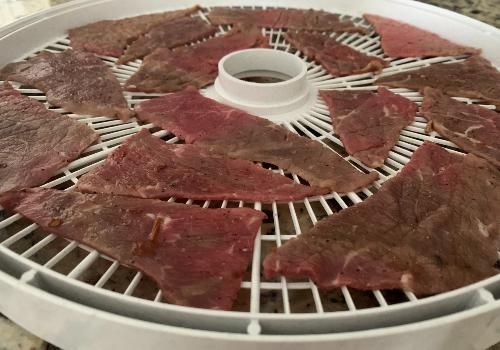 Place your beef strips on the trays and dry them at 160 Fahrenheit for 4 -8 hours, depending on how thick they are. Jerky is done when you can bend a piece without breaking it (if it snaps, you left it in for too long).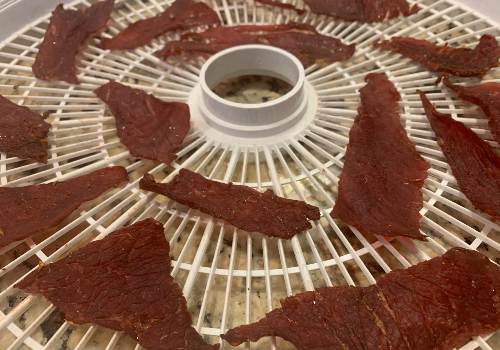 After cooking, my jerky weighed 6.42 oz. or 182 grams. Now you now know why it is so expensive! The process removed 12.08 oz. of weight, which constituted a 65% loss.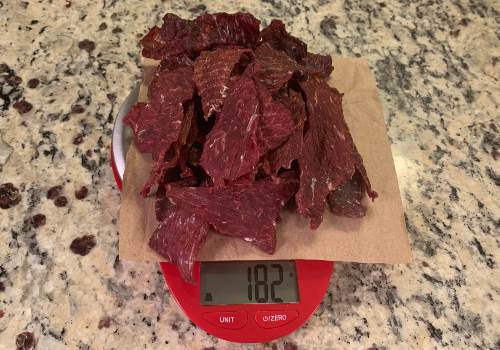 Recipe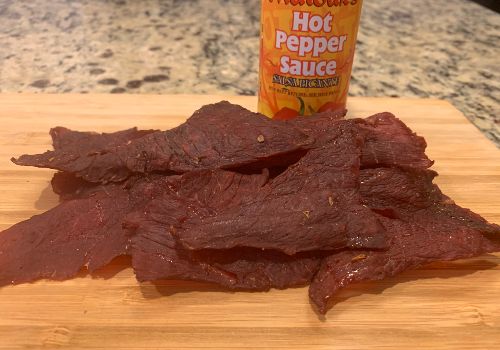 Makes 5 servings
Prep time: 30 minutes
Marinade time: 8-24 hours
Cook time: 4-8 hours
Ingredients
Cost
1 lb. of beef; I choose Thin cut beef, but any could work
$9.15 per 1 lb. at Walmart
1/4 teaspoon of Prague Powder #1 curing salt
Between $12 and $13 for a 2.5 lb. pack
(96 teaspoons per pound means that 1/4 of a teaspoon equates to 0.01 cents)
1 teaspoon salt
0.01 cents per 1 tsp
1/4 cup cold water
I used tap water so it was essentially free
3 tablespoon hot pepper Sauce
$9.99 for 5 oz. a container in Walmart
(2 tbsp per oz. means that 3 tbsp equates to $3)
3 tablespoon Worcestershire sauce
$1.00 for a 10 oz. container at Wallmart
(2 tbsp per oz. means that 3 tbsp equates to 0.15 cents)
1 teaspoon black pepper
$3.98 for 3.12 oz. a container at Walmart
(6 tsp. per oz. means that 1 teaspoon equates to 0.21 cents)
2 teaspoon liquid smoke hickory
$1.34 for a 4 oz. container at Walmart
(6 tsp. per one oz. means that 2 teaspoons equate to 0.11 cents)
1/2 teaspoon garlic powder
Between $4 and $5 for a 2.33 oz. container
( 6 tsp. per oz. means that 1 teaspoon equates to 0.28 cents or 0.14 cents per 1/2 teaspoon )
Total Cost:
$12.78/6.5 oz. (full cost: meat + ingredients)


Shot Instruction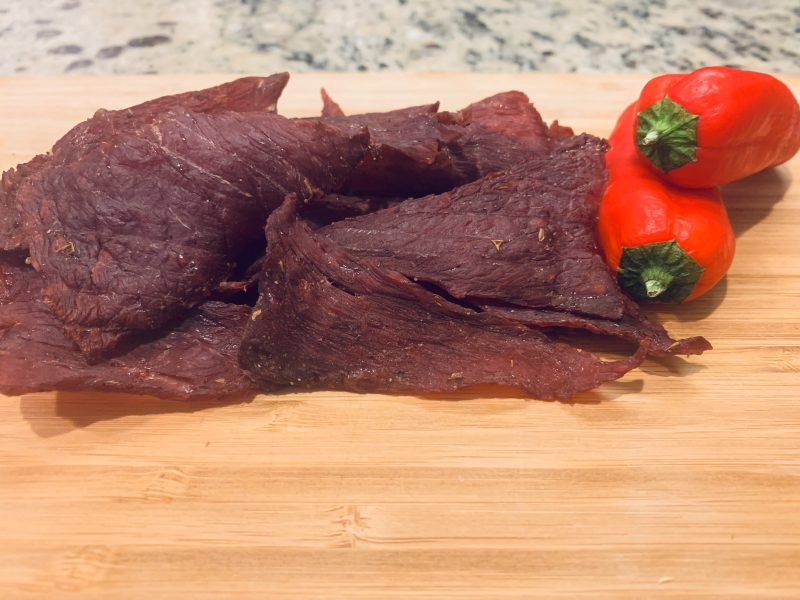 ---
---
Instructions
Trim the fat off the meat.

If you are not using pre-sliced beef, freeze it for 1-2 hours and then slice it into thin strips against the grain.

Mix all of the marinade ingredients together, add your beef and mix well.

Refrigerate your mixture for at least 8 hours or up to 24 hours (the longer you let it sit, the better).

Remove any extra liquid from your meat with a paper towel.

Dry out your beef in a food dehydrator at 160 degrees Fahrenheit for 4-8 hours (less time if you have thin slices).
---
Nutrition
Serving:
36.4
g
|
Calories:
181
kcal
|
Carbohydrates:
2.6
g
|
Protein:
27.7
g
|
Fat:
2.1
g
|
Saturated Fat:
2.1
g
|
Cholesterol:
81
mg
|
Sodium:
601
mg
|
Potassium:
378
mg
|
Fiber:
0.1
g
|
Sugar:
2.1
g
|
Calcium:
2
mg
|
Iron:
17
mg
Last update on 2022-09-22
Connect with Real Jerky Makers
Because the Best Jerky Doesn't Come from a Store
QUOTE:
"You might be a redneck if you think that beef jerky and moon pies are two of the major food groups."
-- Jeff Foxworthy