This is one of my favorite beef jerky recipes! It's filled with a plethora of seasonings so it tastes delicious! I highly recommend you try it.
Ingredients
Before you start making peppered beef jerky, make sure that you have the following ingredients:
For this recipe, I decided to try top round London broil beef, which I bought at Walmart for $5.84/per lb.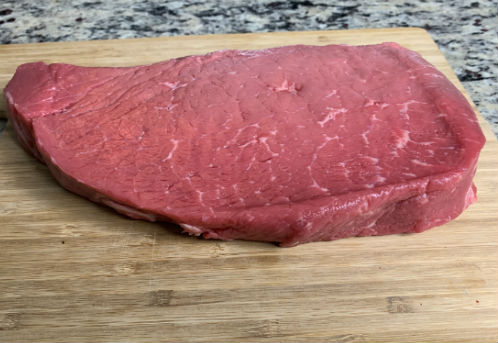 One of the advantages of buying this cut of beef is that it's almost fat-free. If it contains any at all, it's necessary to cut (see below).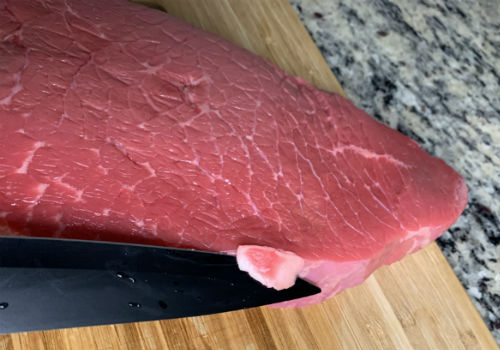 I initially weighed the meat to determine how much jerky we'll have after dehydrating the beef.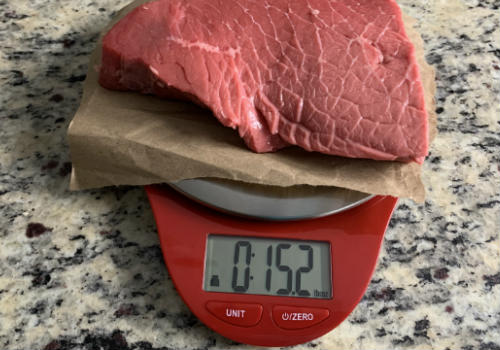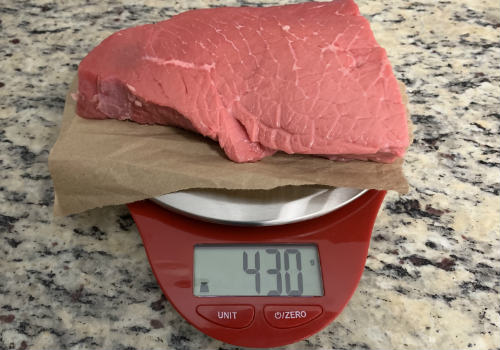 Now it's time to cut the beef. My suggestion is to place your beef in the freezer for one to two hours before cutting as cutting slightly frozen meat is easier. Try to slice the beef as thinly as you can.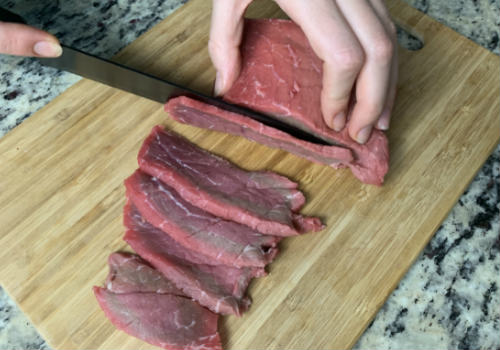 The next step is to gather all the ingredients and make a marinade. You'll need to mix the ingredients that we listed above in the right proportions.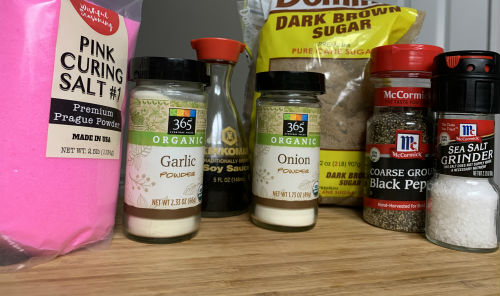 See the measuring cup below.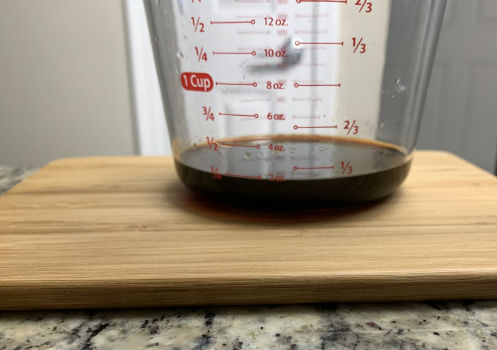 Now you'll mix your marinade and beef, letting it sit between 6 and 24 hours. The longer you marinate the beef, the stronger the flavor is.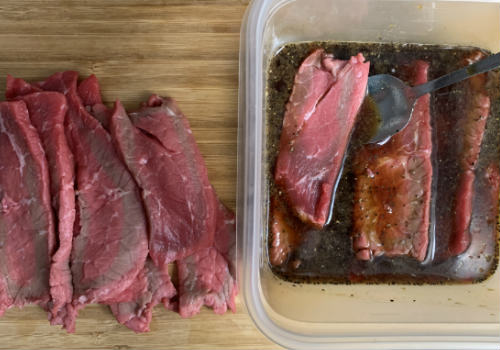 Dehydrate Your Slices
After marinating the beef you'll need to drain any excess liquid. You can do this by placing the beef on a paper towel for a few minutes. The paper towel(s) will absorb any excess marinade.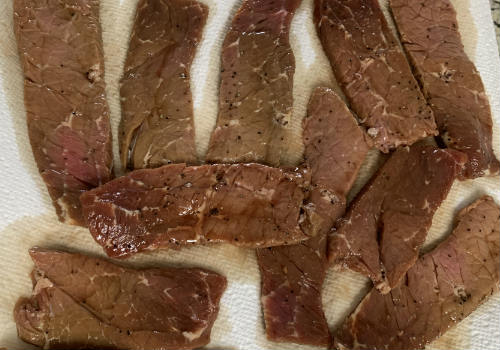 The next step is dehydration, which can be done in one of three ways: in an oven, in an electric smoker, or in a dehydrator. My preference is to use this dehydrator (Amazon link), which is what you see in the pictures.
Sale
NESCO FD-75A, Snackmaster Pro Food Dehydrator, Gray
Adjustable thermostat allows you to dry...
Powerful Top Mounted Fan. 600 watts of drying...
Comes with 5 trays, but is expandable to 12...
Opaque Vita-Save exterior helps block harmful...
Patented Converga-Flow drying system forces...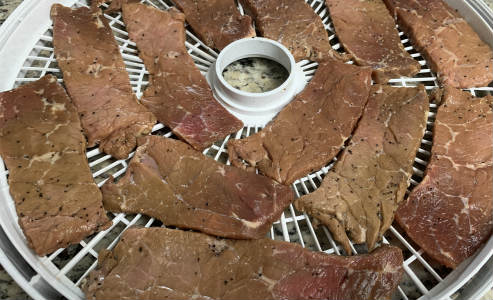 The dehydration process can vary between 4 and 10 hours. It depends on the thickness of sliced meat, the temperature and the method of dehydration. If you use an electric smoker, the cooking time is between 7 and 8 hours. If you use an oven or a dehydrator, the time is approximately 6 hours at 160 F.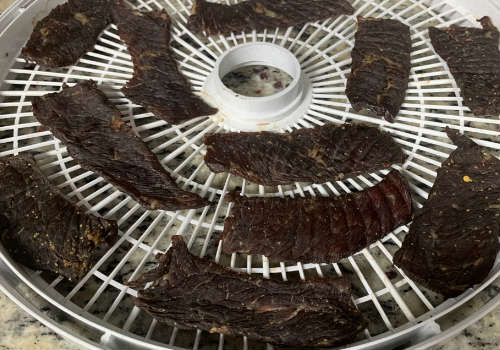 After cooking, my jerky weighs 6.5 oz or 183 grams. The process removed 8.5 oz. of weight, which constituted a 58% loss of weight. Now you know why jerky is so expensive!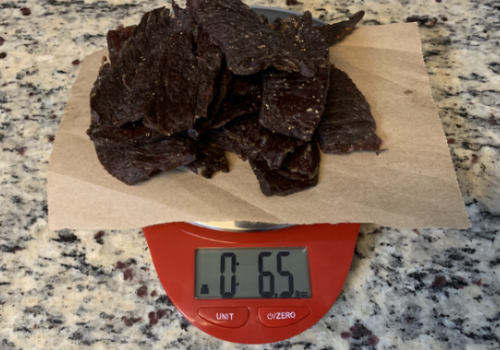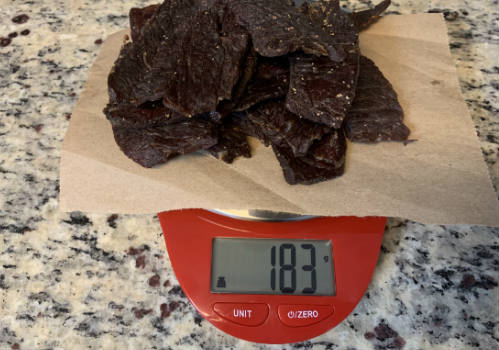 Recipe
This recipe serves 5 people and required for me 13 hours and 30 minutes to make.
preparation time: 30 minutes
marinade time: 7 hours
drying time: 6 hours
Ingredients
Cost
1 lb. of beef; I choose top round London broil beef, but any could work
$5.84 per 1 lb. at Walmart
1/4 teaspoon of Prague Powder #1 curing salt
Between $12 and $13 for a 2.5 lb. pack
(96 teaspoons per pound means that 1/4 of a teaspoon equates to 0.01 cents)
1/4 cup soy sauce
$1.52 for a 5 oz. container at Walmart
(1/4 cup or 2 oz. = 0.61 cents)
1/4 cup cold water
I used tap water so it was essentially free
1/2 teaspoon sea salt
$1.96 for 2.12 oz. a container at Walmart
( 6 tsp. per oz. means that 1 teaspoon equates to 0.15 cents or 0.08 cents per 1/2 teaspoon)
2 tablespoon brown sugar
$2.17 for 2lb. a container at Walmart
( 31 tbsp. per pound means that 2 tbls equates to 0.07 cents )
2 teaspoon ground black pepper
$3.98 for 3.12 oz. a container at Walmart
( 6 tsp. per oz. means that 1 teaspoon equates to 0.21 cents or 0.42 cents per 2 teaspoons )
1/4 teaspoon onion powder
Between $4 and $5 for a 1.73 oz. container
( 6 tsp. per oz. means that 1 teaspoon equates to 0.38 cents or 0.10 cents per 1/4 teaspoon )
1/2 teaspoon garlic powder
Between $4 and $5 for a 2.33 oz. container
( 6 tsp. per oz. means that 1 teaspoon equates to 0.28 cents or 0.14 cents per 1/2 teaspoon )
Total Cost:
$7.27/6.5 oz. (full cost: meat + ingredients)


Shot Instruction
Cut off all fat from the beef and place it (the beef) in the freezer for between one and two hours.
Slice thinly your meat.
Prepare the marinade for peppered beef jerky. You'll need to mix all the ingredients mentioned above.
Add your beef to the marinade and place it in the refrigerator for between 7 and 24 hours. (Remember, longer means a stronger flavor.)
Dehydrate the beef using your favorite method and enjoy your homemade jerky!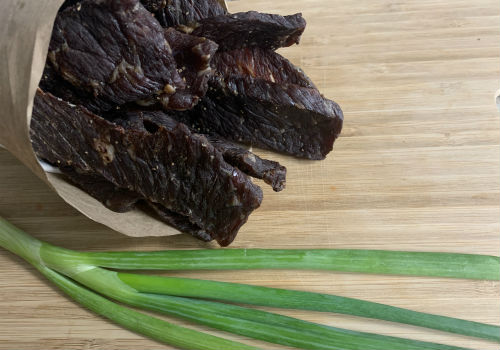 Last update on 2021-01-09
Random Beef Jerky Joke:

"You might be a redneck if you think that beef jerky and moon pies are two of the major food groups."
-- Jeff Foxworthy