When the umami flavors of teriyaki sauce and beef jerky collide, the result is a mindblowing snack that you'll want to get your hands on as soon as possible. These tasty morsels won't be around for long once your friends and family find out about them!
This Kikkoman teriyaki beef jerky hits the spot whenever you need a sweet, salty, savory treat. And it couldn't be easier to make!
Kikkoman Teriyaki Beef Jerky Ingredients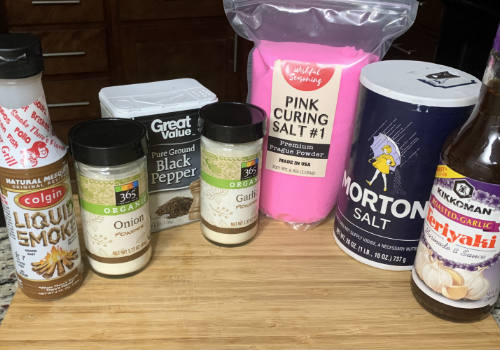 How to Pick the Right Beef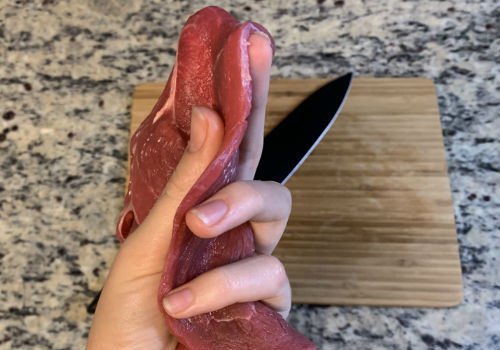 In the meat aisle, you're faced with a ton of beef options. But not all of them are right for making jerky.
When you're making beef jerky, the leaner your cut, the better. Cuts like top round, bottom round, eye of round and sirloin tip are among the best cuts you can choose.
We also recommend buying your beef in bulk to save money. You'll lose around ⅔ of your starting weight during the drying process, so if you want to make a pound of jerky, buy 3 pounds of beef.
For our Kikkoman teriyaki beef jerky, we used one pound of sirloin tip. We bought ours thinly pre-sliced, which saves time and energy, but you can purchase whole cuts to save a bit of money!
Prepping the Beef
Trimming Extra Fat
Even our pre-sliced beef had a little fat on it, and if you buy a whole cut, you'll definitely have some trimming to do.
Fat spoils much faster than beef, so if you don't remove it, your jerky is more likely to spoil. Plus, who likes biting into a glob of fat when you're chowing down on jerky, anyway?
Remove as much fat as you can from your beef. You'll be glad you did!
Freezing and Slicing the Beef
If you bought pre-sliced beef, you can skip this step. But if you didn't, you'll need to freeze and slice your beef before moving on.
Put your beef in the freezer for an hour or two before slicing it. This makes the beef a little firmer and easier to cut into thin slices.
When you're ready to slice, cut the beef against the grain. Try to keep your slices under ¼ inch thick to speed up the drying time later on.
Marinating the Beef Slices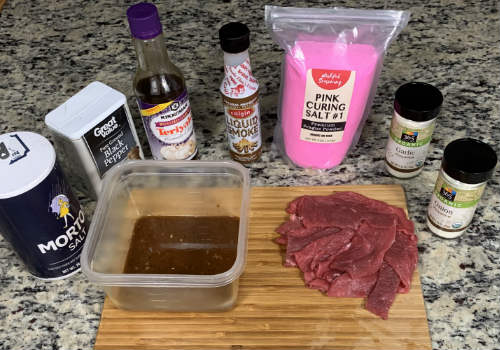 Making that tasty teriyaki marinade couldn't be easier. Just combine the 7 marinade ingredients in a container, then add the beef and mix until all the slices are thoroughly coated.
Then put the beef and marinade in the fridge for 8 to 24 hours; the longer you leave it, the stronger the flavors will be. We left ours in overnight.
Drying the Beef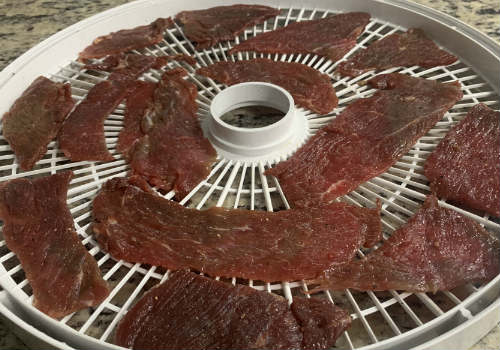 When you're satisfied with the marinade, remove the extra liquid by laying the beef on a paper towel for a few minutes.
You can use an oven or electric smoker to dry beef in a pinch, but you'll get better results from a food dehydrator. It's a cheap, easy to use appliance that you can buy on Amazon or in stores like Walmart.
Lay your beef strips on the dehydrator trays and dry them at 160 degrees F for 4-8 hours. Our slices were so thin that they only needed 4 hours, but if yours are thicker, they'll need more time.
Once you reach the 3 hour mark, check your jerky for doneness every 30-45 minutes. This prevents overcooking and lets you remove the jerky at the perfect time.
Your jerky is done when you can bend a piece without breaking it. If it snaps, it was left in for too long; if it's still floppy, it needs to stay in longer.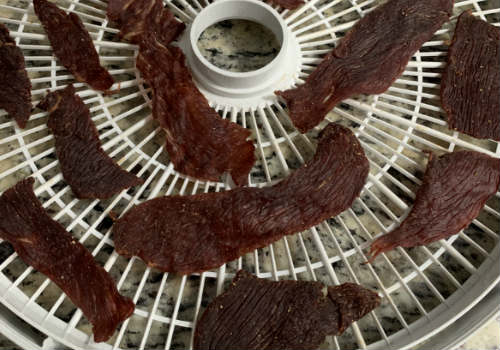 Step-by-Step Instructions for Making Kikkoman Teriyaki Jerky
Makes 5 servings
Prep time: 30 minutes
Marinade time: 8-24 hours
Cook time: 4-8 hours
1. Trim the excess fat from the beef.
2. If not using pre-sliced beef: freeze the beef for 1-2 hours, then slice against the grain into ¼ inch (or less) strips.
3. Combine all marinade ingredients, then add beef and mix well.
4. Refrigerate beef and marinade for 8-24 hours.
5. Remove extra liquid from beef with a paper towel.
6. Dry beef in a food dehydrator at 160 degrees F for 4-8 hours (less time for thin slices, more for thick slices).
Cost to Make 7 oz. of Kikkoman Teriyaki Jerky
Ingredients
Costs
1 lb. beef — beef sirlion-tip steak — or your favorite cut (any could work)
$6.82 per 1 lb at Walmart
1/4 teaspoon Prague Powder #1 curing salt
Between $12 and $13 for a 2.5 lb. pack
(96 teaspoons per pound means that 1/4 of a teaspoon equates to 0.01 cents)
1/2 teaspoon garlic powder
Between $4 and $5 for a 2.33 oz. container
( 6 tsp. per oz. means that 1 teaspoon equates to 0.28 cents or 0.14 cents per 1/2 teaspoon )
1/2 teaspoon onion powder
$4 – 5 dollar range for a 1.73 oz. container
( 6 tsp. per oz. means that 1 teaspoon equates to 0.38 cents or 0.19 cents per 1/2 teaspoon )
1 tablespoon liquid smoke hickory
$1.34 for a 4 oz. container at Walmart
(2 tbsp per one oz. means that 1 tablespoon equates to 0.17 cents )
2 teaspoon black pepper
$2.98 for a 3 oz. container at Walmart ( 6 tsp. per oz. means that 1 teaspoon equates to 0.17 cents or 0.34 cents per 2 teaspoons )
1/2 cup Kikkoman Teriyaki Marinade
$12-13 dollar range for 2 pk 10 oz. each
(1/2 cup or 4 oz. = $4.40 )
1 teaspoon salt
0.01 cents per 1 tsp
Total Cost:
$12.08/~7 oz. (full cost: meat + ingredients)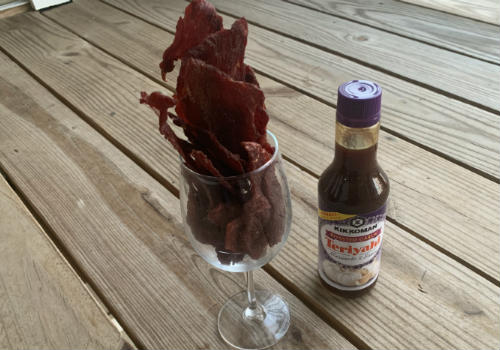 Last update on 2022-06-23
QUOTE:
"You might be a redneck if you think that beef jerky and moon pies are two of the major food groups."
-- Jeff Foxworthy