We love beef jerky no matter what flavor it is, but there are times when regular old seasonings just don't cut it. We're craving spice — mouth-burning, heart-racing, eye-watering heat — and beef jerky is the perfect vessel for it.
Thankfully, we've got just the recipe for situations like these: hot and spicy beef jerky, fired up with Frank's Red Hot original hot sauce!
This Louisiana-inspired cayenne pepper sauce is a mainstay in our pantry, and now it's a mainstay on our beef jerky as well. Don't feel left out — we're about to show you how to make this spicy dream come true in your kitchen, too!
Hot and Spicy Beef Jerky Ingredients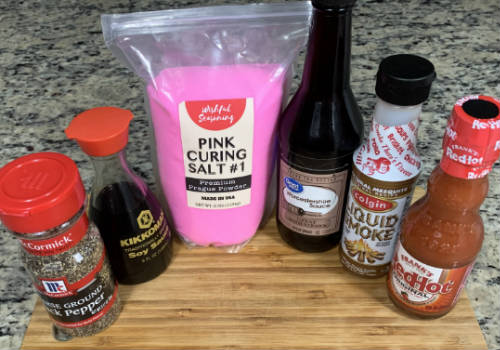 Picking the Best Beef
You can technically use any cut of beef for your jerky, but for the best results, go lean!
Fatty cuts result in jerky with a shorter shelf life and less-consistent flavor. That's because fat spoils faster than beef, and it absorbs flavors differently as well.
We used sirloin tip to make our hot and spicy beef jerky. To save time, we bought pre-sliced sirloin tip, but you certainly don't have to if you're up for doing your own slicing!
You don't need to use sirloin tip, either. All of the round cuts — top, bottom and eye — are great for making jerky, as are other lean cuts like flank steak and even chuck.
Getting the Beef Ready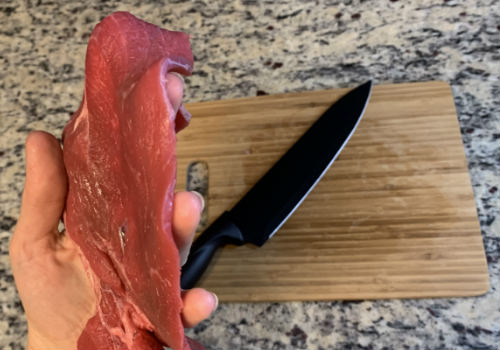 Removing the Fat
Connect with Real Jerky Makers
We'll introduce you to some of the most delicious, off the beaten path jerky makers around!
Because the Best Jerky Doesn't Come from a Store
You're trying to make amazing beef jerky, right? Well, amazing beef jerky doesn't have any extra fat tagging along for the ride — so trim it!
Remove as much fat as you can from your beef to make longer-lasting, better-tasting jerky.
Chilling and Slicing the Beef
Our thinly-sliced sirloin tip allowed us to mostly skip this step. We just cut each slice into bite-sized pieces and moved on!
But if you're not using pre-sliced beef, you've got a bit more work cut out for you.
Freeze the beef for 1-2 hours before slicing it. Chilled beef is firmer and much easier to slice than beef that's merely cold, so do yourself a favor and stick it in the freezer for a bit.
Then cut it into thin slices, keeping each one under ¼ inch thick. Make sure to cut against the grain, so your jerky is tender, not tough!
Making the Marinade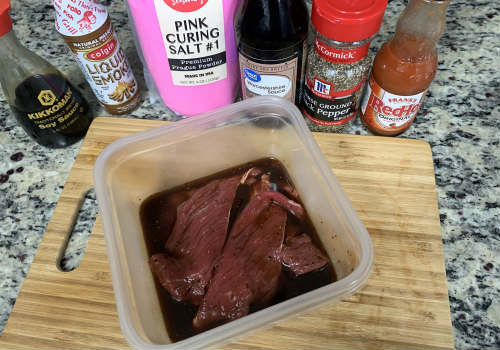 Now we'll turn up the heat — and then cool it down again! Mix the 7 marinade ingredients together in a container, then add the beef and shake it up until everything is evenly distributed.
Then put the container in the fridge for at least 6 hours. You can leave it for up to 24 hours for stronger flavors, but our taste buds were perfectly pleased with an 8-hour overnight marinade.
Dehydrating the Beef
Blot the excess marinade from your jerky with a paper towel. The more you remove, the quicker your jerky will dry.
Now get your food dehydrator out and arrange the beef on the dehydrator trays. If you don't have a dehydrator, you can use an oven or smoker, but we highly recommend getting one: it's an affordable investment that makes drying jerky so much easier.
NESCO FD-75A Snackmaster Pro Food Dehydrator, For Snacks, Fruit, Beef Jerky, Gray
EVEN HEAT DISTRIBUTION: 600 watts of drying power provides even heat distribution; consistent drying that is four times faster than other food dehydrators
ADJUSTABLE TEMPERATURE CONTROL: The adjustable temperature control (95°F -160°F) gives you the flexibility to achieve the best results when drying different foods that need varying temperature settings
EXPANDABLE TO 12 TRAYS: Comes with five (13 1/2″ diameter) trays and expands up to 12 trays so you can dry large quantities at once with no tray rotation needed; additional trays sold separately
EXPANDABLE TO 12 TRAYS: Comes with five (13 1/2″ diameter) trays and expands up to 12 trays so you can dry large quantities at once with no tray rotation needed; additional trays sold separately
ACCESSORIES INCLUDED: (2) Fruit Roll Sheet, (2) Clean-A-Screens, a sample of Jerky Seasoning & Cure, and (1) Care & Use Guide
Dehydrate the beef for 4-8 hours at 160 degrees F. Our thin slices took just 4 hours, but most hand-cut slices will need at least 6 hours.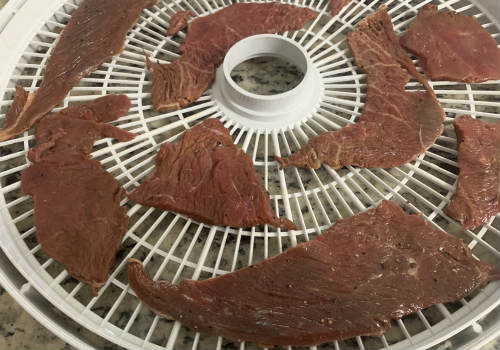 Check the beef for doneness every half-hour or so, starting at the 3 hour mark. You'll be able to tell when it's done by folding a piece in half — if it bends and cracks just a little but doesn't break, it's ready!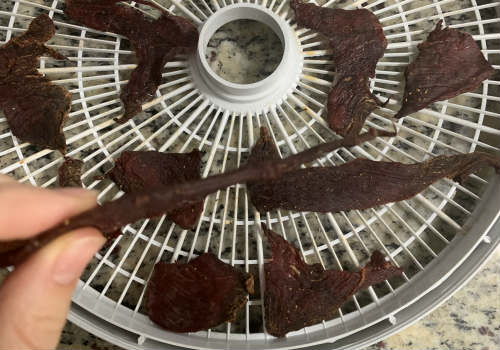 Step-by-Step Instructions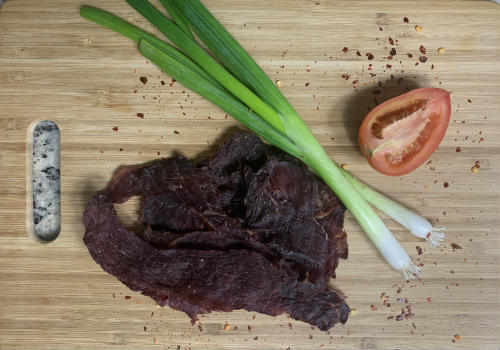 Makes 5 servings
Prep time: 30 minutes
Marinade time: 6-24 hours, depending on flavor preference
Cook time: 4-8 hours
Ingredients
Cost
1 lb beef — eye of round — or your favorite cut (any could work)
$6.82 per 1 lb at Walmart
1/4 teaspoon Prague Powder #1 curing salt
Between $12 and $13 for a 2.5 lb. pack
(96 teaspoons per pound means that 1/4 of a teaspoon equates to 0.01 cents)
1 tablespoon liquid smoke hickory
$1.34 for a 4 oz. container at Walmart
(2 tbsp per one oz. means that 1 teaspoon equates to 0.17 cents )
1/4 cup of soy sauce
$1.52 for a 5 oz. container at Walmart
(1/4 cup or 2 oz. = 0.61 cents)
1/4 cup of Worcestershire
$1.00 for a 10 oz. container at Walmart
(1/4 cup or 2 oz. = 0.20 cents)
4 tablespoon Frank's RedHot Original
$1-2 dollar range for a 5 oz. container
(2 tbsp per oz. means that 4 tbsp equates to 0.10 cents )
1/4 cup water
I used tap water, so it was essentially free
1 teaspoon cracked black pepper
$4.48 per 3.12 oz. container at Walmart
(6 tsp. per oz. means that 1tsp equates to 0.03 cents )
Total Cost:
$8.64/~7 oz. (full cost: meat + ingredients)
One final note, if you make a lot of it (of any jerky that is) and need to preserve it for any period of time, another recommended article (a very short but important read) is how to store jerky safely. Cheers!
I hope you've enjoyed this article as the recipe was really fun to make … and yes, the jerky came out delicious!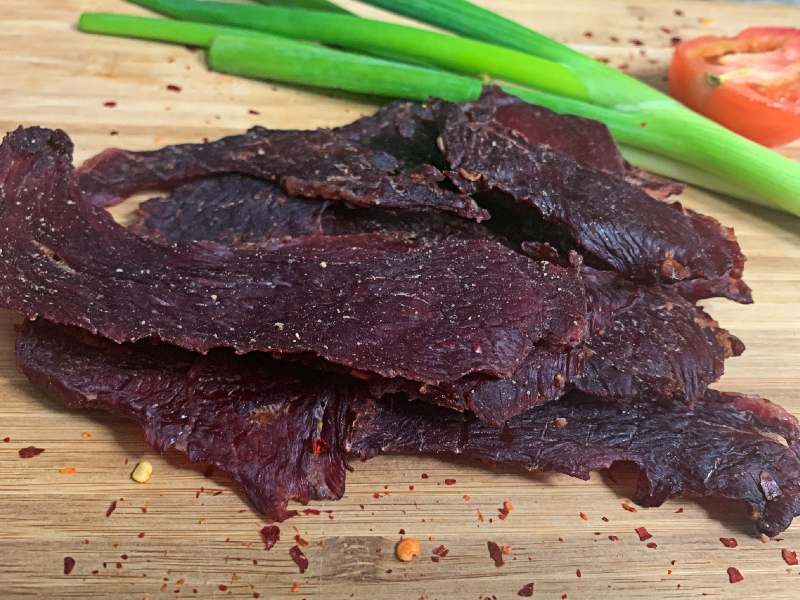 ---
---
Instructions
Remove all fat from the beef.

If your beef isn't pre-sliced, freeze it for 1-2 hours, then cut into strips no thicker than ¼ inch.

Combine all marinade ingredients together in a container.

Add beef to the container with marinade and mix well, then refrigerate for 6-24 hours.

Remove excess marinade by laying beef on a paper towel

Dehydrate beef at 160 degrees F for 4-8 hours, checking for doneness every 30-45 minutes starting at the 3-hour mark.
---
Nutrition
Serving:
39.6
g
|
Calories:
199
kcal
|
Carbohydrates:
2.1
g
|
Protein:
28.6
g
|
Fat:
7.1
g
|
Saturated Fat:
2.6
g
|
Cholesterol:
81
mg
|
Sodium:
704
mg
|
Potassium:
380
mg
|
Fiber:
0.3
g
|
Sugar:
1.7
g
|
Calcium:
6
mg
|
Iron:
17
mg
QUOTE:
"You might be a redneck if you think that beef jerky and moon pies are two of the major food groups."
-- Jeff Foxworthy