Are you looking for a snack that's both savory and spicy? Look no further than honey peppered beef jerky. I recently discovered this kind of beef jerky, which has the perfect balance of sweet and salty.
It has the satisfying texture and flavor of beef jerky with a hint of honey that will excite your taste buds. You'll be hooked after one bite!
Ingredients for Honey Peppered Beef Jerky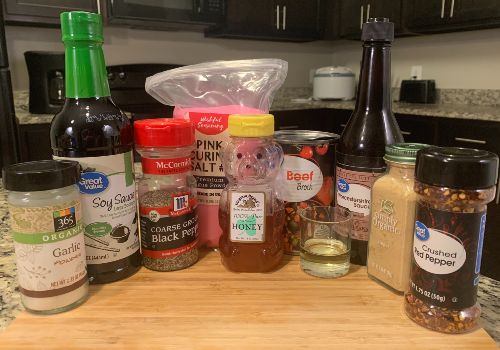 Choosing the Perfect Beef
The cut of the beef you use will affect how long your jerky lasts. The fattier it is, the shorter it will last. We used eye of round, but other cuts like sirloin tip and bottom round could work.
For this recipe, I bought the Eye of Round beef at Walmart for $6.61 per pound.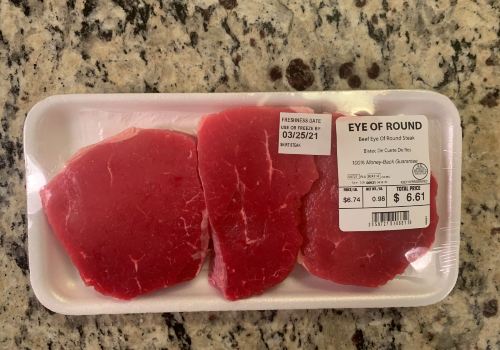 Preparing the Beef and Marinating
Trimming the Fat
The fat in beef jerky causes it to spoil. So, if you want it to last for a long time, take the fat off.
Removing it is crucial if you wish to have high-quality jerky!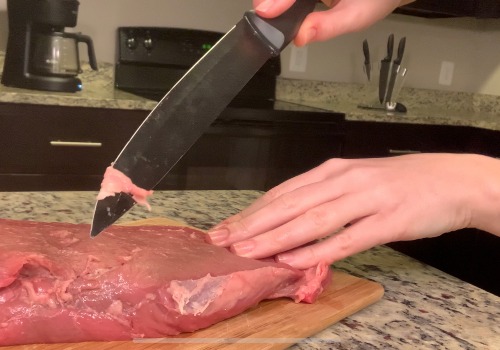 I weighed the meat to find out how much jerky we would have.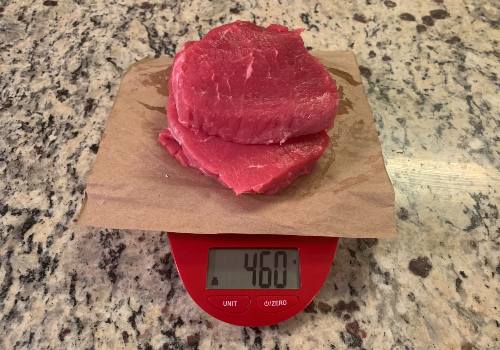 Cutting the Beef
When you've removed all the fat from the beef, put it in the freezer for one-two hours, so it is easier to cut.
When ice crystals start forming, take it out and slice it into thin strips.
Cut against the grain so that your jerky is more tender and has a better texture.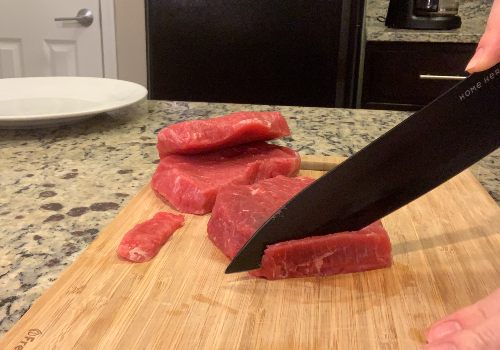 Marinating the Beef
We are going to put a lot of flavor on our beef. First, mix the ten marinade ingredients until they are well blended.
My suggestion is to use the measuring cup.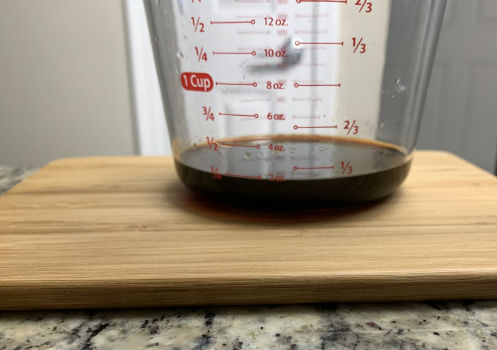 Then combine the beef and the marinade in a container. Put it in your fridge for 7 hours minimum, but you can leave it up to 24 hours for more flavor. We left ours overnight.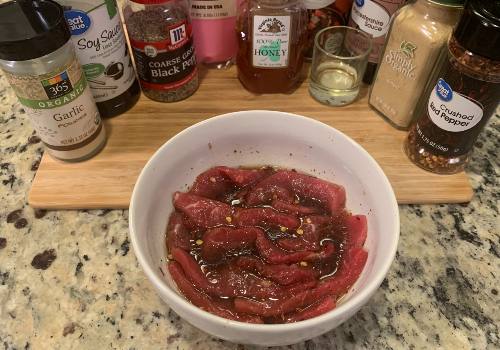 Time to Dry Your Beef
After you have marinated the beef, you will need to get rid of the extra liquid left.

This could be done by putting the meat on a paper towel for a few minutes. The paper towel will soak up any extra liquid from the meat.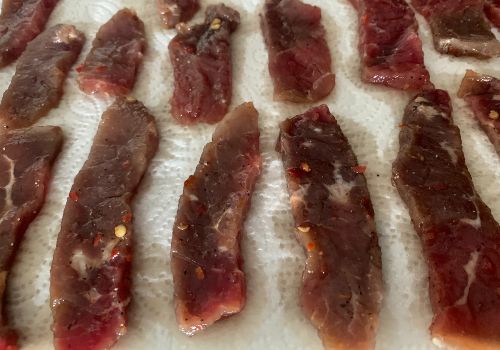 There are three ways to dehydrate beef jerky: in an oven, in an electric smoker, or in a dehydrator.
We used a food dehydrator because it's easy and small. Load the meat strip into the dehydrator and let it do its job!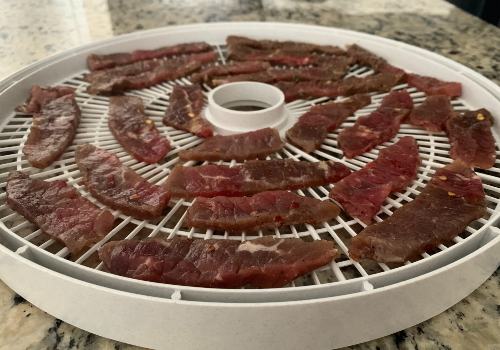 Dehydrate your jerky at 160 degrees Fahrenheit for 4 – 8 hours. We took 7 hours in our food dehydrator, but yours could take less time or more. It depends on how thick the meat is.
You will end up with around ⅓ of the weight you start with. We started with a pound of beef and ended up with 6.63 oz (188 grams) of beef jerky (see scale below).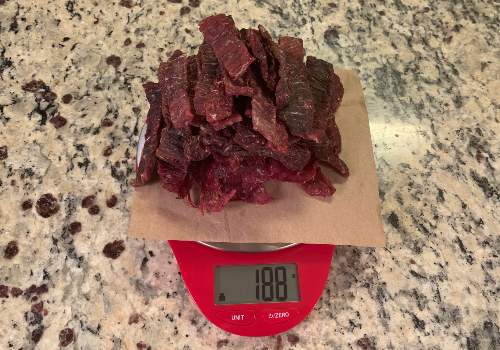 Recipe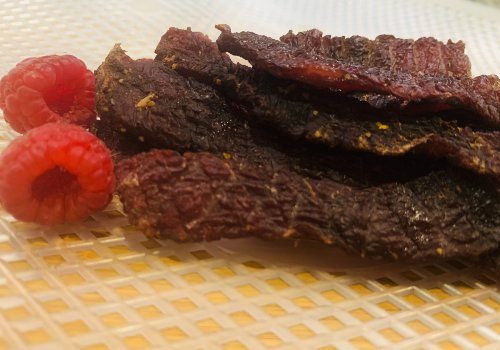 This recipe serves 5 people.
preparation time: 30 minutes
marinade time: 7 hours
drying time: 7 hours
Ingredients
Cost
1 lb. of beef; I choose Eye of round beef, but any could work
$6.61 per 1 lb. at Walmart
1/4 teaspoon of Prague Powder #1 curing salt
Between $12 and $13 for a 2.5 lb. pack
(96 teaspoons per pound means that 1/4 of a teaspoon equates to 0.01 cents)
1/4 cup soy sauce
$1.52 for a 5 oz. container at Walmart
(1/4 cup or 2 oz. = 0.61 cents)
2 tablespoon Worcestershire sauce
$1.00 for a 10 oz. container at Walmart
(2 tbsp per one oz. equates to 0.10 cents )
1/4 cup beef broth
$0.67 for a 14.5 oz. container at Walmart
(1/4 cup or 2 oz. = 0.09 cents)
1/4 cup honey
$2.98 per 12 oz. container at Walmart
(1/4 cup or 2 oz. = 0.50 cents)
1 teaspoon ground black pepper
$3.98 for 3.12 oz. a container at Walmart
(6 tsp. per oz. means that 1 teaspoon equates to 0.21 cents per 1 teaspoon)
1/4 teaspoon onion powder
Between $4 and $5 for a 1.73 oz. container
( 6 tsp. per oz. means that 1 teaspoon equates to 0.38 cents or 0.10 cents per 1/4 teaspoon )
1/2 teaspoon red pepper flakes
$0.98 per 1.75 oz. container at Walmart
( 6 tsp. per oz. means that 1 teaspoon equates to 0.09 cents or 0.045 cents per 1/2 teaspoon )
1/2 teaspoon ginger ground
$4 – 5 dollar range for a 1.64 oz. container
(6 tsp. per oz. means that 1/2 teaspoon equates to 0.20 cents)
1/4 teaspoon sesame oil
$4 – 5 dollar range for a 8.4 oz. container
(6 tsp. per oz. means that 1 teaspoon equates to 0.08 cents or 0.02 cents per 1/4 teaspoon )
Total Cost:
$8.50/6.63 oz. (full cost: meat + ingredients)


---
---
Instructions
The first step is to trim the fat from your beef.

Next, cut it into slices that are no more than ¼ inch thick and then slice against or across the grain.

Mix all of the marinade ingredients together.

Then put beef and marinade in a container or Ziploc bag and place it in the fridge for 6-24 hours.

 Remove excess liquid from the beef with a paper towel. 

Dry your beef in a food dehydrator, oven, or electric smoker at 160 degrees F for 5 – 8 hours; when the beef bend and crack without snapping, it's ready!
---
Nutrition
Serving:
37.6
g
|
Calories:
251
kcal
|
Carbohydrates:
19.4
g
|
Protein:
28.7
g
|
Fat:
5.8
g
|
Saturated Fat:
2.1
g
|
Cholesterol:
81
mg
|
Sodium:
1392
mg
|
Potassium:
440
mg
|
Fiber:
0.4
g
|
Sugar:
17.3
g
|
Calcium:
22
mg
|
Iron:
18
mg
Last update on 2022-09-22
Connect with Real Jerky Makers
Because the Best Jerky Doesn't Come from a Store
QUOTE:
"You might be a redneck if you think that beef jerky and moon pies are two of the major food groups."
-- Jeff Foxworthy