Making your own pork jerky is easy, and it's also a great way to control the ingredients and customize the flavor.
This recipe for hot and sweet pork jerky is simple to follow and results in a delicious, protein-rich snack that you can enjoy on the go.
Plus, making your own pork jerky is much cheaper than buying it at the store! So give this recipe a try and see how easy it is to create a delicious homemade snack.
Ingredients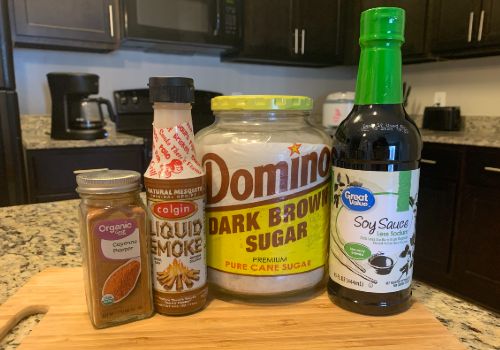 How to Prepare the Pork
For this recipe, I bought Boneless pork chops. I paid $5.45 per pound at Walmart.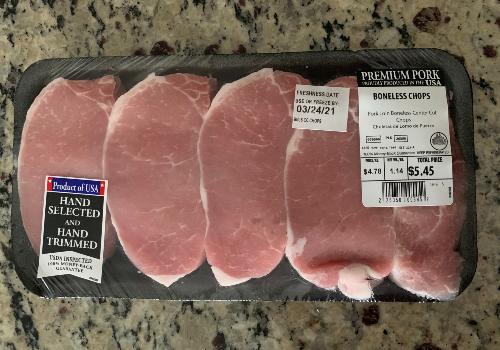 Get a sharp knife and start cutting away the fat on your pork.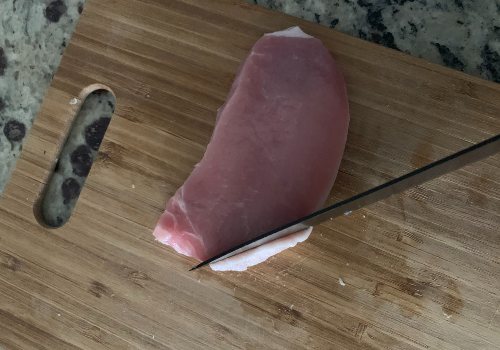 Connect with Real Jerky Makers
We'll introduce you to some of the most delicious, off the beaten path jerky makers around!
Because the Best Jerky Doesn't Come from a Store
I used the scale to see how much the meat would be after dehydrating.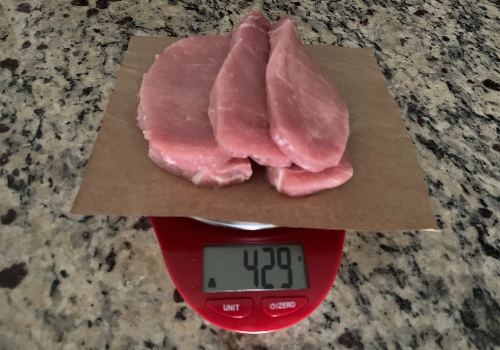 Now it is time to cut the pork. I suggest putting it in the freezer for one or two hours before cutting. Cutting frozen meat is easier than fresh meat. Try to cut the meat as thinly as you can.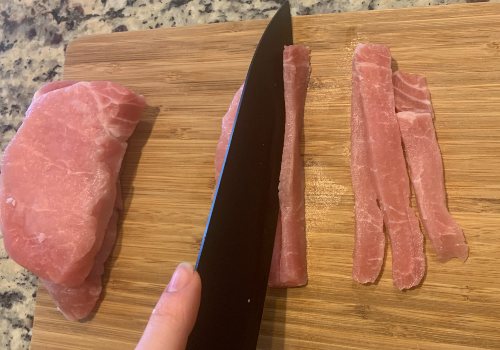 Next, you'll need to gather all the ingredients and mix them to make a marinade. Mix the ingredients in the right proportions.
See the measuring cup below.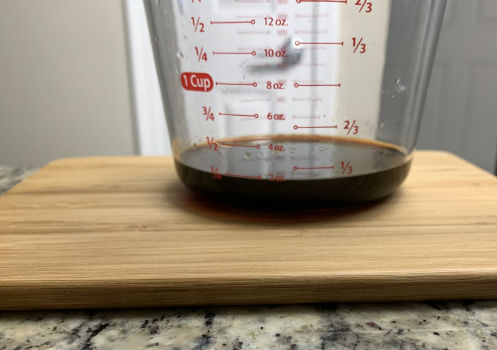 You will mix your marinade with the pork and let it sit for 6-24 hours. The longer you wait, the more flavor there is.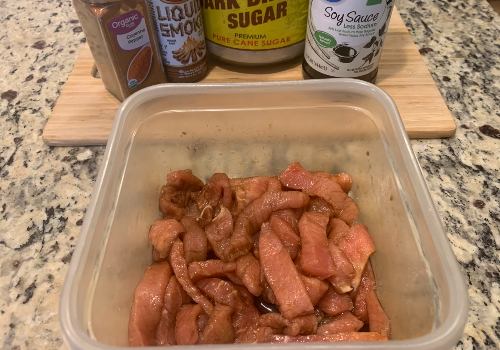 Dehydrate Your Slices
After marinating the pork, you'll need to drain any excess liquid. You can do this by placing the pork on a paper towel for a few minutes. The paper towel(s) will absorb any excess marinade.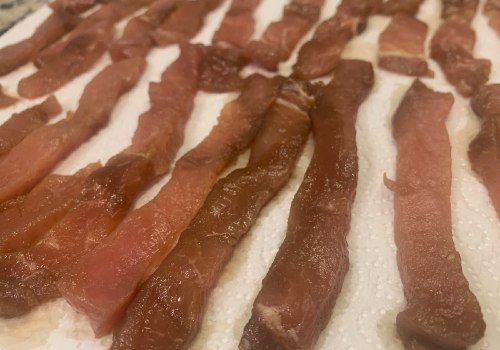 Now get your food dehydrator out. Put the pork on the trays in it. It's not expensive and makes drying pork easier to do! If you don't have a dehydrator, you can use an oven or an electric smoker, but we recommend getting one.
NESCO FD-75A Snackmaster Pro Food Dehydrator, For Snacks, Fruit, Beef Jerky, Gray
EVEN HEAT DISTRIBUTION: 600 watts of drying power provides even heat distribution; consistent drying that is four times faster than other food dehydrators
ADJUSTABLE TEMPERATURE CONTROL: The adjustable temperature control (95°F -160°F) gives you the flexibility to achieve the best results when drying different foods that need varying temperature settings
EXPANDABLE TO 12 TRAYS: Comes with five (13 1/2″ diameter) trays and expands up to 12 trays so you can dry large quantities at once with no tray rotation needed; additional trays sold separately
EXPANDABLE TO 12 TRAYS: Comes with five (13 1/2″ diameter) trays and expands up to 12 trays so you can dry large quantities at once with no tray rotation needed; additional trays sold separately
ACCESSORIES INCLUDED: (2) Fruit Roll Sheet, (2) Clean-A-Screens, a sample of Jerky Seasoning & Cure, and (1) Care & Use Guide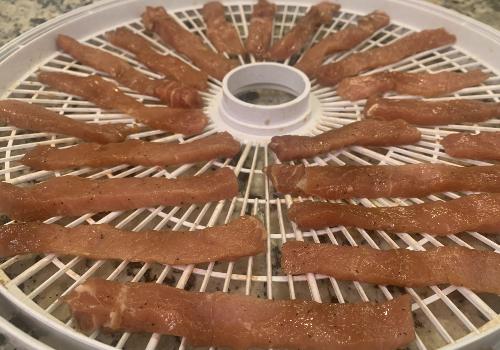 Lay your beef slices on a dehydrator and dry them at 160 degrees Fahrenheit for 5-7 hours.
After 4 hours, check your pork every 45 minutes or so. Bend it to see if it is ready; if it cracks without breaking, then it is done!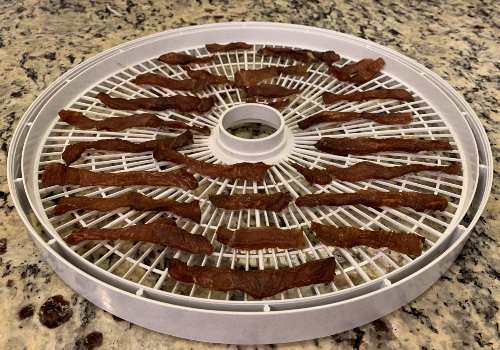 Our cooked meat weighed less. The meat before we cooked was 15.1 oz. or 428 grams, and after cooking, the weight was 6.21 oz. or 176 grams.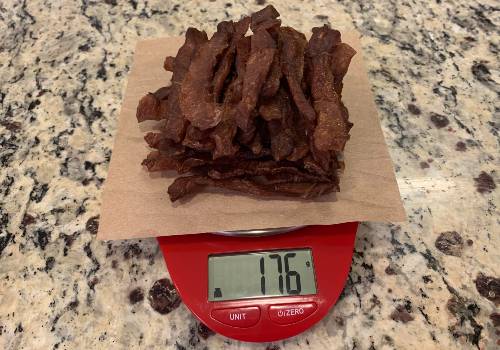 Recipe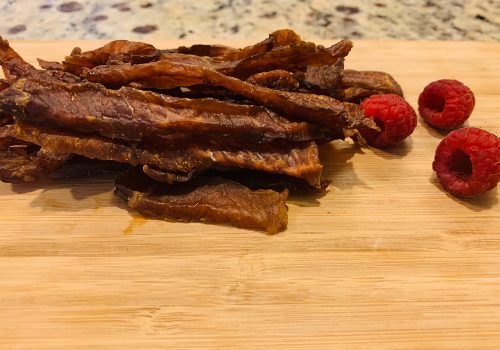 preparation time: 30 minutes
marinade time: 7 hours
drying time: 6 hours
Ingredients
Cost
1lb of boneless pork leg
$5.45 per 1 lb. at Walmart
1/3 cup soy sauce
$1.52 for a 5 oz. container at Walmart
(1/3 cup or 3 oz. = 0.91 cents)
3 tablespoon brown sugar
$2.17 for 2lb. a container at Walmart
(31 tbsp. per pound means that 3 tbsp. equates to 0.10 cents)
1 teaspoon liquid smoke hickory
$1.34 for a 4 oz. container at Walmart
(2 tbsp per one oz. means that 1 teaspoon equates to 0.17 cents)
1 teaspoon
cayenne pepper
$3.97 per 1.7 oz. container at Walmart
(6 tsp. per oz. means that 1tsp equates to 0.39 cents )
Total Cost:
$7.02/6.21 oz. (full cost: meat + ingredients)


Shot Instruction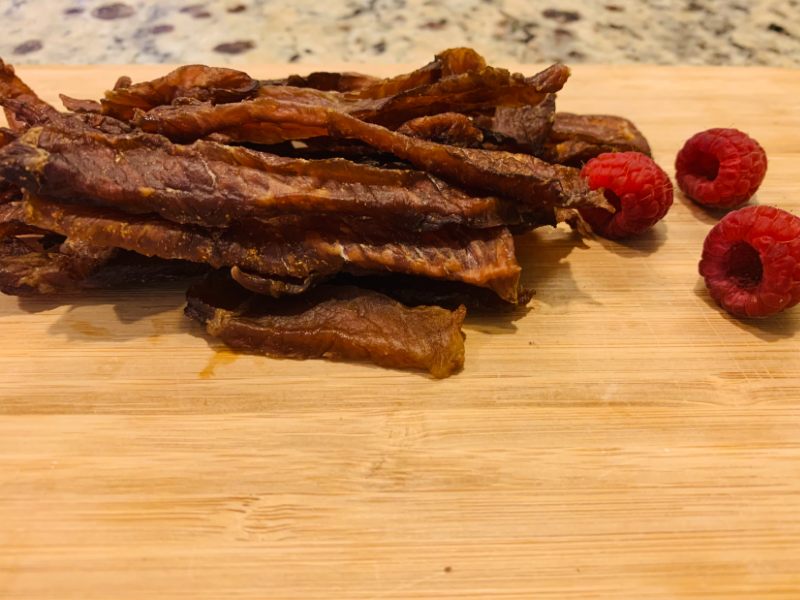 ---
---
Instructions
Cut the fat off your pork and put the meat n the freezer for 1-2 hours.

Slice your pork no more than ¼ inch thick, and cut against or across the grain.

Mix all ingredients for the marinade, add pork and leave it in the fridge for 6-24 hours.

Remove liquid from pork with paper towels dry meat on a food dehydrator at 160 degrees F for 5-7 hours or until slices bend and snap without breaking.
---
Nutrition
Serving:
35.2
g
|
Calories:
160
kcal
|
Carbohydrates:
6.8
g
|
Protein:
24.9
g
|
Fat:
3.3
g
|
Saturated Fat:
1.1
g
|
Cholesterol:
66
mg
|
Sodium:
1012
mg
|
Potassium:
433
mg
|
Fiber:
0.2
g
|
Sugar:
5.6
g
|
Calcium:
14
mg
|
Iron:
1
mg
QUOTE:
"You might be a redneck if you think that beef jerky and moon pies are two of the major food groups."
-- Jeff Foxworthy