Ready to elevate your homemade beef jerky to the next level?
Then it's time to take your jerky-making endeavor outside and cook up a new batch on a versatile, convenient pellet smoker.
Pellet smokers are revered by beef jerky lovers for a reason: no other device makes it so easy to give your jerky that authentic smoky flavor and spot-on texture.
Not sold yet? You will be once you see how a pellet smoker can revolutionize your beef jerky — read on!
What Is a Pellet Smoker?
Also known as pellet grills, pellet smokers are large outdoor cooking appliances that combine many functions — smoking, grilling, baking, dehydrating, and even braising — into one convenient package.
Using one is as simple as can be: just load the pellet hopper with wood pellets, then turn the grill on and set your temperature.
Inside the smoker, an auger moves pellets from the hopper to the fire pot, where they ignite to create heat and smoke. Fans then move that heat and smoke up into the grill area and onto your meat.
This convection-style cooking method is absolutely perfect for beef jerky — here are 4 reasons why.
4 Reasons Why a Pellet Smoker Is Perfect for Beef Jerky
1. Pellet Smokers Let You Choose Just the Right Temperature
Making the perfect jerky requires low temperatures — around 160° to 180° F. Pop your meat in at too high of a temperature, and you'll just end up with cooked beef rather than properly dried jerky.
Connect with Real Jerky Makers
We'll introduce you to some of the most delicious, off the beaten path jerky makers around!
Because the Best Jerky Doesn't Come from a Store
That means that many standard kitchen ovens are unsuitable for making jerky: their minimum temperatures just aren't low enough.
Pellet smokers, on the other hand, offer a huge temperature range — and regulate it precisely. The auger moves just the right number of pellets to maintain your chosen temperature, allowing for very fine control over your heat levels.
2. With a Pellet Smoker, You Can Set It and Forget It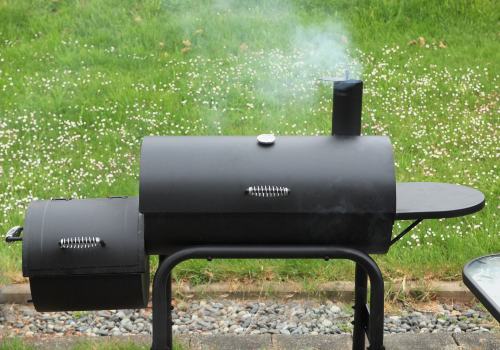 Your typical gas, charcoal, or wood-fired grill is certainly capable of making beef jerky, but the process can be quite labor-intensive.
You'll need to constantly monitor both your temperature and your fuel levels. Charcoal and wood will need to be reloaded often, gas tanks will need to be swapped, and you'll need to watch out for dangerous flare-ups.
Pellet smokers are more convenient than other grills. Large pellet hoppers only need occasional refills, so you can simply load up your jerky, turn the smoker on and leave it be.
And a pellet smoker is inherently safer than other grills: the structure of the smoker keeps the flame sequestered, so there's virtually zero risk of a flare-up.
3. Pellet Smokers Impart Your Jerky with an Authentic Smokiness
Sure, there are many ways to give your jerky a smoky flavor — you can add some liquid smoke to your jerky marinade or prepare it on a gas grill.
But many people find liquid smoke to have a strange, artificial taste. And gas grills don't just make your jerky taste smoky: they can also make it taste burnt and ashy.
Because pellet smokers keep your jerky away from direct flame, the only flavor they leave behind is pure, robust smoke. And what's more, you can get creative by using different types of wood pellets in your smoker.
Maple pellets produce rich, sweet smoke, while hickory pellets create a classic, savory smoke. For a hearty flavor, try mesquite pellets — and if you're feeling adventurous, you can add a nutty note to your jerky with pecan pellets.
4. A Pellet Smoker Gives Your Jerky the Ideal Texture
Most people make their homemade jerky in a countertop food dehydrator. But food dehydrators can dry your jerky out too much, leaving it leathery and tough.
On the other hand, you don't want to compensate for this by removing your jerky prematurely. It'll be more tender in spots, but the texture will be uneven — and if your slices are thick, they might not have reached a high enough internal temperature to be safe to eat.
Pellet smokers solve the texture problem with high airflow and regulated heat. The constantly-moving air dries your jerky evenly, while the consistent yet indirect heat prevents your jerky from overdrying.
Try pellet smoker jerky, and you'll be amazed at how juicy and tender — yet still chewy and substantial — jerky can be.
Our Top 3 Pellet Smokers for Beef Jerky
Ready to see for yourself how easy and efficient a pellet smoker can be? Here are our top 3 picks based on features, durability, and value.
Cuisinart CPG-256 Portable Wood Pellet Grill and Smoker
Sale
Cuisinart CPG-256 Portable Wood Pellet Grill and Smoker, Black and Dark Gray
8-in-1 COOKING CAPABILITIES: 256 sq.in. of cooking space, with an integrated Sear Zone expands your cooking capabilities; Smoke, BBQ, Grill, Roast, Sear, Braise, Bake, and Char-Grill.
PORTABLE DESIGN: Lightweight at 45lbs, 24 x 18 x 15, and the locking lid with handle makes it easy to take anywhere.
ADVANCED WOOD FIRE TECHNOLOGY: With a wide temperature range from 180°F to 500°F, the digital control automatically adds pellets as needed to regulate the temperature.
DIGITAL CONTROLLER: Electronic auto-start ignition, digital auto temperature control and real-time LED temperature display.
If you're just getting started with pellet smokers, the Cuisinart CPG–256 portable wood pellet grill and smoker is a fantastic option.
It may look small, but it's perfect for turning a pound or two of meat into smoky, succulent jerky. And that compact form lets you wow people with your smoked jerky everywhere, from the campground to the tailgate party to the backyard.
Pros
Ultra-portable: weighs just 45 pounds
Holds 5 pounds of pellets
256 square inches of cooking space
Can run on 12V power (if lit manually)
Goes down to 180° for jerky, up to 500° for grilling
Highly affordable
Cons
No extras like WiFi, Bluetooth, or special modes
Not suitable for bulk jerky making
Pit Boss PB440FB1 Pellet Grill
The Pit Boss PB440FB1 ups the game with premium features, heavy-duty construction, and a 5-year warranty.
All-terrain wheels make this smoker feel lighter than it is, and the automatic start and stop option mean that you don't need to babysit your jerky while it smokes.
Pros
482 square inches of cooking space
Digital control panel with fine-tuned temperature control
Automatic on/off feature
Durable porcelain-coated steel grill racks
Easy to clean
5-year warranty
Cons
Heavyweight — over 100 pounds
5-pound hopper is small for the smoker's size
Z Grills ZPG-550B Pellet Smoker
Sale
Z GRILLS ZPG-550B 2022 Upgrade Wood Pellet Grill & Smoker 8 in 1 BBQ Auto Temperature Control, Cooking Area, 550 sq in Black
★ ULTIMATE 8-IN-1: Barbecue wood fire pellet grill: bbq✓bake✓roast✓braise✓smoke✓grill✓sear✓char-grill
★Pellet Grill Technology: There just isn't an easier way to get the flavor of wood smoked food than with a pellet grill. Try it, you'll taste the difference from a GAS or CARBON grill.
★ Set the Temperature, Relax, and Enjoy: Z Grills pellet grills will do all the work for you once you set the temperature. No labor-intensive start-up. No babysitting the grill. Enjoy the cooking!
★538 sq. in. Cooking Area: Two tiers of grill rack offer 538 sq. in. of total cooking area to feed 4 to 5 people. The removable upper rack gives the extra height for the main surface when removed.
★8-in-1 Versatility: A wide temperature range from 180 to 450 °F allows you to bake, grill, smoke, BBQ, roast, braise, barbeque, and char-grill a seemingly unlimited amount of recipes.
When you've got a big batch of jerky to whip up, the Z Grills ZPG-550B will be up for the task with a ton of cooking area and dead-simple one-button operation.
Its 10-pound pellet capacity means that you can make jerky for days without needing to reload the hopper. And the PID system constantly monitors the smoker's temperature, so heat levels will never fluctuate more than a few degrees.
Pros
538 square inches of cooking area
PID temperature controller for minimal temp swings
Virtually indestructible cast iron grill racks
All-digital ignition and pellet purge functions
Very easy to clean
Holds up to 10 pounds of pellets
Cons
450° maximum temperature may be low for non-jerky uses
No storage for the power cord
QUOTE:
"You might be a redneck if you think that beef jerky and moon pies are two of the major food groups."
-- Jeff Foxworthy