Are you looking for a quick and easy snack you can take on the go? Check out this basic beef jerky recipe! It's simple to make and only requires a few ingredients.
Plus, it's healthy and protein-rich, so you can feel good about eating it. So what are you waiting for? Give this recipe a try today!
Ingredients for Basic Beef Jerky Recipe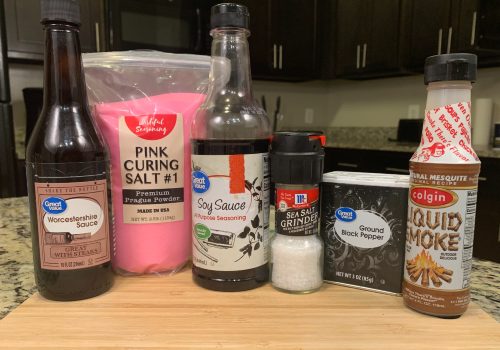 Choosing the Right Beef
You need to choose the right beef for your jerky. Your beef should be easy for you and not fat. Some good types of meat are London broil, sirloin tip, flank steak, and eye of round. You can make jerky with this kind of meat.
This time, I decided to try top-round London broil beef. I paid $5.84/per lb. at Walmart.
How to Prepare the Beef?
Beef has a little fat, but you do not want it to make beef jerky. It changes the flavor of the jerky and makes it spoil quickly.
If you plan to store your beef jerky for later, make sure that there is no fat left on your meat before doing anything else.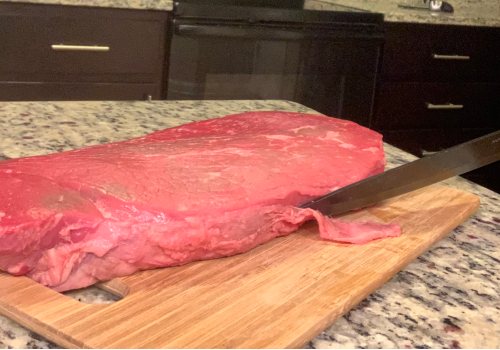 You'll need about 1 pound or 450 grams of beef after trimming for this recipe.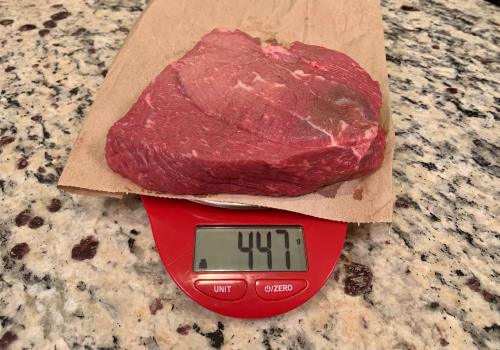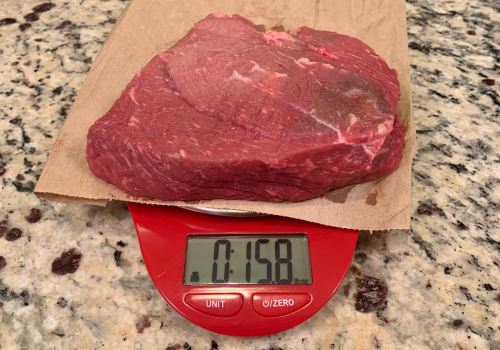 Once you finish cutting the fat, put your beef in the freezer for an hour or two. It will make it easier to cut. It is best to freeze the meat for two hours if you have time, but it isn't necessary if you don't.
Cut the beef into thin strips and make sure each slice is no thicker than 1/4 inch thick. Cut with or against the grain to produce a more tender jerky that is easy to chew.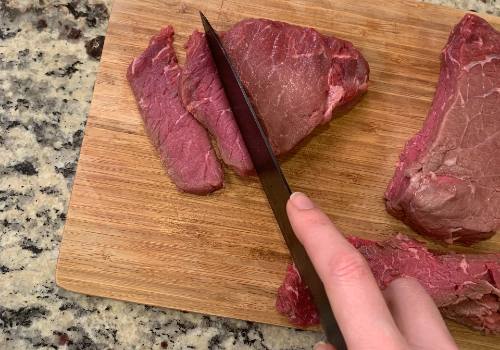 The next step is to make a marinade. You will need to mix the right amounts of all the ingredients.
See the measuring cup below.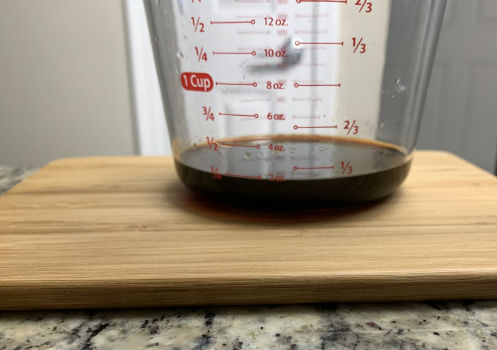 Put the pieces of beef in a container or Ziploc bag with the marinade. Put it in the fridge for at least six hours (up to 24 hours). Shake or stir up the ingredients once in a while.
Dehydrating the Beef Jerky
Marinate the beef. Then you will need to soak up the excess liquid.
You can do this by putting the beef on a paper towel for a few minutes. The paper towel will soak up any excess marinade.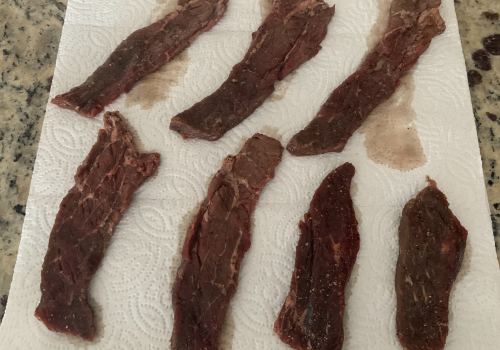 You can use an oven or an electric smoker to dry beef jerky, but I recommend a dehydrator. It is easy to use, cheap and lets you dry beef at lower temperatures for improved texture. I bought my dehydrator on Amazon.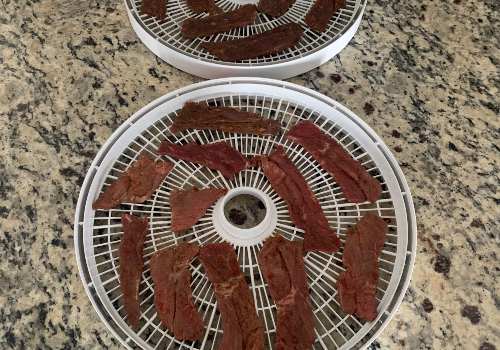 Put the pieces of beef on the dehydrator's trays and dry them for 4 – 8 hours at 160 degrees F.
Our hand-cut slices needed 6 hours to get the perfect slightly-crispy texture – but they can take less time if you are drying them at lower temperatures.
At 145 degrees, plan about 7 hours; at 125 degrees, plan about 10 hours.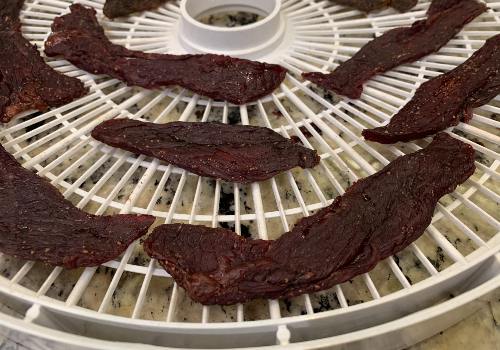 If you start with 1 pound of meat, then by the time it's done drying, you will have about 6.1 oz. of beef jerky or 173 grams.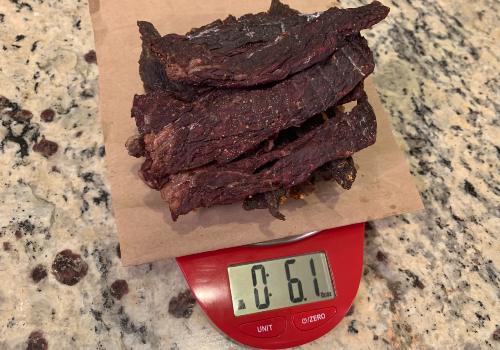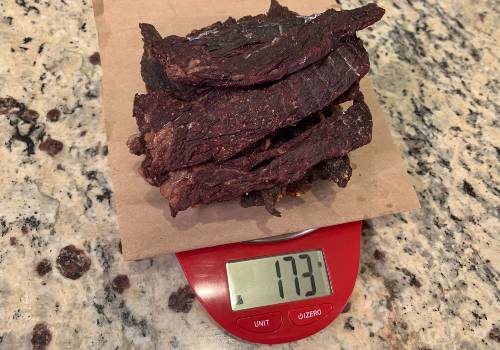 Recipe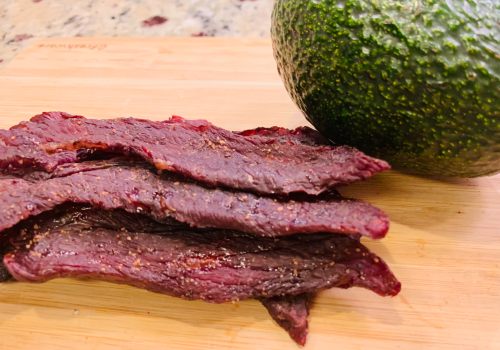 This recipe serves five people.
preparation time: 30 minutes
marinade time: 6 hours
drying time: 6 hours
Ingredients
Cost
1 lb. of beef; I choose top round London broil beef, but any could work
$5.84 per 1 lb. at Walmart
1/4 teaspoon of Prague Powder #1 curing salt
Between $12 and $13 for a 2.5 lb. pack
(96 teaspoons per pound means that 1/4 of a teaspoon equates to 0.01 cents)
3 tablespoon Worcestershire sauce
$1.00 for a 10 oz. container at Wallmart
(2 tbsp per oz. means that 3 tbsp equates to 0.15 cents)
2 tablespoon liquid smoke hickory
$1.34 for a 4 oz. container at Walmart
(2 tbsp per one oz. equates to 0.17 cents)
1 teaspoon sea salt
$1.96 for 2.12 oz. a container at Walmart
(6 tsp. per oz. means that 1 teaspoon equates to 0.15 cents)
1 teaspoon ground black pepper
$3.98 for 3.12 oz. a container at Walmart
(6 tsp. per oz. means that 1 teaspoon equates to 0.21 cents)
Total Cost:
$6.53/6.5 oz. (full cost: meat + ingredients)


Shot Instruction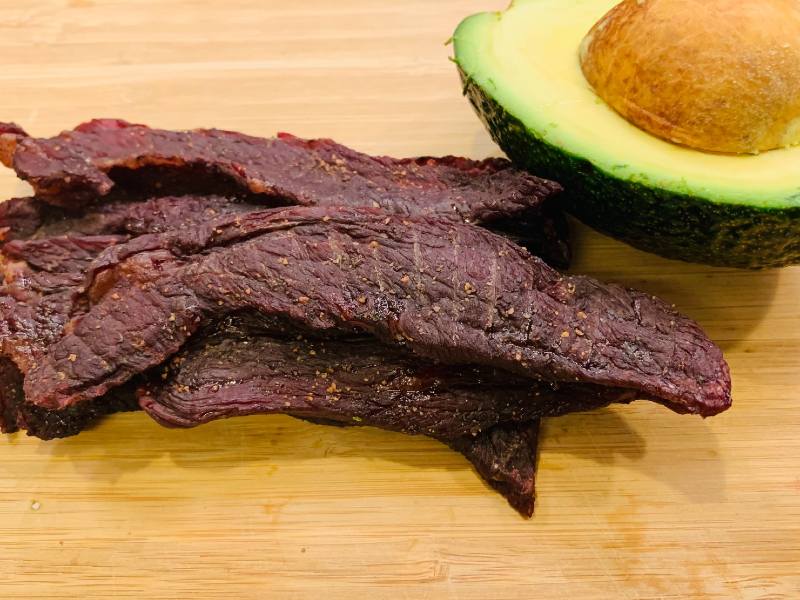 ---
---
Instructions
Cut the fat from your beef and put it in the freezer for 1-2 hours.

Cut your beef into slices no more than ¼ inch thick, cutting across or against the grain.

Mix all ingredients to make a marinade and put them in a container with your beef inside; let it stay in a refrigerator for 6-24 hours.

Take out any excess liquid from your meat using paper towels before drying it.

For dehydration, you can use an oven, electric smoker, or food dehydrator. Dry it until beef jerky bends and crack without snapping.
---
Nutrition
Serving:
43.25
g
|
Calories:
223
kcal
|
Carbohydrates:
2.6
g
|
Protein:
34.5
g
|
Fat:
7.1
g
|
Saturated Fat:
2.7
g
|
Cholesterol:
101
mg
|
Sodium:
1361
mg
|
Potassium:
464
mg
|
Fiber:
0.1
g
|
Sugar:
2.3
g
|
Calcium:
4
mg
|
Iron:
21
mg
Connect with Real Jerky Makers
We'll introduce you to some of the most delicious, off the beaten path jerky makers around!
Because the Best Jerky Doesn't Come from a Store
QUOTE:
"You might be a redneck if you think that beef jerky and moon pies are two of the major food groups."
-- Jeff Foxworthy