As a beef jerky lover, I've found that it's hard to find a truly healthy one. Most brands use preservatives and artificial flavors in order to make the meat taste as it should.
This recipe is different because it uses real ingredients and is cooked with a dehydrator instead of smoked over an open flame. Making your beef jerky is a great way to ensure that you are getting a healthy and delicious snack.
The spices used in this recipe also help boost the jerky's health benefits. So, if you are looking for a quick and easy way to get some healthy snacks on the go, then make up a batch of this beef jerky!
"Real Healthy" Beef Jerky Ingredients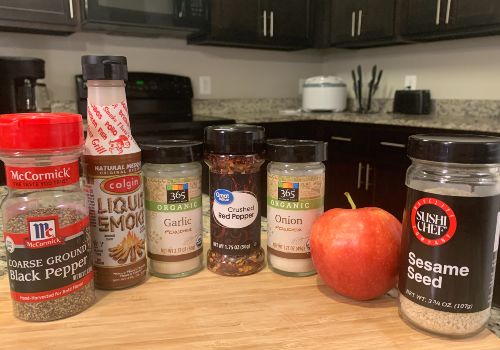 And, of course, beef meat.
Picking the Perfect Beef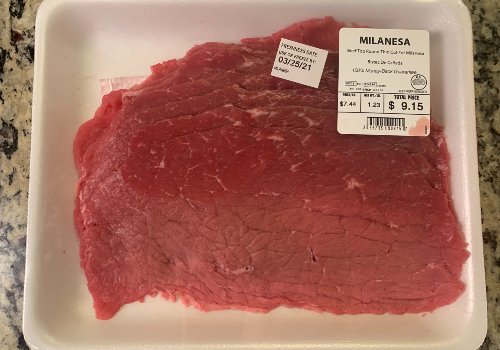 When you make beef jerky, you need to pick the right kind of beef. You don't want too much fat on your meat, so pick one of these cuts: top round, bottom round, the eye of round, and sirloin tip.
Our Real Healthy Beef Jerky is made with one pound of sirloin tip we got at the store already sliced. I paid $9.15 at Walmart.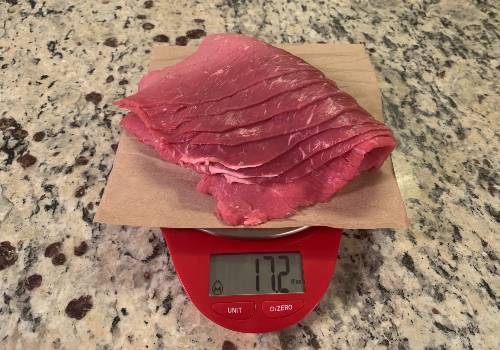 Prepping the Beef
Removing the Fat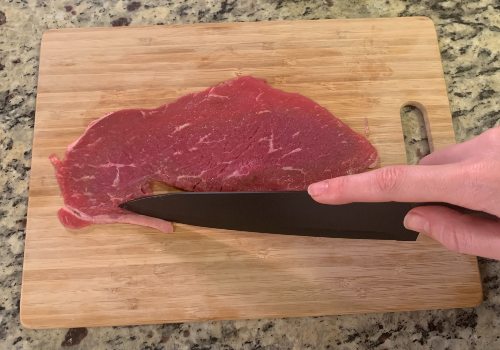 Whether or not you buy pre-sliced beef, you may still need to trim the fat before making your jerky.
Remove as much of the fat as you can. Your beef jerky will last longer and taste better, so it's well worth the effort.
If you are using pre-sliced beef, you can go to "Marinating the Beef" now. But if not, keep reading!
Slicing the Beef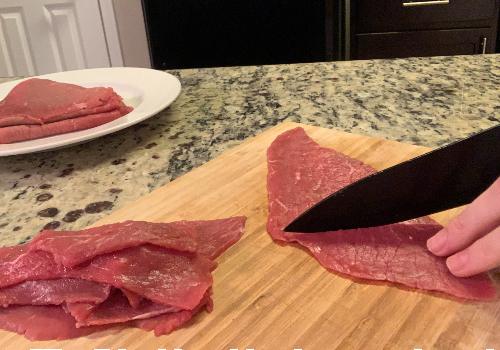 Cut the beef into slices that are no bigger than ¼ inch thick.
Cut against the grain when you slice, not with it. Cutting against the grain will make the jerky easier to chew and might be better-tasting for some people.
Marinating the Beef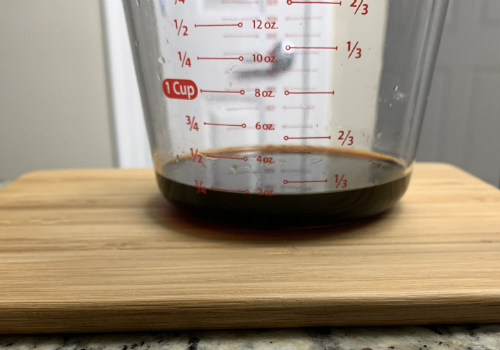 To make the marinade, put all ingredients in a separate container. Use a measuring cup to measure out exact amounts.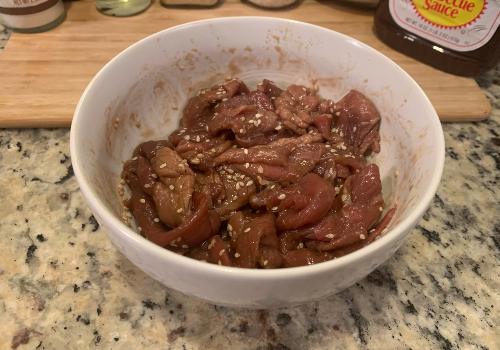 You can make a Healthy beef jerky marinade by mixing 7 ingredients. Put some beef in the container with the marinade and mix it until all the pieces are covered. Leave it in the fridge for 8 hours or more (up to 24 hours) if you want your jerky to have more flavor.
Drying the Beef Jerky
Put strips on a paper towel. Give them a few minutes to dry. Then put them in your tray in a single layer.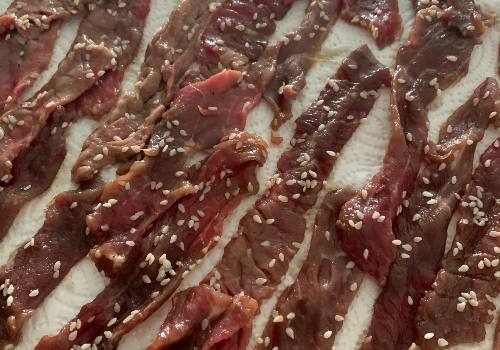 I recommend using a food dehydrator for the drying process. It's a compact, inexpensive, easy-to-use device perfect for making beef jerky. I bought mine on Amazon.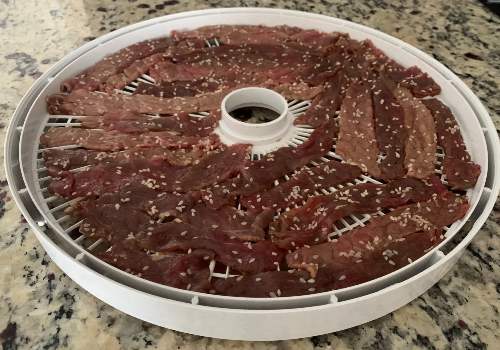 Put the beef strips on the trays and dry them at 160 degrees F for 4-8 hours. Our slices were so thin that they only needed 4 hours, but if yours are thicker, they'll need more time.
After 4 hours, check your jerky every 30-45 minutes to see if it's cooked. Jerky is done when it is bendable without breaking.
You'll end up with around ⅓ of the beef's original weight in jerky. Our pound of beef turned into 6.5 ounces ( 184 g. ) of Real Healthy beef jerky.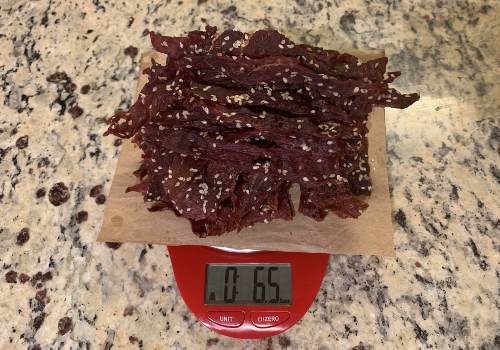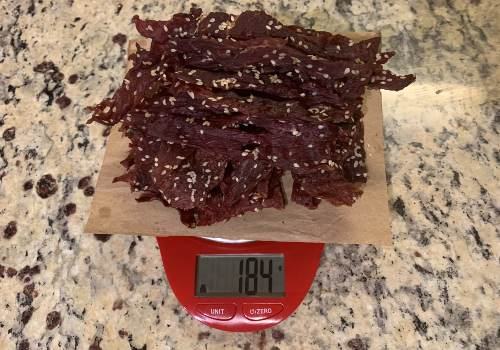 Recipe
Makes 5 servings
Preparation Time: 30 minutes
Marinade Time: 6-24 hours, average 7 hours
Drying Time: 4-8 hours, average 6 hours
Ingredients
Cost
1 lb beef — Top Round Thin cut (Milanesa) (any could work)
$9.15 per 1 lb. at Walmart
1 cup Fresh Squeezed Apple Juice
Between $0,60 and $0.85 per one at Walmart
1 teaspoon liquid smoke hickory
$1.34 for a 4 oz. container at Walmart
(6 tsp. per oz. means that 1 teaspoon equates to 0.06 cents)
1/2 teaspoon onion powder
$8-9 dollar range for a 9.75 oz. container
(6 tsp. per oz. means that 1/2 teaspoon equates to 0.07 cents)
1 teaspoon garlic powder
Between $4 and $5 for a 2.33 oz. container
(6 tsp. per oz. means that 1 teaspoon equates to 0.28 cents)
1 teaspoon red pepper flakes
$0.98 per 1.75 oz. container at Walmart
(6 tsp. per oz. means that 1 teaspoon equates to 0.09 cents)
1 teaspoon cracked black pepper
$4.48 per 3.12 oz. container at Walmart
(6 tsp. per oz. means that 1 teaspoon equates to 0.24 cents)
1.5 tablespoons sesame seeds
$2.96 for a 3.75 oz. container at Walmart
(2 tbsp per oz. – 0.20 cents equates 1.5 tabletspoon to 0.15 cents)
Total Cost:
$10.64/6.5oz. (full cost: meat + ingredients)

Step-By-Step Instructions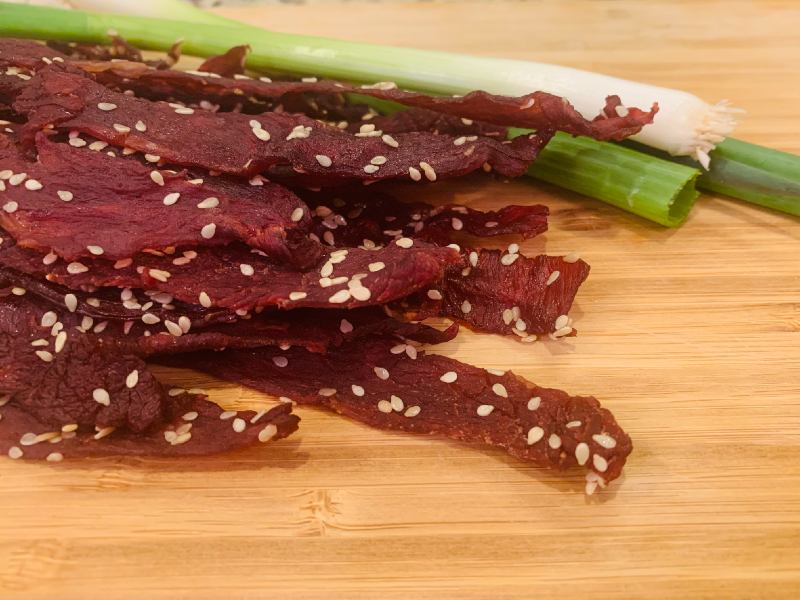 ---
---
Instructions
Cut off the fat from your beef.

If you are not using pre-sliced beef, freeze the meat for 1-2 hours and into slices that are no thicker than ¼ inch.

Mix ingredients for the marinade. Add your beef to marinade and put it in the fridge for 6-24 hours.

Remove any excess marinade with paper towels before you cook it.

Dry your thin strips of meat at 160 degrees Fahrenheit for 4-5 hours or 5-8 hours if they are thick.
---
Nutrition
Serving:
36.8
g
|
Calories:
199
kcal
|
Carbohydrates:
4.7
g
|
Protein:
28.3
g
|
Fat:
7.1
g
|
Saturated Fat:
2.7
g
|
Cholesterol:
81
mg
|
Sodium:
63
mg
|
Potassium:
410
mg
|
Fiber:
0.8
g
|
Sugar:
0.3
g
|
Calcium:
35
mg
|
Iron:
18
mg
Last update on 2022-09-22
Connect with Real Jerky Makers
Because the Best Jerky Doesn't Come from a Store
QUOTE:
"You might be a redneck if you think that beef jerky and moon pies are two of the major food groups."
-- Jeff Foxworthy