Ordinarily, long-term jerky storage isn't a problem for most people… largely because jerky is so darn good it all gets eaten up within a matter of days!
But sometimes, a situation arises where you have more jerky than you know what to do with.
And when that happens, knowing how to vacuum seal it might just save your whole batch from certain spoilage.
Here's everything you need to know about vacuum sealing your jerky — and 5 reasons why this storage method earns our seal of approval!
5 Reasons Why You Should Vacuum Seal Your Jerky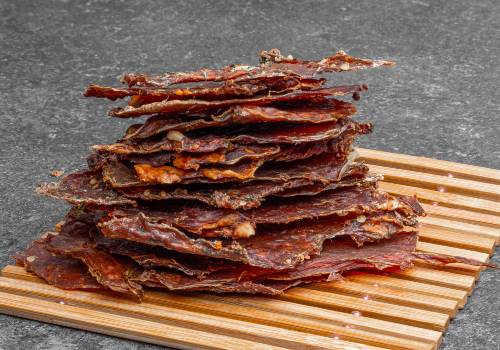 1. Vacuum Sealing Suffocates Nasty Pathogens That Can Ruin Your Jerky
Humans, plants, and animals aren't the only forms of life that require oxygen to survive. Bacteria and mold do as well, and you definitely don't want them anywhere near your jerky.
Listeria, salmonella, and E. coli are three of the most insidious foodborne pathogens out there. And all three will readily colonize your jerky if it's stored in an oxygenized environment.
The same goes for mold, of which there are thousands of varieties. Some are strange-tasting but mostly benign, but many could make you seriously ill — and either way, they're not welcome in your jerky.
A proper vacuum seal removes every last bit of oxygen from the bag, creating an inhospitable environment for bacteria and mold. As a result, your jerky could remain safe for consumption for a year or more!
2. Jerky Retains Its Flavor and Texture Better if It's Vacuum Sealed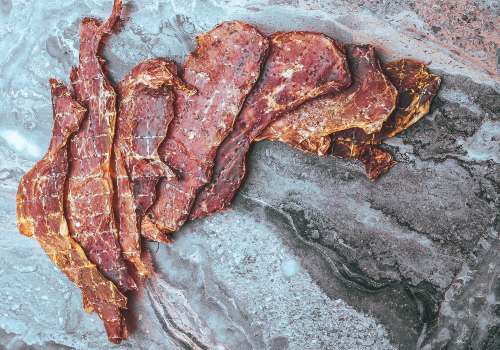 Oxygen doesn't just promote microbial growth. It also reacts with the various molecules that make up your jerky, and the results can be quite unpleasant.
For starters, there's staleness: exposure to air dries your already-dry jerky out even more, ruining the texture and even rendering it inedible.
But oxygen also causes the flavors of your jerky to change. Any fat present in the jerky will develop a rancid taste, and marinade components like vinegar, soy sauce, and hot sauce can lose their "kick" when exposed to oxygen.
Connect with Real Jerky Makers
We'll introduce you to some of the most delicious, off the beaten path jerky makers around!
Because the Best Jerky Doesn't Come from a Store
And if you like to store your jerky in the freezer, you run the risk of freezer burn as the water molecules in the jerky turn to ice. Freezer-burned jerky is still edible, but its taste and texture may be ruined.
Vacuum sealing prevents these reactions from occurring, making your jerky taste better for longer.
3. Vacuum Sealing Makes Your Jerky Look Better
Of course, the way food looks doesn't directly affect the way it tastes. Some of the most desirable delicacies in the world look pretty dang weird, but once you taste them, their appeal becomes obvious.
But if you've ever seen jerky that's turned gray with age, you understand the psychological effect that strange-looking food can have on your appetite.
Exposure to oxygen and other elements causes food to become discolored. Meat, in particular, undergoes quite a stomach-churning transformation, turning muddy brown before going gray.
There's an easy solution, though. If you vacuum seals your jerky, it'll have the same fresh appearance on day 300 that it did on day 1.
4. You Can Store Your Jerky More Easily if You Compact It with a Vacuum Sealer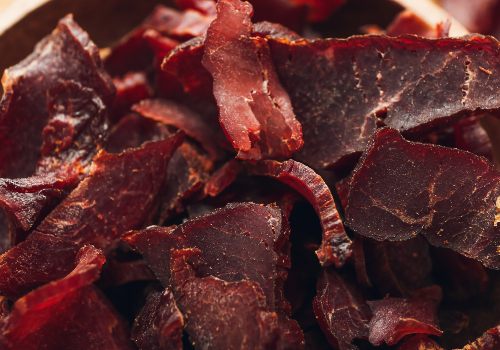 If you're perpetually running out of room to store food, you need to save space anywhere you can.
And while jerky may not seem like a particularly space-hogging food, it can take up a surprising amount of room depending on how you store it. Mason jars are bulky, zip-lock bags are floppy, and other containers may not use their space as efficiently as possible.
When you vacuum seal your jerky, you can arrange each piece, so it lays flat and orderly, then removes all the extra air from the bag. This creates a very compact package that can be stored just about anywhere.
5. Vacuum Sealing Enables You to Make Huge, Economical Batches of Jerky
Many people would love to make big batches of jerky, taking advantage of bulk meat discounts to save money.
But they're not sure that they'll be able to eat all that jerky before it goes bad, which would defeat the purpose of buying in bulk.
Vacuum sealing solves this problem by keeping your jerky fresher for longer. A batch of jerky that may only last a week in a regular bag could last for up to two years if it's vacuum sealed.
That's a huge difference that could virtually eliminate your food waste problem — and stretch your food budget out further than ever before.
How to Vacuum Seal Your Jerky in 3 Simple Steps
New to vacuum sealing but want to try it out on your jerky? We've got you covered — it's easier than you might think!
Choosing a Vacuum Sealer
Sale
Bestseller
Bonsenkitchen Dry/Moist Vacuum Sealer Machine with 5-in-1 Easy Options for Sous Vide and Food Storage, Air Sealer Machine with 5 Vacuum Seal Bags & 1 Air Suction Hose, Silver
PROFESSIONAL VACUUM SEALER: The Bonsenkitchen food sealer machine only takes 10-12 seconds to complete the food vacuum sealing. Vacuum sealer for food is easy to operate with 5 buttons. It is a great solution to keep food fresher for longer. It can keep food fresh for 8 times longer than normal storage methods.
WET/DRY DUAL MODE: Meal vacuum sealer machine's newly upgraded wet pumping function can help preserve cured meat and seafood for up to 25 days and lock in moisture, save money and waste less. While the dry pumping mode can meet the daily meal preparation needs of nuts, snacks, fruits, vegetables, etc. It is better to use Bonsenkitchen professional vacuum bag with deep airway for good vacuuming and sealing effect
EXTERNAL VACUUM SYSTEM: For crisper jars and crisper boxes, the vacuum packaging machine can reduce the rate of food oxidation and prevent the smell of wine and sauces from evaporating too quickly. Air sealer machine can also protect your valuables, keeping them isolated from air and moisture.
EASY TO CONTROL&STORSGE: Our compact vacuum sealer size is 15.7*3.9*6.5 inches, its 2.6 pounds weight will not be a burden for going out, fits easily into lockers and drawers. You just need to select the button of any function, the LED indicator will prompt you to start or end.
FULLY STARTER KITS: You will get a food sealer vacuum sealer * 1, manual * 1, foam seal*1, vacuum bags * 5, Air suction hose * 1, detailed tutorials, and humanized operations for operators.
Vacuum sealers come in countertop and handheld varieties. Either type can be used for jerky, though each has its pros and cons.
Handheld vacuum sealers tend to be cheaper than countertop ones, and they're portable enough to be used anywhere. However, they're not usually as feature-rich as countertop sealers.
Countertop vacuum sealers are bulkier and require a wall outlet to run. They also cost more on average but may have extra features like bag storage, automatic sealing, and the ability to seal cans and jars.
Vacuum Sealer Bags vs. Rolls
Regardless of which vacuum sealer you choose, you'll also need to decide whether to use pre-formed bags or make your own from a roll.
Rolls can be cheaper, plus they allow you to make custom-sized bags, so you can seal anything from a single piece of jerky to multiple pounds of it. But they add an extra step — cutting the plastic — to your sealing process.
Premade bags are pricier than rolls and come in a limited array of sizes. However, they're convenient to use and often reusable, plus some come with handy zipper closures.
Either option works, so pick the one that suits you best. Just ensure that it'll work with your sealer — many brands aren't cross-compatible with each other's bags.
Sealing Your Jerky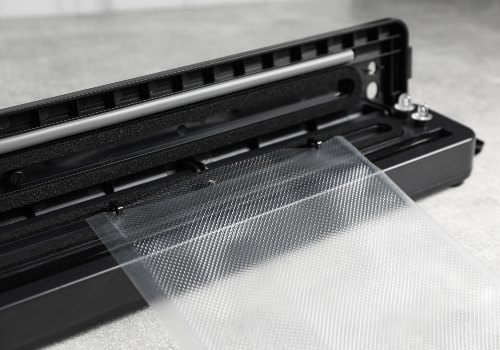 Once you have your gear, vacuum sealing your jerky couldn't be easier.
Just fill your chosen bag — or, if you're using a roll, bag-to-be — with jerky, ensuring that there's enough empty room on the open side(s) to form a seal.
Arrange the jerky however you like. We suggest arranging the pieces as flat and evenly as possible to make an extra-compact package, but any way works as long as you don't overfill the bag.
Then place the opening of the bag in your sealer, press the "seal" button and let the machine work its magic! If you're using a roll, you'll need to repeat this step to seal the other sides.
That's all there is to it! Spending just a few minutes vacuum sealing your jerky buys you months, if not years, of extra shelf life — now that's a sweet return on investment!
Vacuum Sealing Your Beef Jerky (Video)
QUOTE:
"You might be a redneck if you think that beef jerky and moon pies are two of the major food groups."
-- Jeff Foxworthy