It's hard to think of a kitchen gadget that's gotten more fanfare than the air fryer.
And beef jerky, of course, is a classic snack that will never go out of style.
Combine the two, and what do you get? A healthy and delicious homemade treat that couldn't be easier to cook up!
We've got everything you need to know to get started making your very own air fryer beef jerky, from pros and cons to prep tips to the perfect air fryer settings. Then try our super-simple air fryer beef jerky recipe and see for yourself what all the hype is about!
Air Fryer Beef Jerky 101
What Is an Air Fryer?
Sale
Bestseller
Ninja AF101 Air Fryer that Crisps, Roasts, Reheats, & Dehydrates, for Quick, Easy Meals, 4 Quart Capacity, & High Gloss Finish, Black/Grey
Now enjoy guilt free food; Air fry with up to 75 percent less fat than traditional frying methods; Tested against hand cut, deep fried French fries
Wide temperature range: 105 degree Fahrenheit to 400 degrees Fahrenheit allows you to gently remove moisture from foods or quickly cook and crisp foods with convection heat
4 quart ceramic coated nonstick basket and crisper plate fit 2 pounds of french fries. Cord length (feet) - 2.6
The unit will need time to preheat before coming up to temperature. We recommend that you preheat the unit for 3 minutes before adding your ingredients to achieve the best results
Dehydrate: Create flat, chip like dehydrated foods for fun, homemade snacks pounds; The combination of low fan speed and low temperature enables thorough dehydration
If you keep up with cooking shows, blogs, or magazines, you've undoubtedly caught on to one of the biggest culinary trends in recent history: the air fryer.
This must-have kitchen device produces food that has all the crispiness of deep-fried food with almost none of the oil — or the associated mess. It's perhaps the healthiest, most convenient way to get the fried food experience at home.
Technically, the air fryer is a convection oven: it "fries" your food by rapidly circulating hot air around it, drawing out the moisture and leaving your meat, veggies, or finger foods perfectly crispy.
But french fries and chicken wings are far from the only foods that your air fryer can cook. That convection process also makes it ideal for producing homemade beef jerky.
Why Is an Air Fryer Better than a Dehydrator for Making Beef Jerky?
Most beef jerky recipes call for using a food dehydrator rather than an air fryer. So why use the latter instead of the former?
In a nutshell, convenience.
There's a good chance you already own an air fryer that's suitable for making beef jerky. As of 2020, 40% of U.S. households owned an air fryer — and that number has only grown as more and more people started cooking at home during the pandemic.
The relatively small size, low cost, and high versatility of the appliance make it more accessible than bulkier food dehydrators. Apartment dwellers and budget cooks appreciate the air fryer's portability and affordability.
Then there's the time factor. Food dehydrators are designed to move large amounts of air at fairly hot temperatures, while air fryers are designed to move smaller amounts of air at higher temperatures.
The higher temperature of the air fryer speeds up the jerky-making process considerably. A batch of jerky that requires 10 hours in a dehydrator may only need 1 or 2 hours in an air fryer.
So if you're on the go or working on a tight schedule, an air fryer could revolutionize how you enjoy your jerky.
Are There Any Downsides to Using an Air Fryer for Beef Jerky?
Sale
Instant Pot Vortex Plus 6-in-1 6-Quart Large Air Fryer Oven with Customizable Smart Cooking Programs, Non-stick and Dishwasher-Safe Basket, Includes Free App with over 1900 Recipes, Stainless Steel
6-IN-1 FUNCTIONALITY: Air fry, broil, roast, dehydrate, bake and reheat
EvenCrisp TECHNOLOGY: Advanced technology that drives air flow top down for a perfect golden finish and crispy, tender results every time!
ONE-TOUCH SMART PROGRAMS: Customizable programs for one-touch wings, roasted veggies, garlicky potatoes, cookies, cinnamon buns and more!
FAST PREHEATING: Little to no preheating time, from frozen to golden in minutes! Create gourmet meals with the versatility of a temperature range of 95 to 400° F.
EASY CLEAN-UP: Non-stick, dishwasher safe air fry basket and tray.
To the jerky fanatic, an air fryer seems almost too good to be true.
And there is, in fact, one significant downside to the air fryer jerky-making method: the batch size.
Because most food dehydrators are tiered, they can hold multiple pounds of beef, allowing you to make large batches of beef jerky. Each dehydrator load typically yields at least a pound of jerky, often more.
But air fryers tend to have smaller footprints than dehydrators, and they generally have a single basket rather than a series of tiers. Since the beef needs to be spread out in order to cook properly, you're significantly limited as to how much you can air fry at once.
Depending on the size of your air fryer, a single pound of beef may need to be prepared in multiple batches. So unless you have a large air fryer — or a lot of self-control — you may be better off using a dehydrator if you plan to make jerky in bulk.
Can I Use Any Beef Jerky Recipe to Make Air Fryer Beef Jerky?
Yes! Adapting virtually any beef jerky recipe to work in an air fryer is incredibly simple.
Just follow the recipe up until it's time to put the beef in the dehydrator, smoker, or oven. Then place it in the air fryer at 180° F for 1 to 2 hours.
If you're laying the beef in the air fryer basket, you may wish to flip it around ¾ of the way through the cooking time.
Some adjustments to cooking time and temperature may be needed depending on your air fryer — see our tips and tricks below for more info. Otherwise, converting any beef jerky recipe to an air fryer recipe couldn't be more straightforward!
Air Fryer Beef Jerky Tips and Tricks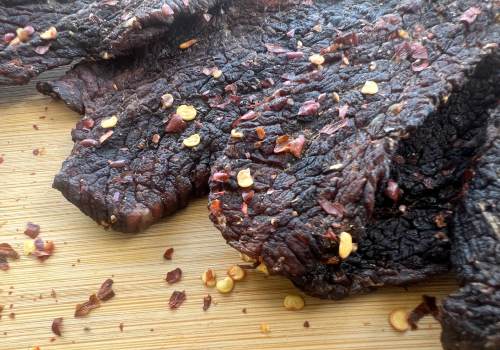 Attention to detail can transform your air fryer beef jerky from OK to out of this world. Try these quick tips to elevate your next batch to new levels.
Pick the Right Beef — and Prep It the Right Way
No matter what dehydrating method you choose, starting with the right cut of beef will make all the difference in your finished jerky.
Lean cuts are always best for beef jerky: flank steak, eye-of-round, top or bottom round, or sirloin tip are all excellent choices. The less fat, the better — you'll have less trimming to do, and your jerky will keep longer.
Once you have your perfect cut of beef, decide what texture you want and slice accordingly. Slicing your beef with the grain will result in chewier jerky, while beef cut against the grain makes softer jerky.
Whichever direction you choose, make sure your slices are ¼" thick or less — ⅛" is ideal. The thinner your slices, the less time they'll need in the air fryer.
Finally, be patient and give your beef an adequate marinade — at least 4 and up to 24 hours. The longer it marinates, the more flavorful it will be, so don't rush this step!
Speed It Up with Skewers
Good air circulation is critical to air frying. But that can make it tricky to arrange your beef properly in the air fryer.
Simply laying it out in the basket in a single layer works, but it limits the amount you can cook at once. And depending on how close the strips are to each other, the air may not circulate optimally, making each batch take longer to finish.
You can solve this problem by using wooden shishkabob skewers. Cut them, so they're just long enough to rest on the lip of your air fryer, then thread your beef strips onto them.
The strips will hang down into the air fryer like curtains, allowing more air to circulate around them. Doing this can cut your cook time by as much as 50% compared to using the air fryer basket!
Tinker with the Temperature
Every air fryer is different, so you may want to experiment a little with your temperature settings to find the one that's best for jerky.
A good starting point is 180° F — this is the lowest temperature setting available on many air fryers and is high enough that your beef will reach the required internal temperature of 160° F. Your jerky will be ready at this temperature in 1 to 2 hours.
If your air fryer can run at lower temperatures, you can also try dehydrating your jerky for slightly longer at 150-160° F. This combination of a lower temperature and longer cook time can give you finer control over your jerky's doneness and produce a more even texture.
Some air fryers have a much higher minimum temperature — 200° or even 300° F — along with a separate "dehydrate" mode. If yours falls into this category, try cooking the beef at 300-350° for 3 to 5 minutes, then switch to dehydrate mode for an hour or two.
Step Out of Your Comfort Zone
Finally, don't be afraid to experiment with your air fryer beef jerky!
The smaller batch sizes allow you to try new techniques without wasting a ton of time or beef. This makes air fryer jerky the perfect way to sample new marinades, find your favorite cuts, or even develop your own innovative jerky recipes.
A Quick and Simple Air Fryer Beef Jerky Recipe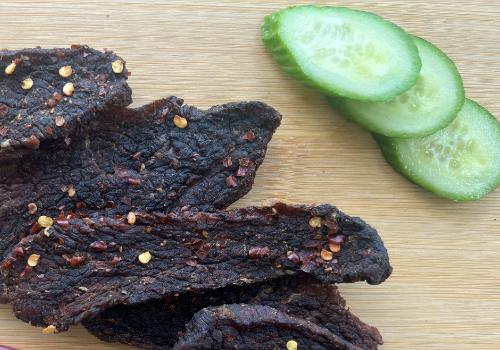 Want to get started making air fryer beef jerky right away? This easy recipe will have you snacking in no time at all.
Ingredients
1 pound lean beef (eye of round, flank, or similar cut)
½ cup soy sauce
⅓ cup Worcestershire sauce
1 tbsp honey
1 tsp garlic powder
1 tsp onion powder
¼ tsp red pepper flakes
¼ tsp curing salt
Directions
Before you begin, you can optionally place your beef in the freezer for 1 hour to make it easier to cut.
Cut your beef into ¼"-⅛" thick slices, cutting against the grain for softer jerky or with the grain for chewier jerky.
Mix all other ingredients in a lidded bowl or container, then add the beef strips. Swish the container around to coat the beef, then replace the lid and refrigerate for 4 to 24 hours.
When finished marinating, remove the excess liquid from the beef with a paper towel.
Place the strips in the air fryer. You can either arrange them in a single layer in the basket or thread them onto wooden skewers and hang them from the lip of the fryer.
Air fry the beef at 180° F for 1 to 2 hours until the internal temperature has reached 160° F and desired texture has been achieved. If using the fryer basket, you may wish to flip the beef halfway through the process.
Allow the jerky to cool, then store it in an airtight container.
Sale
Bestseller
Ninja AF101 Air Fryer that Crisps, Roasts, Reheats, & Dehydrates, for Quick, Easy Meals, 4 Quart Capacity, & High Gloss Finish, Black/Grey
Now enjoy guilt free food; Air fry with up to 75 percent less fat than traditional frying methods; Tested against hand cut, deep fried French fries
Wide temperature range: 105 degree Fahrenheit to 400 degrees Fahrenheit allows you to gently remove moisture from foods or quickly cook and crisp foods with convection heat
4 quart ceramic coated nonstick basket and crisper plate fit 2 pounds of french fries. Cord length (feet) - 2.6
The unit will need time to preheat before coming up to temperature. We recommend that you preheat the unit for 3 minutes before adding your ingredients to achieve the best results
Dehydrate: Create flat, chip like dehydrated foods for fun, homemade snacks pounds; The combination of low fan speed and low temperature enables thorough dehydration
How to Make Air Fryer Beef Jerky (Video)
Connect with Real Jerky Makers
We'll introduce you to some of the most delicious, off the beaten path jerky makers around!
Because the Best Jerky Doesn't Come from a Store
QUOTE:
"You might be a redneck if you think that beef jerky and moon pies are two of the major food groups."
-- Jeff Foxworthy