We don't know about you, but we've always got a craving for beef jerky.
But sometimes, deep down, we know we need to satisfy that sweet tooth, too.
Luckily, our sweet beef jerky recipe takes care of both of those needs! Try it for yourself — it's easy, fun and oh-so-satisfying!
Sweet Beef Jerky Ingredients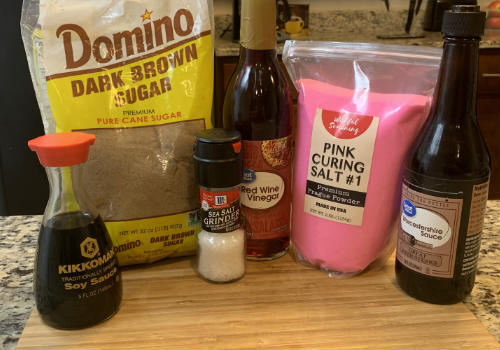 Buying the Right Beef for the Job
To make our sweet beef jerky, we picked up our favorite cut: eye of round. It's lean yet flavorful, so it's perfect for making jerky.
But you're welcome to use other cuts of beef, too! Top round, bottom round, flank steak and sirloin tip are all popular choices for making beef jerky.
In fact, you can use any cut you like as long as you can remove the fat from it. Fat will spoil your batch of beef jerky, so avoid fatty cuts and marbled beef.
And if you're short on time, pick up some pre-sliced beef to save a few hours of freezing and slicing time!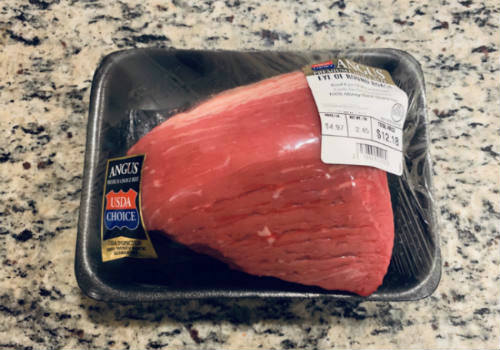 Getting the Beef Ready
Trimming the Excess Fat
Connect with Real Jerky Makers
We'll introduce you to some of the most delicious, off the beaten path jerky makers around!
Because the Best Jerky Doesn't Come from a Store
Your beef jerky will taste "off" and won't keep for long if there's any fat left on it.
So before you do anything else, trim the fat from your beef as thoroughly as you can. Any remaining fat could cause your jerky to spoil.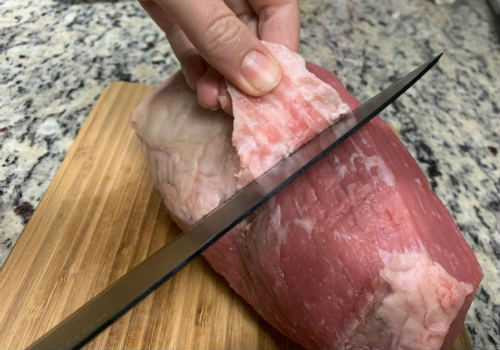 Optional: Freezing the Beef
We highly recommend taking the time to freeze your beef before slicing it. Putting your beef in the freezer will cause it to firm up, resulting in a chunk of meat that's much easier to thinly slice.
Only leave your beef in the freezer for an hour or two. It's ready to come out when it's firmed up a bit and has just started to form ice crystals.
Slicing the Beef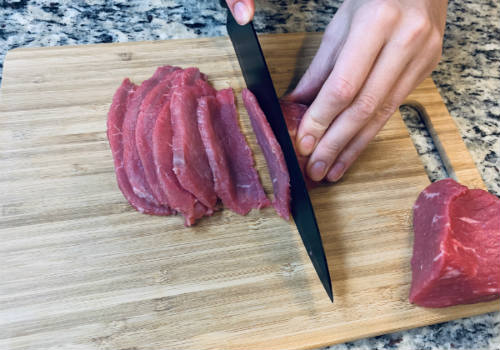 Cutting against the grain, slice the beef into strips no thicker than ¼ inch.
Working against the grain results in jerky that's easier to chew. And thinner strips dehydrate more quickly than thicker ones — that means less waiting until you can finally enjoy some jerky!
Marinating the Beef
To make the sweet marinade for your beef jerky, just add all the ingredients to a container and stir until combined.
Place your beef slices into a Ziploc bag or lidded container, then add the marinade and shake until the beef is well-coated. Then refrigerate it for at least six hours but ideally overnight; leave it for up to 24 hours for the fullest flavor.
Make sure to shake the mixture up every so often so the marinade doesn't settle on the bottom!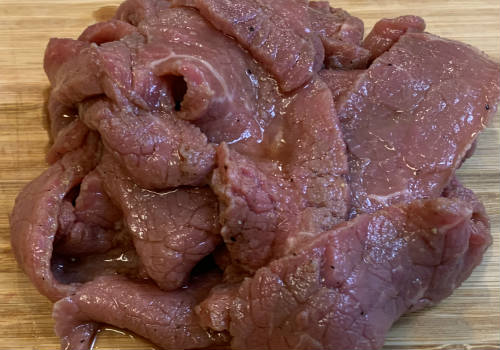 Drying the Beef into Jerky
When you're done marinating the beef, lay the strips on a paper towel until the extra marinade is absorbed. This speeds up the drying process.
You can dry your beef in an oven or electric smoker, but using a food dehydrator will get you the best results. We prefer dehydrators because they're compact, affordable and easy to use. I bought mine on Amazon.
NESCO FD-75A Snackmaster Pro Food Dehydrator, For Snacks, Fruit, Beef Jerky, Gray
EVEN HEAT DISTRIBUTION: 600 watts of drying power provides even heat distribution; consistent drying that is four times faster than other food dehydrators
ADJUSTABLE TEMPERATURE CONTROL: The adjustable temperature control (95°F -160°F) gives you the flexibility to achieve the best results when drying different foods that need varying temperature settings
EXPANDABLE TO 12 TRAYS: Comes with five (13 1/2″ diameter) trays and expands up to 12 trays so you can dry large quantities at once with no tray rotation needed; additional trays sold separately
EXPANDABLE TO 12 TRAYS: Comes with five (13 1/2″ diameter) trays and expands up to 12 trays so you can dry large quantities at once with no tray rotation needed; additional trays sold separately
ACCESSORIES INCLUDED: (2) Fruit Roll Sheet, (2) Clean-A-Screens, a sample of Jerky Seasoning & Cure, and (1) Care & Use Guide
Lay your beef slices in a single layer on the dehydrator trays (or a baking sheet with holes for air circulation, if not using a dehydrator). Then dry them at 160 degrees F for 4-8 hours.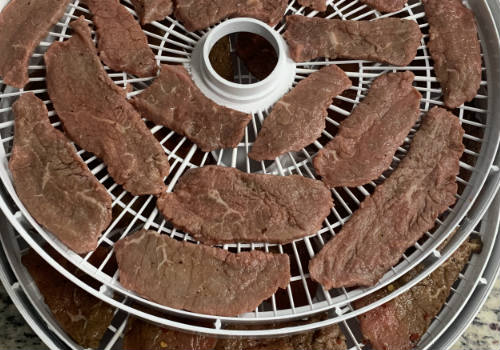 Thin slices will need less time than thicker slices, and crispier jerky will need more time than softer jerky. Check it for doneness every 45 minutes or so once you pass the 4-hour mark.
Your jerky is done when you can bend and crack it a little without fully breaking it. You'll end up with around ⅓ of your starting weight in jerky — expect 5-7 ounces for every pound of beef. Enjoy your Sweet beef jerky and store it safely.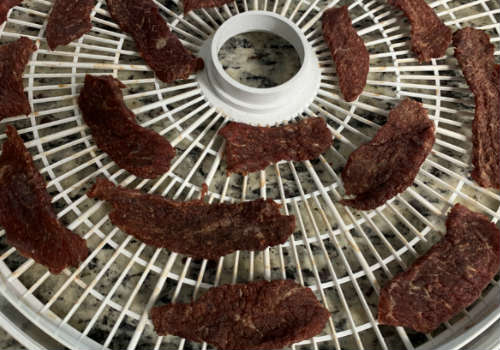 Recipe of Sweet Beef Jerky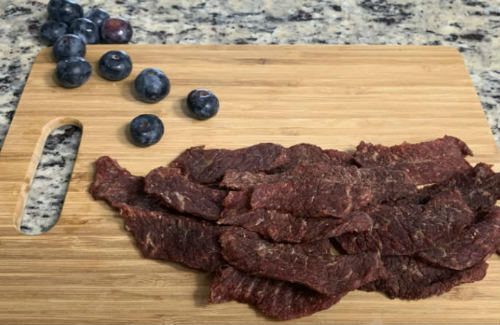 Makes 5 servings
Preparation Time: 30 minutes
Marinade Time: 6-24 hours, average 8 hours
Drying Time: 4-8 hours — 4-6 for thin slices, 6-8 for thick slices
Ingredients
Costs
1 lb beef — eye of round — or your favorite cut (any could work)
$5 per 1 lb in Wallmart
1/4 teaspoon Prague Powder #1 curing salt
Between $12 and $13 for a 2.5 lb. pack
(96 teaspoons per pound means that 1/4 of a teaspoon equates to 0.01 cents)
2 tablespoon of brown sugar
$2.17 for 2lb. container at Walmart
( 31 tbsp. per pound means that 2 tbsp. equates to 0.07 cents
1 teaspoon of sea salt
$1.96 for 2.12 oz. a container at Walmart
( 6 tsp. per oz. means that 1 teaspoon equates to 0.15 cents )
1/4 cup of Worcestershire
$1.00 for a 10 oz. container at Wallmart
(1/4 cup or 2 oz. = 0.2 cents )
1/4 cup of red wine vinegar
$1.57 for a 12.7 oz. container at Wallmart
(1/4 cup or 2 oz. = 0.25 cents )
2 tablespoons of soy sauce
$1.52 for a 5 oz. container at Walmart
( 2 tbsp per oz. – 0.30 cents )
Total Cost:
$5.98/~7 oz. (full cost: meat + ingredients)
Step-By-Step Instructions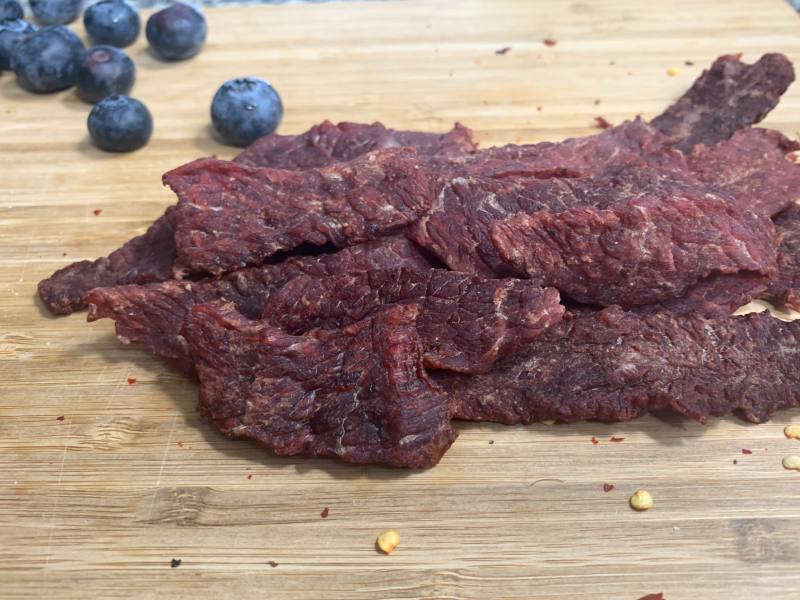 ---
---
Instructions
Thoroughly remove all fat from your beef.

Freeze the beef for 1-2 hours, then cut it into slices ¼ inch or less.

Mix all marinade ingredients together until well combined.

Add beef and marinade to a container, shake well and refrigerate for 6-24 hours.

Soak up an excess marinade from beef with a paper towel.

Dehydrate beef using your favorite method at 160 degrees F for 4-8 hours depending on thickness, removing when jerky bends and cracks slightly without snapping.
---
Nutrition
Serving:
36.6
g
|
Calories:
200
kcal
|
Carbohydrates:
6.5
g
|
Protein:
27.9
g
|
Fat:
5.7
g
|
Saturated Fat:
2.1
g
|
Cholesterol:
81
mg
|
Sodium:
1045
mg
|
Potassium:
393
mg
|
Fiber:
0.1
g
|
Sugar:
6.1
g
|
Calcium:
6
mg
|
Iron:
17
mg
QUOTE:
"You might be a redneck if you think that beef jerky and moon pies are two of the major food groups."
-- Jeff Foxworthy