This recipe will teach you how to make delicious old-fashioned beef jerky. Salty and sweet, smoky and tangy. Our famous beef jerky pays homage to the beginnings of this popular snack. A timeless piece to be enjoyed repeatedly!
Our protein-rich beef jerky, which is made with beef that has a rich flavor, demonstrates quality with each bite's texture and moisture. It is a tasty and satiating snack for the car, the game, the work, or any other time.
Slicing Meat
The first step in creating this teriyaki beef jerky is choosing a lean beef cut. I picked the bottom round to make this tasty beef jerky. Please, check out the list of the ideal beef you can use while making beef jerky.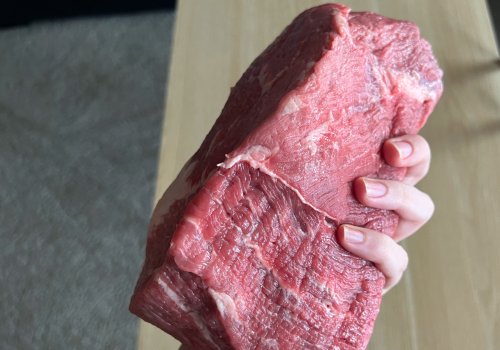 The cut should be completely free of visible fat before slicing it into strips for jerky. Because fat spoils more quickly than meat, the jerky that results will have a shorter shelf life.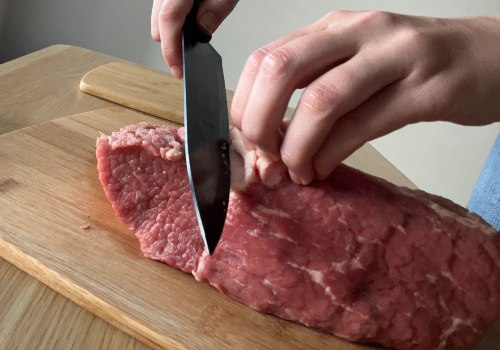 We need about 1 lb or 450 grams (15.9 oz.) of beef.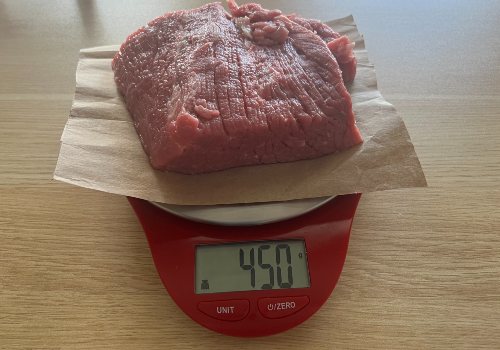 I hand-sliced the meat for this recipe; take care to use a very sharp knife. Before slicing, you may also partially freeze the beef. This helps to keep the meat rigid while slicing and facilitates cutting uniform portions.
Connect with Real Jerky Makers
We'll introduce you to some of the most delicious, off the beaten path jerky makers around!
Because the Best Jerky Doesn't Come from a Store
To your preferred thickness, cut the beef strips. Depending on the recipe, I frequently slice the meat at a thickness of 14′, either with or against the grain.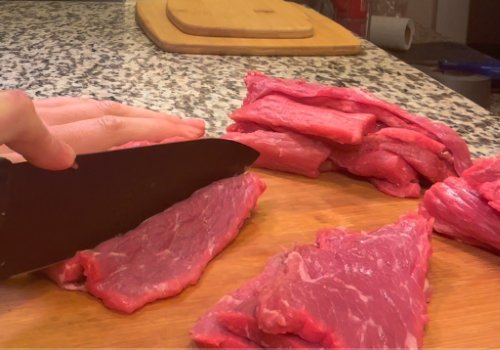 Making Marinade
This recipe is so delicious since it contains high-quality ingredients, such as the savory flavor of the soy sauce, the spiciness of the black pepper, and the sweetness of the brown sugar.
The special flavor is added thanks to Liquid smoke, Worcestershire source, and flavored powders.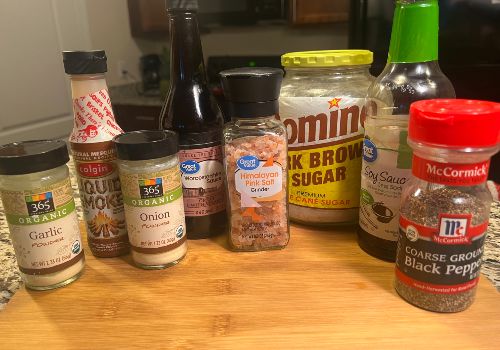 Properly combine all the ingredients first in a small bowl or zip-top bag. Add the strips to the marinade thoroughly to ensure that each one is uniformly coated. Marinating for 6–24 hours is more important in the refrigerator than on the kitchen counter.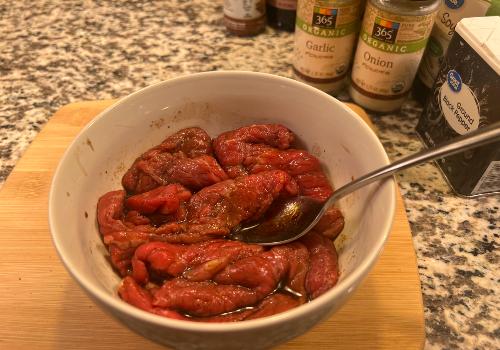 Therefore, don't leave raw meat out on the table. Food safety is very important.
During marinating, take the bag out of the fridge and mix the strips several times to ensure they are evenly covered with the marinade.
Dehydrating the Jerky
The beef jerky will have a stronger taste the longer it is marinated. After the meat has finished marinating, any excess beef jerky marinade needs to be filtered in a strainer. We gave this 10 hours to sit.
After being strained in a strainer, the beef jerky strips should be spread out on paper towels to absorb any extra marinade.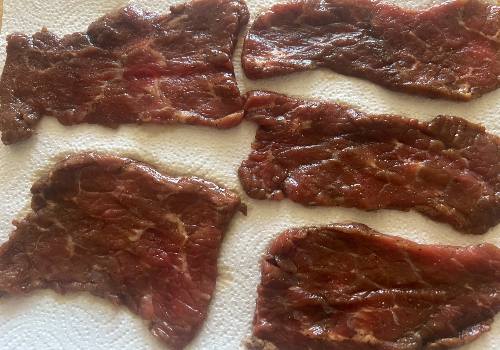 I use a Nesco dehydrator was preparing my beef jerky, but you could also make it in the oven or a smoker if you prefer.
NESCO FD-75A Snackmaster Pro Food Dehydrator, For Snacks, Fruit, Beef Jerky, Gray
EVEN HEAT DISTRIBUTION: 600 watts of drying power provides even heat distribution; consistent drying that is four times faster than other food dehydrators
ADJUSTABLE TEMPERATURE CONTROL: The adjustable temperature control (95°F -160°F) gives you the flexibility to achieve the best results when drying different foods that need varying temperature settings
EXPANDABLE TO 12 TRAYS: Comes with five (13 1/2″ diameter) trays and expands up to 12 trays so you can dry large quantities at once with no tray rotation needed; additional trays sold separately
EXPANDABLE TO 12 TRAYS: Comes with five (13 1/2″ diameter) trays and expands up to 12 trays so you can dry large quantities at once with no tray rotation needed; additional trays sold separately
ACCESSORIES INCLUDED: (2) Fruit Roll Sheet, (2) Clean-A-Screens, a sample of Jerky Seasoning & Cure, and (1) Care & Use Guide
Make sure there is space between each strip of beef jerky to facilitate even drying.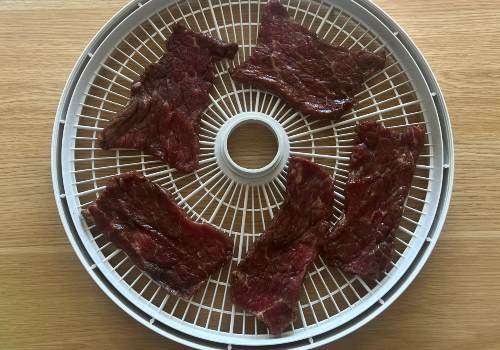 Dehydrate the beef for three hours at the dehydrator's highest setting, which is either 160F or 165F. After that, you can finish it by lowering the temperature to 145F.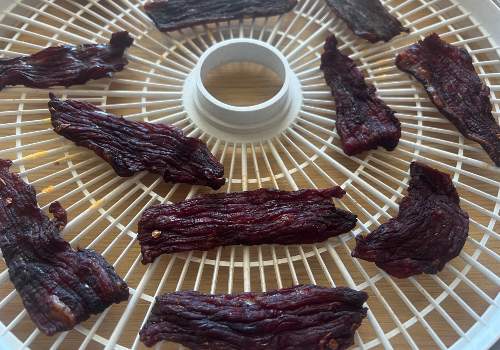 You should start checking the jerky to see if it has finished drying around the third or fourth-hour mark. After being removed from the oven, dehydrator, or smoker, a piece of beef jerky needs to cool for five minutes to reach room temperature.
When you divide the beef jerky in half, it should bend and fracture but not completely break apart. The meat also exhibits white filaments. The fibers are most obvious when a piece is torn or twisted in half.
You'll end up with around ⅓ of your starting weight in jerky. Our original pound of beef was 15.9 oz. and after the cooking we got 6.6 oz. (186 grams).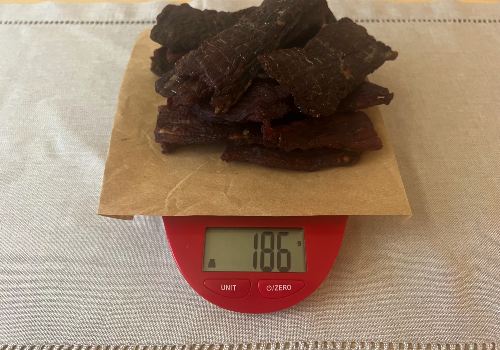 Recipe of Sweet and Spicy Beef Jerky
Makes 5 servings
Preparation Time: 30 minutes
Marinade Time: 6-24 hours, average 8 hours
Drying Time: 4-8 hours, average 6 hours
Ingredients
Cost
1 lb beef — Bottom Round beef (any could work)
$7.99 per 1 lb. at Weis
1/2 cup soy sauce
$1.52 for a 15 oz. container at Walmart
(1/2 cup or 4 oz. = 0.40 cents)
2 tablespoons brown sugar
$2.17 for 2lb. a container at Walmart
(31 tbsp. per pound means that 2 tbsp. equates to 0.07 cents)
2 teaspoons of black pepper ground
$3.98 for a 3.12 oz. container at Walmart
(6 tsp. per oz. means that 2 teaspoons equates to 0.42 cents)
1 teaspoon of garlic powder
Between $4 and $5 for a 2.33 oz. container
(6 tsp. per oz. means that 1 teaspoon equates to 0.28 cents)
1/2 cup of Worcestershire
$1.00 for a 10 oz. container at Wallmart
(1/2 cup or 4 oz. = 0.40 cents)
1 teaspoon of onion powder
Between $4 and $5 for a 1.73 oz. container
(6 tsp. per oz. means that 1 teaspoon equates to 0.38 cents)
1 teaspoon Liquid smoke
$1.34 for a 4 oz. container at Walmart
(6 tsp. per one oz. means that 1 tablespoon equates to 0.06 cents)
1 teaspoon of salt
about 0.01 cents
Total Cost:
$9.61/6.6 oz. (full cost: meat + ingredients)
Step-By-Step Instructions
---
Ingredients
2

tablespoons

of brown sugar

1/2

cup

soy sauce

1

teaspoon

of ground black pepper
---
Instructions
The beef should be trimmed of all visible fat, wrapped in plastic wrap, and partially frozen in the freezer for a few hours

Slice the beef into 14" strips against the grain for easier chewing after removing it from the freezer. For chewier jerky, cut with the grain

Sliced beef should be added to the mixture and marinated for 8 to 24 hours in the fridge

Remove the meat from the refrigerator after it has completed marinating, then strain the extra marinade. Paper towels are used to pat the strips dry

Dehydrate the beef for three hours at the dehydrator's highest setting, which is either 160F or 165F. After that, you can finish it by lowering the temperature to 145F

When the jerky bends and cracks but does not split in half, it is ready
---
Nutrition
Serving:
37.2
g
|
Calories:
225
kcal
|
Carbohydrates:
11.6
g
|
Protein:
29.4
g
|
Fat:
5.7
g
|
Saturated Fat:
2.1
g
|
Cholesterol:
81
mg
|
Sodium:
1223
mg
|
Potassium:
447
mg
|
Fiber:
0.5
g
|
Sugar:
5.7
g
|
Calcium:
15
mg
|
Iron:
18
mg
QUOTE:
"You might be a redneck if you think that beef jerky and moon pies are two of the major food groups."
-- Jeff Foxworthy