Whether you're vegetarian, vegan, or just a curious omnivore, you've no doubt noticed the shelves at the grocery store filling up with plant-based products — especially Beyond Meat.
They're among the biggest names in plant-based meat substitutes, and one of their latest creations is Beyond Meat Jerky. It promises to deliver a meatless beef jerky replacement that rivals the original in taste, texture, and satisfaction.
That's a tall order, especially for beef jerky aficionados.
But it's also intriguing, even if you don't normally eat plant-based meat. Could a vegan jerky really hit the same savory sweet spot that beef jerky does?
If your interest is piqued by the prospect of a truly satisfying meatless jerky, read on. We've got the full lowdown on Beyond Meat Jerky, and some of the details may surprise you.
The Story Behind Beyond Meat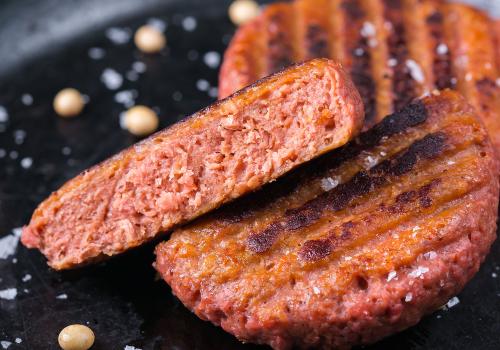 Beyond Meat was founded in 2009 with one goal in mind: combating climate change caused by the meat industry and doing so as deliciously as possible.
At the time, meat substitutes were hard to find in many areas, and the available ones weren't particularly meatlike. This made it difficult for potential vegetarians to switch to plant-based meat — and even more difficult to convince meat lovers to do so.
The food scientists at Beyond Meat were laser-focused on replicating meat's savory flavors, tantalizing textures, and dense nutritional profiles in plant form. Their first product, Beyond Chicken, was launched in 2012, followed by the Beyond Burger in 2015.
Before long, Beyond Meat was everywhere: local restaurants, grocery stores, and even national chains like Dunkin' Donuts and Taco Bell. Even lifelong carnivores were sold, with many remarking that they liked it as much or even more than real meat.
And the company's offerings kept expanding as well. Beyond Jerky, developed in partnership with PepsiCo, launched in early 2022 — and quickly proved to be one of the brand's most intriguing products.
Beyond Meat Jerky: The Real Scoop on this Revolutionary Snack
What Is Beyond Meat Jerky Made Of?
Beyond Meat Plant-Based Jerky, Original, 10g Protein, 1oz Bags (10 Pack)
Includes 10 (1oz) bags of Beyond Meat Jerky, Original flavor
Go beyond snacking with Beyond Meat Jerky. Our tender cuts are marinated, slow roasted and kettle cooked for a full-flavored, delicious bite.
Beyond Meat Jerky is made from simple plant-based ingredients like peas and mung beans without GMOs, soy, gluten or cholesterol.
Slightly smoky, slightly sweet with hints of onion and garlic
10g of protein per serving
Connect with Real Jerky Makers
We'll introduce you to some of the most delicious, off the beaten path jerky makers around!
Because the Best Jerky Doesn't Come from a Store
It's hard to imagine how plants could be turned into chewy, meaty jerky. Surely you'd need at least a little meat to replicate that iconic jerky texture and flavor, right?
But one look at Beyond Meat Jerky's ingredients list reveals the secret: mung beans, peas, and oat bran.
It's a curious combination, and the exact method by which those components are transformed into jerky is a company secret. But those three ingredients come together to form pieces of plant protein that bear a startling resemblance to pieces of beef jerky.
The jerky pieces are sweetened with brown sugar, "cured" with salt, and soaked in one of three marinades, depending on the variety.
Lemon and pomegranate juices, along with garlic and onion, form the base of the Original marinade. The Teriyaki flavor adds even more garlic and a savory spice blend, while the Hot and Spicy flavor kicks up the heat with tangy chili pepper.
Is Beyond Meat Jerky More Nutritious than Beef Jerky?
Real beef jerky is renowned for its protein content, plus it's loaded with essential vitamins and minerals. Can a plant-based jerky really hold its own against this nutritional powerhouse?
With Beyond Meat Jerky, the answer is yes — and by many measures, it's actually even more healthy than its meaty inspiration.
Beyond Meat Jerky Has Less of the Bad Stuff…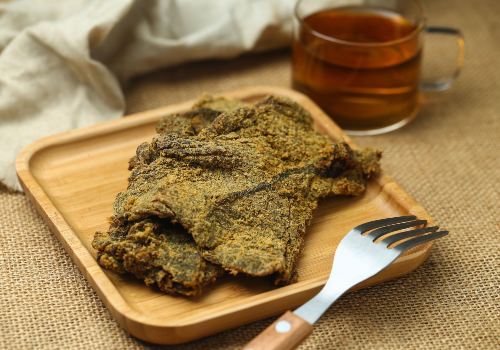 Calorie cutters are among those clamoring to get their hands on Beyond Meat Jerky. One serving of regular beef jerky contains 116 calories, but one serving of Beyond Meat jerky contains just 90 calories.
Beyond Meat Jerky also contains much less fat than real beef jerky — 2 g versus 7.25 g. And it's significantly lower in saturated fat, with just 0.5 g per serving as opposed to beef jerky's 3 g.
Beef jerky is known for being high in sodium, and Beyond Meat Jerky is pretty salt-heavy as well. But it has a little less sodium — 450 mg — than your average beef jerky, which contains 505 mg.
And, of course, being plant-based, Beyond Meat Jerky contains no heart-harming cholesterol, while beef jerky can contain upwards of 13 mg per serving.
…And More of the Good
Fiber-wise, Beyond Meat Jerky has beef jerky beat fourfold: 2 g per serving versus 0.5 g. The same goes for calcium: Beyond Meat Jerky boasts 20 mg, dwarfing beef jerky's 5.6 mg.
It's even got the edge in the protein department, though the difference is slight: real beef jerky contains an average of 9.4 g per serving, while Beyond Meat Jerky contains 10 g per serving.
Plant-based diets are notorious for causing low iron levels, but Beyond Meat Jerky rebukes that reputation. It's got 1.9 mg of iron per serving, while beef jerky has 1.5 mg per serving — good news for anyone worried about iron deficiency.
Where Beyond Meat Jerky Falls Short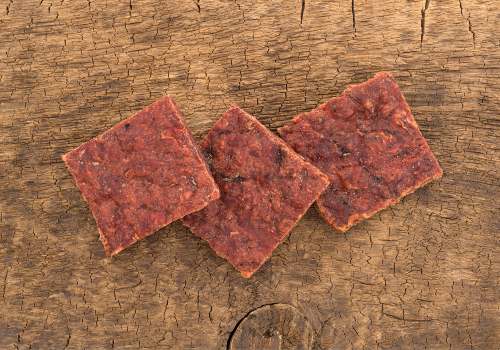 Real beef jerky still has Beyond Meat jerky beat in a couple of areas: carbs and potassium.
Beef jerky is naturally low- or zero-carb, but the same can't be said for Beyond Meat Jerky. It contains 10 g of carbs per serving — not a lot, certainly, but enough to make a difference if you're on the keto diet or another low-carb regimen.
And you'll get almost 50% more potassium from real beef jerky than from Beyond Meat Jerky: 169 mg per serving versus 110 mg.
Is Beyond Meat Jerky Suitable for Those with Special Diets?
Beyond Meat Jerky is, of course, suitable for vegetarians and vegans. But it's also great for those with other dietary restrictions.
Many beef jerky marinades rely on soy sauce and gluten-based thickeners, so they're off-limits for those with soy allergies, gluten sensitivity, or celiac disease. But Beyond Meat Jerky is both gluten-free and soy-free.
It's also GMO-free, so you can still chow down even if you're committed to eating organic.
However, Beyond Meat Jerky is made with peas, a type of legume. Thus, it could trigger an allergic reaction in those who are extremely allergic to legumes, including peanuts.
Does Beyond Meat Jerky Really Taste Like Real Beef Jerky?
Everyone's palate is different, so we can't guarantee what Beyond Meat Jerky will taste like for you.
But thousands of people, from humble web reviewers to meat-loving food bloggers, agree that Beyond Meat Jerky tastes shockingly like the real thing.
Many say they don't miss meat at all while eating it, thanks to its realistic texture and bold flavors. And some even remark that they prefer it to real beef jerky!
Yes, that last statement sounds sacrilegious to a beef lover.
But don't get scared off by outdated preconceptions of weird, bland plant-based food. Meat substitutes have come a long way, and if you give it a chance, Beyond Meat Jerky might just become your new go-to snack.
Beyond Meat Plant Based Jerky Review (Video)
QUOTE:
"You might be a redneck if you think that beef jerky and moon pies are two of the major food groups."
-- Jeff Foxworthy